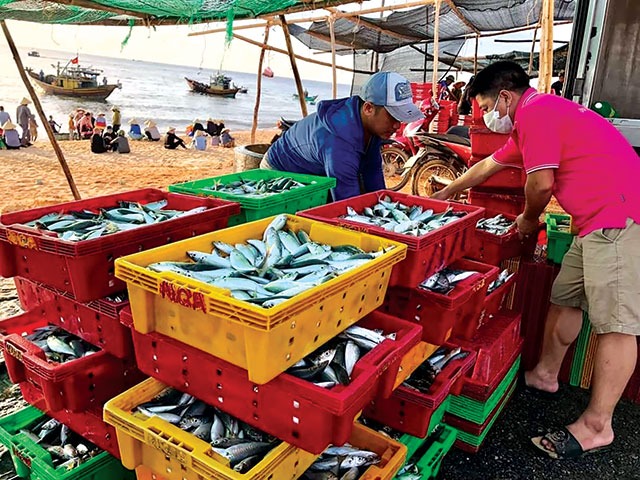 In the past few days, the weather has been favorable, facilitating fishing boats of Ninh Thuận fishermen to yield abundant fish crops.
At Mỹ Tân fishing port, Thanh Hải commune, Ninh Hải district, fishermen urgently bring the fresh scads to the shore to sell for a good price. The fishermen are excited because the purchasing price is relatively stable.
According to the functioning authorities, trawler boats in Mỹ Tân sea village have achieved high output for nearly a month, averaging 5-7 tons/trip. 
Depending on the size and quality, the price of anchovies ranges from 10,000 to 20,000 VND/kg; scads are 20,000 – 40,000 VND/kg; Indian mackerels are 30,000 – 45,000 VND/kg; cuttlefish are 140,000 to 220,000 VND/kg; squid are priced at 90,000 – 140,000 VND/kg; shrimp are priced from 140,000 to 250,000 VND/kg; Crabs are 120,000 – 260,000 VND/kg. The output, as well as farmers' incomes, is stable because these kinds of seafood are mainly for domestic consumption. Each trip can gain a profit of several tens of millions VND with an average price of 30,000 VND/kg.
Vehicles and fishermen entering and leaving the port are strictly controlled. They have to complete health declarations, make medical declarations, check body temperature, sanitize their hands, and wear masks to ensure the safety of seafood exploitation and trading during the period of the COVID-19 pandemic. 
According to the Fisheries Sub-Department of Ninh Thuận province, the weather at the fishing grounds from Ninh Thuận to Kiên Giang is favorable; a huge number of fish float. About 85% of fishing vessels are engaged in fishing activities; in which, trawling and seining achieve the highest results. Since early this year, the total output of seafood exploitation in the entire province has reached nearly 75,000 tons (62.41% of the 2021 plan), equaling 100.38 % over the same period.
Southern fish harvest season usually starts from April to October every year. The Provincial Fisheries Sub-Department has informed the localities to mobilize the maximum number of boats to join in fishing activities, cooperate with other teams to increase productivity, and decline the production cost. At the same time, fishermen are also provided information on fishing grounds, fishery resources, and markets to have an effective production plan. 
VFM