Fisheries
Rising fuel prices makes it hard for fishing industry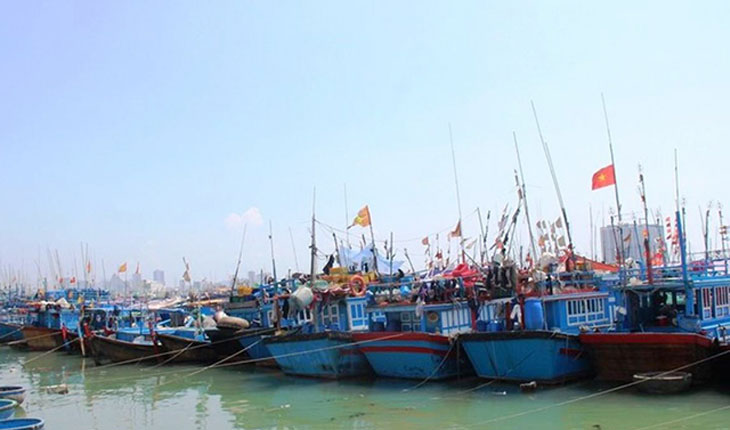 A dramatic increase in fuel prices in October 2021 has made the costs of seafood exploitation and catching escalate sharply. High exploitation costs, unprofitable sales, potential epidemic and risks from partners are worries of boat owners.
Tư Sang, owner of ML fishing vessel in Bến Tre province shared: "We spend three months in the sea for each trip and around VND 40 million per day for a 1,000 CV vessel. A vessel costs VND 3 million per day staying idle. This year, fuel prices go up but product prices go down. If the exploitation goes without any incidents or mechanical obstacles, fishermen can earn some, or else, no profit or even serious loss".
After 20 days or one months going out to sea, his vessel will be filled with fuel by a boat from the mainland. He said that the offshore price of fuel was 1.500 dong/litre more than that in the mainland (port). An ice bar is sold at 33-35 thousand dong/pc (35kg/bar) while it is 18 thousand dong/pc (45 kg/bar).
Tám Thuần, a TTL vessel owner, said: "A pair of fishing vessels consumes around 100-200 thousand litre of petrol within three months. The dramatic increase in petrol this time cost a trip an extra VND 480 million; therefore, together with the inflation, it may cost approximately VND 600 million. A trip further out to sea does not bring any profit, but the captain and the crew keep trying with their work".
"Oil prices increase, but dried fish are not sold at good prices. Dried cuttlefish was sold at VND 700 thousand at this time last year, versus VND 550 thousand this year. Prices of fresh fish decrease by 10-13% each kilogram", said Thuần.
Vice Chairman of People's Committee of Bình Thắng commune (Bình Đại, Bến Tre) Phạm Thanh Phong said: "Around 37.25 thousand tons of shrimps and fishes were caught in the commune in the first nine months of 2021, accounting for 49.66% of the same period last year, down 5,750 tons. Most of the vessels earn some profit, but not high. Spiralling petrol price and overwhelming COVID-19 pandemic, especially in southern provinces such as TP. Hồ Chí Minh and Vũng Tàu, resulted in poor consumption. However, fishermen in Bình Thắng are persistent with the fishing. All fishing vessels of the commune have set forth to the sea, not any of them stays idle".
The province has 3,839 vessels related to seafood exploitation, with more than 2.1 thousand offshore vessels, mainly in two coastal districts Bình Đại and Ba Tri. The province's average output of wild-caught species reaches 200 thousand tons every year.
VFM