Fisheries
Output of wild-caught ocean tuna rose by 4% in Bình Định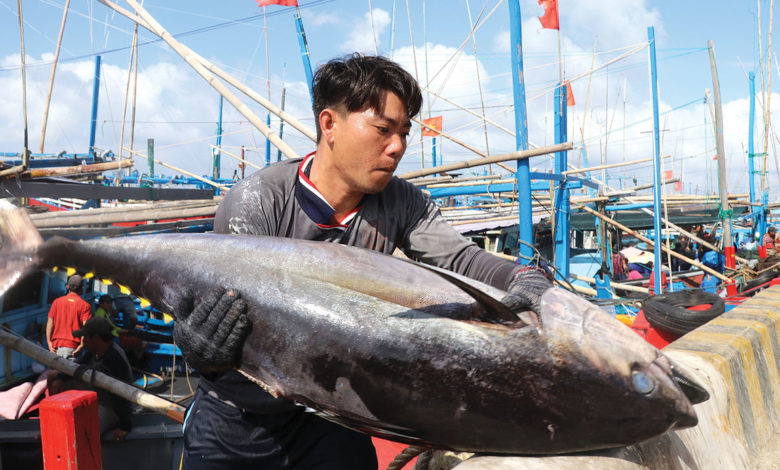 According to the Bình Định provincial sub-department of fisheries, as of quarter II of 2022, the province caught 7,216.6 tons of wild ocean tuna, up 4% from the same period last year.
The province has 3,270 fishing vessels, 15m long at least, related to offshore exploitation, with 1,450 vessels being entitled to ocean tuna fishing, leaving the total output of wild caught tuna of around 12,000 tons/year recently (accounting for over 50% of the country's output of this species). Moreover, 723 groups have been formed from 2,878 fishing vessels; one trade union has been established in Tam Quan Bắc town, with 141 ocean tuna fishing vessels as members.
However, trespassing into foreign waters still happens. Nine vessels with 54 crew members were captured in 2020 and fourteen vessels with 85 crew members were arrested in 2021. Earlier this year alone, Bình Định had five vessels with 30 workers arrested by Malaysian authority (these five vessels are registered in Phù Cát district); two vessels with ten workers were taken control by Malaysia authority, their assets were confisticated and they were dropped in the ocean. The provincial People's Committee strictly requested sectors, institutes, and local authorities to mount their efforts in informing and disseminating regulations and violation handling policies of some foreign countries.
In the future, the Bình Định fisheries sector will focus on developing hitech based exploitation of ocean tuna to improve the quality and value of the fish. The provincial center of fisheries will be built in Tam Quan Bắc coastal area of Hoài Nhơn town. The chain of purchasing and exporting ocean tuna will be effectively deployed. Illegal fishing must be stopped so as to terminate the trespassing into foreign waters. If so, the EC's "yellow card" warning may be removed from Bình Định province.
VFM