Fisheries
Sheng Long Group held an opening ceremony of the new aquafeed mill in Vinh Long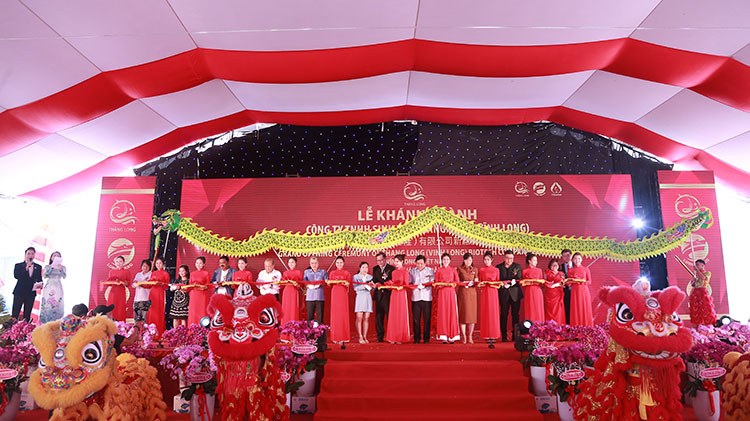 On 24th May, 2022, Sheng Long Group held an opening ceremony of its new aquafeed mill at Phu Hoa Industrial Park, Vinh Long province with the presence of Mr. Nguyen Van Liet- Vice Chairman of Vinh Long Provincial People's Committee; Mr. Vu Tuan Cuong- Director of Aquaculture Surveying, Testing and Accreditation Center, Directorate of Fisheries; Mr. Pham Thanh Khon- Head of Vinh Long province Management Board of Industrial Parks; representatives of local departments, distributors,  farmers, banks, suppliers, dealers from Malaysia, India, together with the Board of Directors, its employees totaling 600 participants, which helped make the ceremony more solemn and joyful.
Mr. Chuang Jie Cheng, General Director of Sheng Long Group, delivered a welcome speech at the opening ceremony. On behalf of Sheng Long Group, he expressed his sincere thanks to Vinh Long government and the distinguished guests for their full support and assistance over the past years. This has enabled Sheng Long Group to continue expanding its investment in Vietnam. His special thanks went to Vinh Long officials for having created the most favorable conditions for Sheng Long Group to successfully add a new aquafeed mill.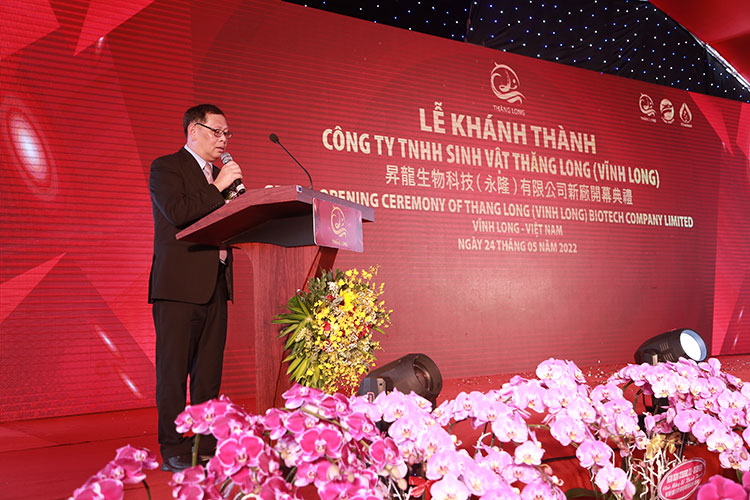 With the new plant put into operation, Sheng Long Group has owned 15 production lines for shrimp feeds and 7 extruders for fish feeds, with a total annual capacity of 650,000 tons. The market has been expanded from Vietnam to Malaysia and India. The overall production output of Sheng Long Group, including Vietnam and overseas markets, is estimated to reach 600,000 tons of shrimp and fish feeds and 2 billion shrimp PLs, with a total turnover of US$ 670 million in 2022. It continues to invest in another fish feed plant in Hai Duong province, which is expected to be ready for production in July 2023.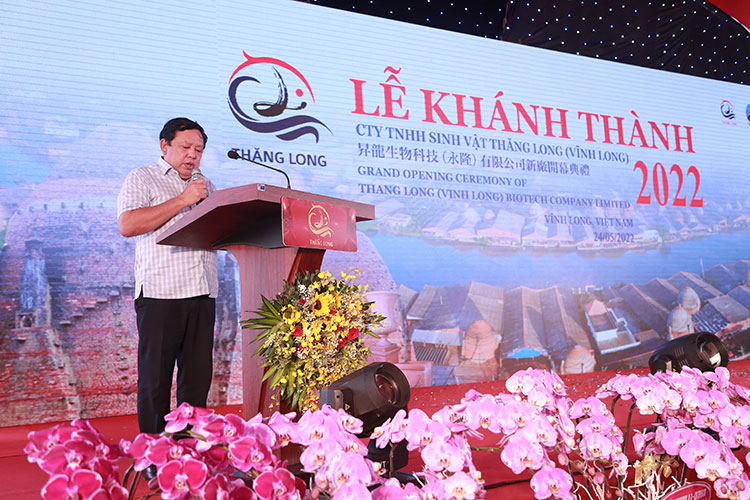 Mr. Nguyen Van Liet- Vice Chairman of Vinh Long Provincial People's Committee had a speech. On behalf of the provincial leaders, he warmly applauded the company for its decision to invest in Vinh Long. Also, he was committed to standing by the investor throughout the project, promptly solving problems arising in accordance with the current regulations, creating the most favorable conditions for the investor to produce and do business effectively in the future.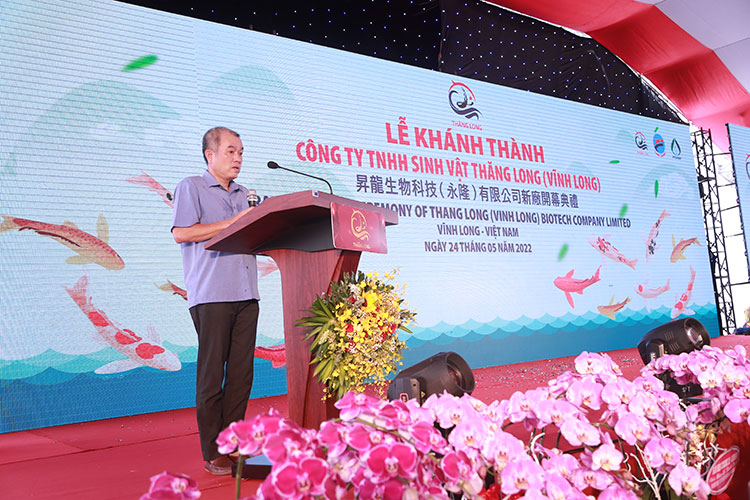 Mr. Vu Tuan Cuong, Director of Aquaculture Surveying, Testing and Accreditation (ASTAC ), welcomed Sheng Long's rapid development as well as appreciated the enthusiasm and responsibility of the General Director and his members in accompanying with the farmers. He reckoned it was the deep insight into aquaculture, great passion and sympathy for the farmers along with the constant connection between the market, technology, farming techniques and aquaculture species had brought the great success to the company. In addition, he said as a public service unit with the main functions of managing aquatic products and inspecting the quality of imported and exported feeds and environmental treatment products used in aquaculture, ASTAC has proactively changed its activities in line with the transformation of management methods, adapting to the reforms in specialized inspection. ASTAC  was committed to cooperating with Sheng Long and being its reliable companion in particular and the business community in general.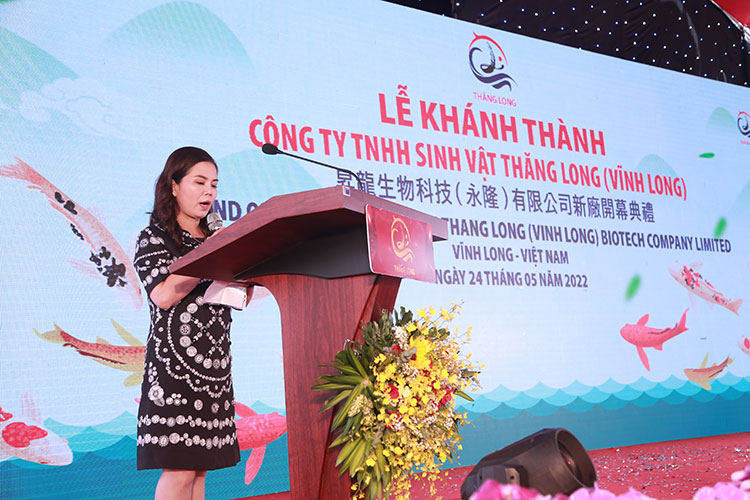 After that, Hong Phuong, a distributor in An Giang, gave a congratulatory speech on behalf of the distributors: Congratulations on the opening of the new aquafeed mill in Vinh Long. All distributors witnessed Sheng Long Group, under the correct leadership of the General Director, took "benefits and value creation for customers" as the foundation for the Group's business development, at the same time, built a job-loving professional team, always enthusiastically supporting and serving its distributors and customers. In less than 10 years, it has become a leading brand in Vietnam. Wish the Group more and more development and success.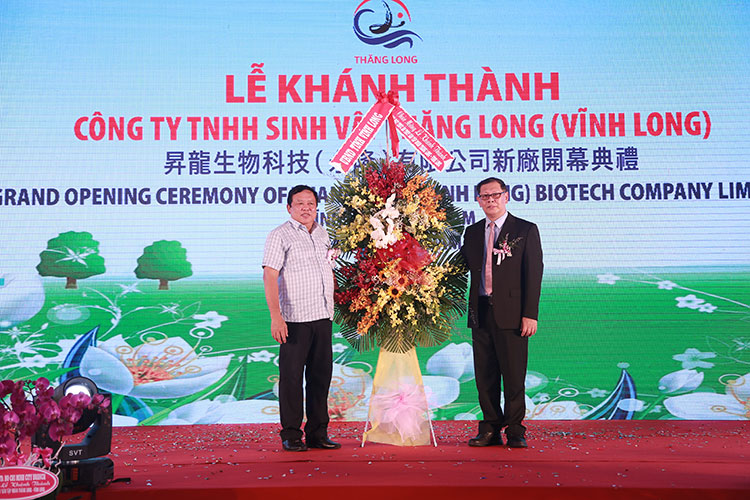 After the new factory is brought into operation, Sheng Long will continue penetrating deeply into the existing market in Vietnam and expand further to Philippines, Malaysia, Cambodia, Myanmar, Bangladesh and India. Furthermore, we always focus on breeding and production of high quality seeds, including Vannamei shrimp, red tilapia, black tilapia and snakehead fish as our core values. At the same time, we combine with promotion of the animal health products and workable farming models, adhere to the service marketing perspective with the desire to help farmers improve survival rates, increase growth rates and minimize risks.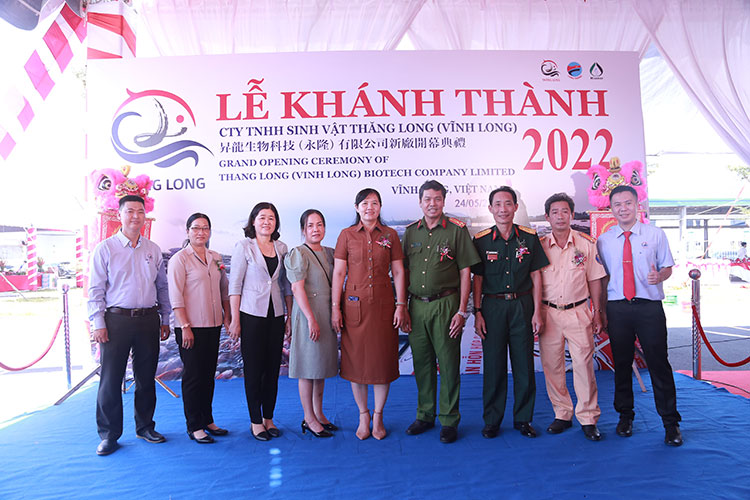 In 2022, we will also expand our product chain of tilapia and catfish from fry, feed, farming to processing for export in the hope of improving the competitiveness for Sheng Long Group and bringing profits to farmers.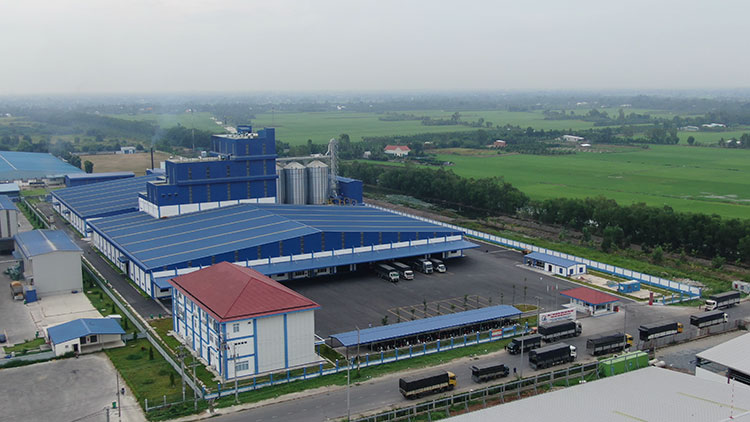 Finally, Mr. Chuang Jie Cheng, General Director of Sheng Long Group, revealed that it was the wholehearted support from the government officials, distinguished guests, distributors and staff that has motivated them to make every single effort to become the leading aquafeed company in Vietnam.