Fisheries
Sóc Trăng farmers reap bumper crop of brine shrimp eggs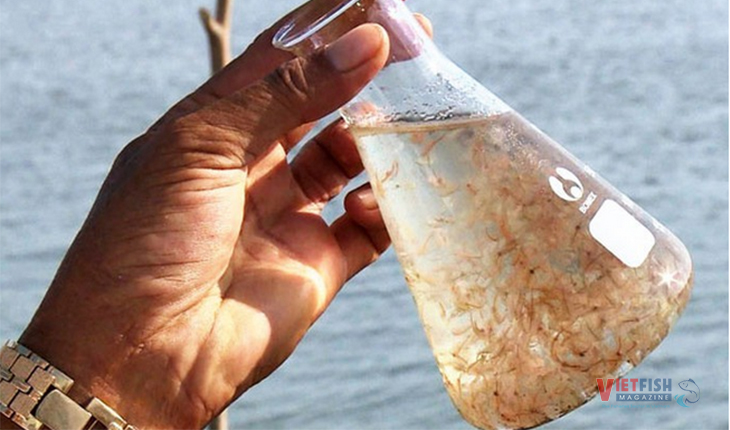 The harvest of Artemia cysts has entered the peak season in Vĩnh Châu Town in Sóc Trăng Province, and yields and incomes are high because of favourable weather conditions.
The Mekong Delta town is well – known for its high-quality brine shrimp eggs since it has good saltwater conditions for breeding the crustacean.
Trần Lũy, who has a 4ha field in Lai Hòa Commune, said he has harvested 200kg of eggs so far in this crop over 20 days. Farmers can harvest 80 – 100kg of per hectare in a good crop, he said. "The hot weather this year has been very favourable for breeding Artemia". The yield of eggs this year is higher than last year while selling price is high, according to farmers.
Sơn Chanh Tria, director of the Salt – Shrimp – Artemia Production and Service Co-operative in Lai Hòa, said the eggs fetch VNĐ1.1 million (US$47) a kilogramme now, the same as a year ago. "Artemia famers have bigger incomes than last year". The co-operative's members are breeding 150ha of the crustacean.
This year farmers in the town are breeding Artemia on more than 800ha, mostly in Vĩnh Phước Ward and Vĩnh Tân and Lai Hòa communes. Lai Hòa has 229 households and a total of 312ha. The area is higher than last year because of the favourable weather conditions and availability of saltwater.
Võ Hoàng Nam, deputy chairman of the Lai Hòa Commune People's Committee, said many irrigation canals in the commune have been dredged to supply more saltwater. When farmers have a bumper harvest and high prices, they could earn VNĐ50 million ($2,150) per hectare per crop, he said.
In the town, the crop usually starts in November and lasts until April. The coastal town has saltwater year round. The crustacean has enabled many farmers in the town to become wealthy since the supply of its eggs cannot meet market demand now. Their farming costs are not high since Artemia feed on algae.
People in the town also breed them in salt fields, which are even better for raising them. Many have switched from making salt or raising shrimp to Artemia farming in recent years since it rarely entails losses because of drought or saltwater intrusion.
To improve farmers' incomes, town authorities have been increasingly disseminating information about Artemia farming schedules and breeding techniques in recent years. The eggs are sold domestically and exported to many Asian countries, the US and Russia.
VFM