Fisheries
Vietnam's tuna exports show no good sign after effective date of VJEPA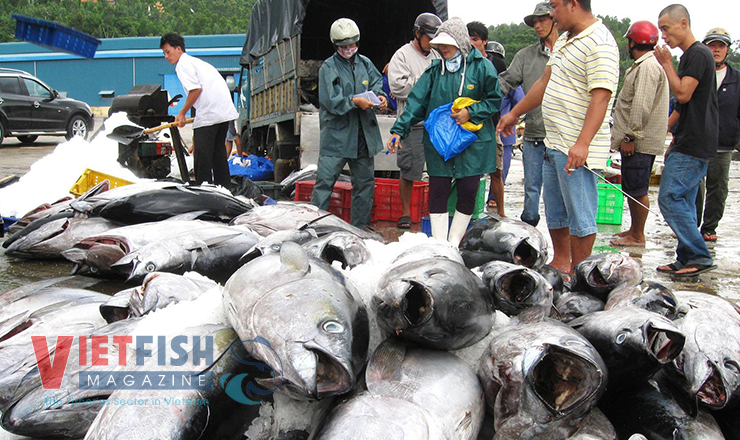 Vietnam Japan Economic Partnership Agreement (VJEPA) has become effective since October 01, 2019. Within ten years since the effective date, Japan, as committed, will reduce its tax imposed on 94% of Vietnam's products imported into this country, especially 86% of agricultural products (tuna included). However, Vietnam's tuna exports have seen no positive move since the effective date.
Within four years 2010 – 2012, Vietnam's tuna exports to Japan jumped from 17 million USD to nearly 54 million USD due to two key products – fresh tuna and frozen tuna.
However, from 2013 to 2016, the sales of Vietnamese tuna fell to 19.3 million USD in Japan, leaving tuna export value at this moment ranging at 24 – 25 million USD. The fall was caused by decrease in fresh and frozen tuna exports. Japan, therefore, dropped from the third to the fifth position among top eightimporters of Vietnamese tuna.
According to companies, volume export drop was caused by low production in Vietnam's fishing grounds; besides, poor preservation of exploited tuna led to lack of fresh and frozen tuna. Many companies, thus, has turned to boost processed tuna, which could not compete against those from Thailand and Philippines due to high tax.
Particularly, tax imposed on Thailand's canned skipjack tuna was 3.2% as of April 2009, then 1.1% as of April 2011, and finally 0% as of April 2012 upon Japan Thailand Economic Partnership Agreement (JPEPA). Meanwhile, the Philippines and Vietnam are imposed 6.4%, which makes it very difficult for them to compete against Thailand.
On April 2019, Japan started to put preferred tax 4.8% on Thailand's frozen skipjack y ellowfin and albacore tuna loins and then it dropped to 1.6% since April 2011 and 0% since April 2012 in accordance with the JPEPA. The General System of Preference (GSP) made the Philippines experience the same situation with tax 4.8% decreasing to 2.4% since April 2011, then 1.2% since April 2012 and finally 0% since April 2013. Meanwhile, Vietnamese tuna has been imposed a tax level which is 40% higher than that put on these countries. It will be 7.2% as in GSP and 9.6% as in VJEPA. Even worse, it will not be cut down to 0%.
In his explanation, Ministry of Industry and Trade said that because Japan entered the economic partnership agreement with Vietnam after it did with Thailand and the Philippines, the process of tax reduction on Vietnam's products would be slower than these two countries. Thus, not only processed tuna but also other products of Vietnam will run on a longer road of tax reduction.
Moreover, among Vietnam, Thailand and the Philippines, different commitment on the same product is obvious as each country have its own preference in negotiation.Before the VJEPA was signed, tuna accounted for a few numbers in total export volume to Japan.Thus, it was not listed among preferred products for negotiation. As this category was quite sensitive to Japan, such product as canned skipjack tuna would not be negotiated for imposition of tax.
Vietnam's tuna, therefore, is not beneficial from the VJEPA. On the other hand, Vietnamese tuna export to Japan is expected to thrive after the Comprehensive and Progressive Trans-Pacific Partnership becomes effective.
VFM