Fisheries
Vinhthinh Biostadt: New direction of development for shrimp cultivation by in-pond nursery method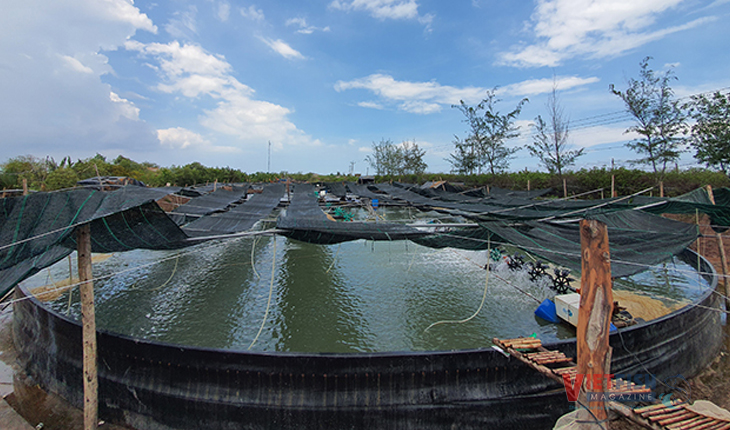 Vinhthinh Biostadt has always been the leading company in studying and applying technologies and measures to bring success in shrimp cultivation. One of technologies that Vinhthinh Biostadt carried out effectively in many local regions is the earthen hatchery and pond system.
Challenges of shrimp cultivation in earthen ponds
Shrimp cultivation using earthen ponds has faced difficulties in caring, especially when disease outbreak usually occurs in the first month of seeding and during the cultivation. Even though post larvae are nursed before being transferred to earthen ponds, it doesn't bring a great success due to shrimp caring difficulties in grow-out ponds.
After many years of committing to an in-pond nursery with high density of shrimps in Vietnam, Vinhthinh Biostadt has built a caring system suitable to each kind of grow-out pond from pond liner 100% to bottom culture ponds, from one-phase nursery to two/three-phase nursery.
The company has found out an effective measure to complete the process of transferring shrimps from high density in-pond nursery to bottom culture ponds. This practice has been applied by farmers in the provinces of Bến Tre, Trà Vinh, Sóc Trăng, and Bạc Liêu.
A new successful direction of development
After post larvae are nursed in tanks for the first phase, shrimps will be shifted to other phases, depending on density and the duration of the first phase of nursery.
Instead of being reared in bottom culture ponds as usual, shrimps are put in an intermediate pond for further cultivation before being entirely transferred to earthen ponds where shrimps continue their growth cycle up to required size and weight. Finally, qualified shrimps are transferred to surrounding bottom culture ponds. Shrimps are fed with Vinhthinh Biostadt's feed and cared for by Vinhthinh Biostadt's techniques, especially within the first ten days, so that shrimps get stable at the earliest time and weigh up to commercial size with the lowest risk.
The intermediate pond liner brings many advantages such as being an option for farmers who can not afford an entire pond liner, and helping prevent shrimps from getting infected with liver and intestine-related diseases.
Vinhthinh has just been successful in transferring to customers in Bến Tre, Sóc Trăng, Trà Vinh và Kiên Giang the entire process of high density shrimp nursery and caring in bottom culture ponds, with survival rate up to 92% in nursery and 86.1% in earthen ponds.
Besides, customers will have good results from nursery and cultivation with the highest quality and easily traceable shrimps, assuring the company's requirements if they apply the whole process of technique introduced by Vinhthinh Biostadt and use post larvae produced by Vinhthinh Biostadt Hatchery.
7 important benefits enjoyed by customers using Vinhthinh Biostadt's program of high density shrimp nursery and cultivation
Entirely eliminate white spot disease, yellow head disease, white fence disease, black spot disease during nursery.
Impressive growth in commercial grow-out ponds by using specialized feed and medicines. Protein-rich feed with disease-resistant ingredients enable shrimps fully consume, leaving negative environmental concerns in defiance of high density of stocking (10,000 post larvae/m3, equal to 1 million post larvae/100 m3 tank) and prepare for shrimps with great health before going to the next phase.
Prevent all shrimps from curved body and white muscle diseases during nursery and when being transferred to commercial grow-out ponds.
Survival rate after nursery reaches over 85%, size variation rate is below 5%, amount of discharged water is low, nursery duration may last 45-50 days.
After nursery, shrimps are cared with quality products to help them stay healthy when being transferred from intermediate pond liner to bottom culture pond.
Farmers can easily design, operate and apply nursery and cultivation techniques so as to achieve good results when being supported by Vinhthinh Biostadt's technicians during the technical transferring.
Farmers can take advantage of the existing land and ponds to apply Vinhthinh Biostadt's program of nursery and cultivation with an optimized investment cost in the first place. The company's skillful technicians will do a survey and advise farmers to set up and build a nursery and cultivation system.
VFM