Markets
A thriving year of pangasius sector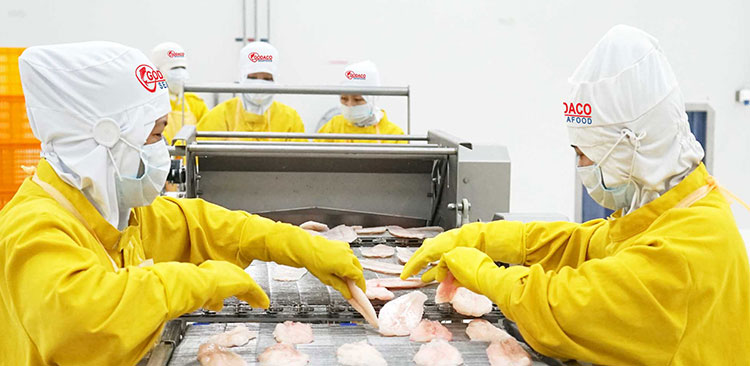 The pangasius output is estimated to reach 1.68 million tons in 2022, with an expected export value of more than USD 2.4 billion, the all-time high in the history of the development of this billion-dollar sector.
From wild-caught fish to record
Wild pangasius has been farmed since 1940. After 1975 when wild pangasius became fewer and fewer, artificial production was paid attention and achieved success during 1995-1998. Large farming areas have been formed in the Mekong Delta since 2000.
Pangasius, mainly sold in rural markets, was poorly consumed for a long time because they were cultured in stagnant ponds, resulting in yellow meat and stink. This fish was then reared in ponds with water being changed and fed with clean feed, thus meat was white and taste was good. When the market was open, this fish was introduced to foreign partners by domestic businesses.
Vietnam achieved USD 1.6 million from exporting pangasius in 1997. The export value reached over USD 1 billion in 2008 and exceeded the threshold of USD 2 billion to achieve USD 2.26 billion ten years later in 2018. The pangasius sector experienced difficulties in the following years and set a new record in 2022 with over USD 2.4 billion worth, up about 70% as compared to 2021.
Đồng Tháp is a powerhouse of pangasius in the Mekong Delta. By the end of November 2022, the pangasius farming area reached 2,450 ha, producing as many as 505,000 tons, exporting 270,077 tons, and bringing in USD 847 million worth, ranking the first among the exported agricultural products. The province has 28 seafood processing companies (mainly exported frozen pangasius fillet), producing over 500,000 tons per year by more than 25,000 workers. Đồng Tháp selects pangasius as one of the five key sectors.
Develop technology and transparency
Viet Uc Corporation said that the technology related to selection of pangasius fries helped improve the quality of exports. Such technology involves digitization of the production chain and establishment of membrane houses to assure biosafety, increase the survival rate and facilitate the production all year round. As a result, the growth was 20.7% faster, the survival rate reached 21-35%, the fillet ratio increased, and red meat amount decreased.
Vĩnh Hoàn Corporation applies technologies in farming and processing. The program of gene selection is applied from breeding to fingerlings which are nursed in membrane houses and pond liners. The In pond raceway system (IPRS) and probiotics for environment treatment are used in the next stage of farming. The processing was conducted based on the humane methods of slaughter act by Europe and the US. Fish skins are used to produce collagen, gelatin, and fish oil.
The IDI Corporation produces high quality fish oil, cosmetics, drugs, and nutrition food from fish fats. The Pharma Vietnam company produces vaccines for disease prevention.
However, Agrotrade pointed out that the product structure was not effective. Particularly, frozen products accounted for over 97% (fillet, whole fish, slices, butterfly cut fish). Some by-products are used but just raw products are made, there are not many luxury products used in cosmetics and pharmaceutical industry. Poor technologies are the main cause. Thus, the first solution to improve pangasius quality is "Further supervision and examination of production conditions, quality, and food safety; investment and improvement of facilities producing value added products".
The Directorate of Fisheries also said that products should be diversified for the benefits of consumers. An electronic traceability system should be built based on advanced technologies, and grow-out ponds should be granted identification numbers for informatic transparency. The domestic market should be paid more attention.
In favor of domestic market development, Masan Group said that the Corporation had increased their consumption of pangasius in the past three years. 250 tons of pangasius were consumed in 2020, over 300 tons were consumed in 2021, and 400 tons were consumed in 2022. With an aim to account for about 15% of the domestic consumption, Masan proposed: "A proper policy should be issued to develop the supply chain of pangasius, from fries, farming, processing to consumption, hi-tech appliance, transparency, right of access, and feedback from consumers for good quality".
VFM