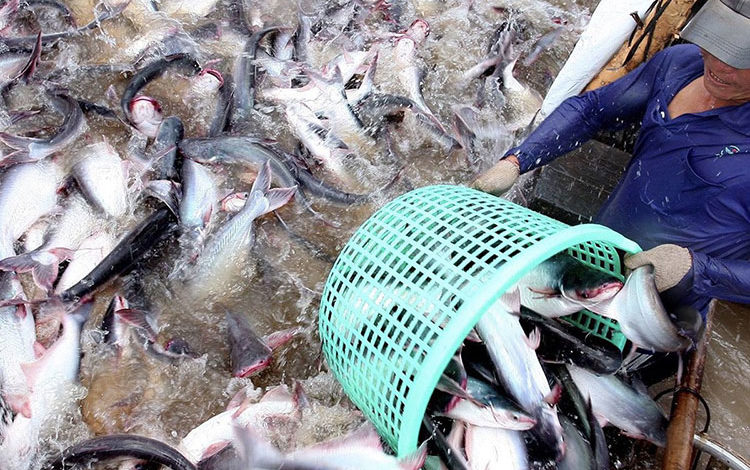 Even though 2022 hasn't ended, Vietnam achieved a record of USD 10 billion from seafood exports. However, the slowing down at the last two months of the year left a concern for the 2023 target. What should be done to sustain the growth of seafood exports? Trương Đình Hòe, General Secretary of VASEP shared VFM about this matter.
What is your evaluation about the difficulties that Vietnam may face in seafood exports in 2023?
Quarter 1 of 2023 will be a challenge as the global economy has not recovered from the Covid-19 pandemic and the strike between Russia and Ukraine. Once China keeps the "Zero Covid" policy, world trade can not be smooth. Many businesses didn't receive any orders at the end of 2022 and early 2023. If the situation remains, it'll be hard to give any anticipation about production and material supply. This will be a big challenge. Inflation will surely result in further increase in production costs.
What solutions should Vietnamese seafood businesses adopt to tackle those challenges?
Operating perfunctorily and following up the situation will be an optimal solution. Moreover, financial problems should be reconsidered so that businesses will not depend on credit and can deleverage, especially amidst skyrocketing production costs. Businesses should keep the number of workers, try to remain at an interest rate to wait for opportunities, reduce prices, and balance the capital source to assure production. Even though there will be supporting policies from the Government, businesses should be proactive. Cheap products will be mainly consumed during the inflation, thus demand for seafood will be higher than other expensive foods. Businesses need to focus on modernization and sustainable development in the long run.
Vietnam's seafood has attained a position in the world map in terms of supply, thus, after the market becomes steady, importers will surely come for Vietnam. Businesses therefore should always be ready. Vietnam's seafood businesses are better than previous years. We should not be so pessimistic about the year 2023, but must prepare for prolonged challenges.
As for the market, what strategy should Vietnam design for seafood exports in the next year?
Vietnam has been the third biggest seafood provider of the world, thus main markets have been formed. The US is an important market, Japan is a traditional market, the EU is recovering, and China is a potential market. Vietnam needs to pay attention to the Chinese seafood market as China is changing from exportation to entire importation and the demand for seafood is growing. Vietnam's strategy in seafood exportation is to remain in major existing markets and expand to the Chinese market. Vietnam has made an effort to export to China but the work was unsustainable because of the two reasons: the first one, official exports just reach 70-80%, exports through border gates are unstable, and payment is at risk; secondly, we should penetrate China's provinces with specific strategy of penetration and different policies for different localities.
VFM