Markets
Epidemic, workers, production cost and decrease materials: problems for seafood production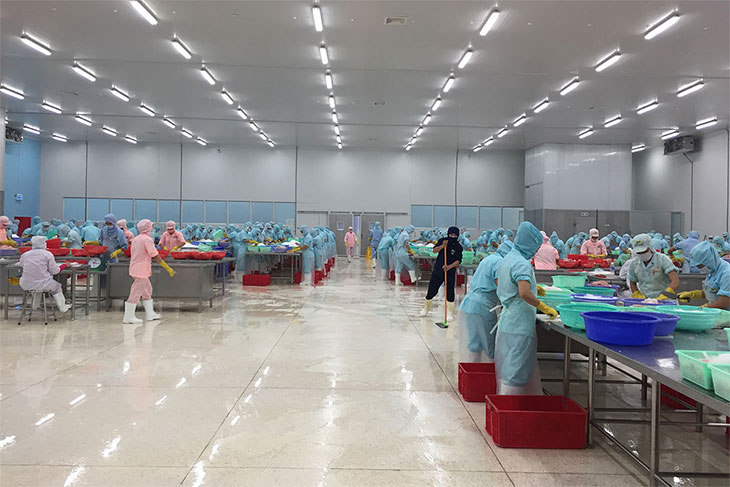 The COVID-19 epidemic has spread widely in the Mekong Delta provinces, where seafood production and processing is at the time of export acceleration, causing businesses to fall into difficulties. In many provinces, up to 50% of workers have quitted, leading to reduced production capacity or even closure.
Workers left on large scale
A representative of Go Dang Frozen Seafood Company (Tien Giang) said that after the company had a positive SARS CoV-2 case, the company fell into a very difficult situation. More than a hundred workers had to go to the concentrated isolation point, making the company not have enough manpower to ensure production activities. Up to now, the company has to reduce more than 60% of processing capacity, the loss is unbearable.
According to the representative, many businesses in Tien Giang also fall into the same situation. "When there is a case of infection, any business that wants to operate must ensure the 3 conditions (the production – the place to eat and stay for workers) but with the characteristics of the seafood processing industry, they could not arrange accommodation for workers right at the frozen factory, so many businesses could not satisfied it and were forced to temporarily close the factory," he said.
According to representatives of many seafood processing and exporting enterprises, in the context of the stressful situation of the COVID-19 epidemic, they have tried to convince workers in many ways such as adequate accommodation, food and drinks, essential use, an additional allowance of 50,000 – 100,000 VND/day to maintain stable production. However, because of fear of infection, workers refused to go to work. Many businesses have up to 30%, even up to 50% of workers resign, causing businesses to fall into the state of "early Tet holiday".
Production cost rise for the lack of raw materials
Seafood businesses are also facing the situation of "charges and fees". Truong Dinh Hoe, General Secretary of the Vietnam Association of Seafood Exporters and Producers (VASEP), said that since the COVID-19 epidemic occurred, a series of costs have increased, an increase of 1.5-2 times compared to before. When the epidemic spread more widely in the Mekong Delta provinces, businesses incurred additional costs for workers' accommodation, living, allowances, COVID-19 testing… Therefore, many businesses fell into a difficult situation.
"The epidemic spread at the right time to accelerate exports and seafood to start the harvest season, causing businesses to waste business opportunities. Many orders were canceled and partners claimed compensation for late delivery. Currently, in the western provinces, raw shrimp is in the main crop, but businesses cannot buy and transport it, leading to excess shrimp in the pond, but the factory lacks raw materials for processing, "said Mr. Hoe.
According to VASEP, currently in coastal provinces such as Bình Định, Kiên Giang, Bà Rịa – Vũng Tàu… all enterprises have reduced their capacity by 20-70% due to lack of raw materials. It is forecasted that exports of shrimp, tuna, basa fish… in the last 6 months of the year are difficult to maintain growth like in the first 6 months.
Deputy Minister of Agriculture and Rural Development Tran Thanh Nam said that before the problems of the seafood industry, the ministry had asked localities to have solutions to support businesses, not to let the shortage of workers in factories persist.
According to Mr. Nam, in the context of provinces implementing social distancing, causing difficulties in circulation, the Ministry of Agriculture and Rural Development proposed localities to create favorable conditions for traders and businesses to purchase and operate. The Ministry proposed the Government direct the State Bank to have policies on capital (debt relaxation, interest rate reduction and preferential loans, …) for aquaculture households, especially brackish water shrimp farming to accelerate production schedule in 2021.
Souce: Tép Bạc