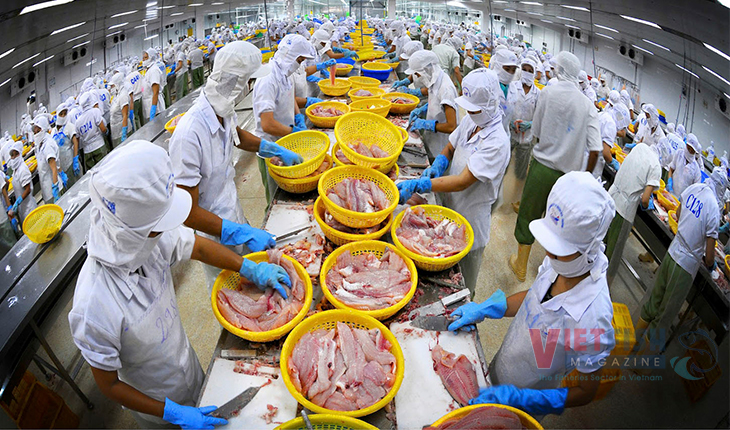 Exploit markets sustainably
In the context of a slump in exports due to poor consumption worldwide, the Government gave a direction of developing the domestic market and boosting exports.
Domestic market as "fulcrum"
The domestic market is now a "fulcrum" for many businesses while the consumption in foreign markets is sinking into a slump. Exploiting the domestic market is a solution for businesses to keep growing in the long run. 
According to Associate Professor PhD Đinh Trọng Thịnh, an economic expert, a solution must be given to boost the domestic market and consumption. Because only when businesses have their products sold, they have money to keep producing and paying workers. Thus domestic consumption will increase and the economy may recover. So as to stimulate the domestic market, it is necessary to develop a plan for the production and distribution system, boost the supply and demand activities, and connect businesses with localities to support consumption.
So as to increase consumption and develop the domestic market sustainably, functional institutes must speed up building and finalizing legal documents related to domestic market development in accordance with the current situation. Likewise, the "Strategy for domestic trade promotion up to 2030, vision to 2045" and trade promotion programs should be conducted; businesses, especially small and medium ones, should be supported with trade promotion activities; trademarks for domestic distribution must be built and protected; and local delicacies must be advertised.
Flexible with importing markets
VASEP anticipates that it would be difficult for aquatic exports to the US, EU, Japan, and Korea to grow due to the rising inflation. Meanwhile, China may become the biggest importer of Vietnamese seafood. So as to fully exploit this market, a coherent strategy for trade promotion with a vision up to 10 years must be developed. Otherwise, Vietnam's businesses will find it difficult to compete because when China opens their door after the Covid-19 pandemic, exporters from all over the world will consider China as a target market.
For sustainable exports to the Chinese market in the future, the Asia – Africa Market Department under the Ministry of Industry and Trade suggested that businesses, especially those related to agricultural products, should pay attention to research and promptly finalize the registration prior to exports to China. They are advised to carefully study market regulations and strictly follow regulations. Besides, they are encouraged to participate in international fairs and exhibitions that are held by the two countries so as to improve their direct connection.
In the performance of the National Program of Trade Promotion by the Ministry of Industry and Trade, Vietnam's delegates took part in the Seafood Expo Global 2023 held in Barcelona, Spain. This is the second time Vietnam has had a "Vietnam's Booth" to exhibit seafood products. 38 seafood businesses participated with VASEP, twice as many as in 2022. Besides key categories such as pangasius, shrimps, and aquatic products, businesses brought deep-processed products, "ready to eat", and "ready to cook" products to the expo.
The Prime Minister has just requested institutes to help businesses tackle difficulties in performing policies related to VAT tax refund; promote trade activities; check the law enforcement more frequently and assure seafood traceability; help seafood businesses tackle difficulties related to standards of seafood processing wastewater and wastewater from aquatic grow-out ponds. The Ministry of Foreign Affairs is requested to connect the domestic and foreign markets and provide businesses with market information for appropriate response.
Lê Minh Hoan, Minister of Agriculture and Rural Development
The Ministry will take full advantage of new generation free trade agreements to boost the exportation of key products to major markets such as the US, EU, Japan, and Korea. Besides, the Ministry will prepare for a conference for border provinces to connect, trade, and boost sales of agricultural products of Vietnam and China in quarter II and III of 2023; and participate in a series of events to advertise key Vietnamese agricultural products in England. Besides, exporting companies have to diversify their products, take advantage of free trade agreements, and exploit some new markets.
Lê Văn Sử, Vice Chairman of provincial Cà Mau People's Committee
Cà Mau People's Committee proposes the State Bank of Vietnam to direct commercial banks to issue instructions related to interest rate policies, loan deferment, and debt group remaining upon the Resolution no.02/2023 by the Governor of the State Bank. The People's Committee proposes the Ministry of Agriculture and Rural Development to cooperate with relevant ministries and sectors to consider and reduce taxes on importing materials for animal feed production, and improve the supervision of prices of materials used for seafood production.
Trương Đình Hòe, General Secretary of VASEP
For the growth of seafood exports of the Mekong Delta, a submission should be sent to the Government and localities should be advised to keep producing materials. Particularly, infrastructure of centralized aquaculture areas, breeding stock production facilities, aquaculture research and science – technology transferring facilities should be invested and improved. Parent breeding stock facilities should be invested and farms which provide breeding stocks to the Mekong Delta should be improved. Moreover, a submission should be sent to the Government for their consideration of adjusting the Land Laws to develop suitable farming areas and centralized production facilities.
Trương Thị Lệ Khanh, Chairman of Vinh Hoan Corp
Vinh Hoan Corp is focusing on improvement to create new products and make a strategic breakthrough for the new phase. In 2023, the Corporation put two new subsidiaries into operation: FeedOne (related to aquatic feed) and TNG Foods (related to vegetables and fruits). With food processing as one of the Corp's product range, Vinh Hoan has a sustainably closed supply chain of pangasius. The Corporation adds vegetables and fruits in the product range in the hope to diversify their products.
Đặng Ngọc Sơn, General Director of Camimex
With the current situation, we can't be optimistic about the shrimp market till the end of the year. The biggest importer, the US, hasn't shown any sign of recovery. Every time this market faces difficulties, others will be affected. The market may turn around from now till the end of the year, it can't compensate for the first months, thus it can be surely said that the 2023 plan will not be fulfilled.
Phan Văn Tâm, Minh Phu Seafood Corp
Minh Phu Seafood Corp had exported a worth of USD 50.7 million by late April 2023, down 55% from the same period last year, with 4,050 tons of seafood being sold, down 52% from the same period last year. Meanwhile, Vietnam's white leg shrimp can't compete against India, Indonesia, and Ecuador due to high prices. Thus, the Corporation hopes that Cà Mau's authority can help them expand the farming model of organic shrimp and certified shrimp. In the middle and long-term strategy, the province should boost the culture of certified shrimp to create competitive advantage. 
VFM