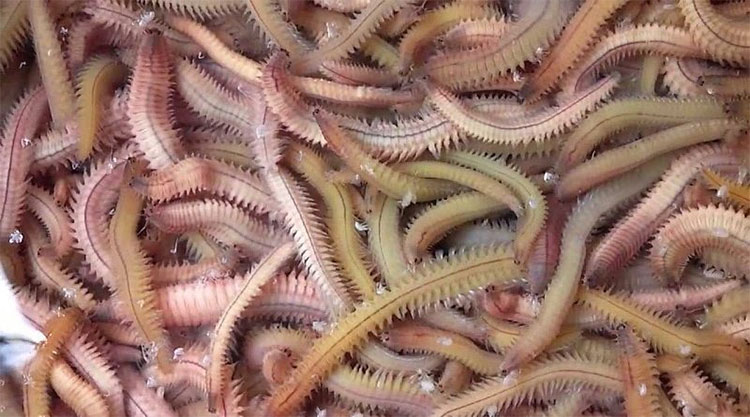 Prices of ragworms are skyrocketing due to bad harvest. Resources of ragworms are exhausted due to changes in the natural environment, especially water pollution.
Farmers in Hải Phòng have started the first ragworm harvest of the year. According to owners, they are suffering from a failure in ragworm crop this year, with the output being equal to a half or one third of previous years; however, prices are skyrocketing.
The farm-gate price is 500,000 dong/kg in Chiến Thắng commune of An Lão district, leaving ragworm pond owners collecting as much as hundreds of million dong each day.
Farmer Lương Hoàn Nhà in Tân Thắng village has the biggest ragworm pond in Chiến Thắng commune. On November 20, a large number of ragworms floated in the second harvest of the 2021 season. Around ten kilograms of ragworm were harvested every 5-7 minutes. With a farmgate price of 500,000 dong/kg, he earned around ten million dong from each net of ragworm. It can be said that  his retained earnings will reach around three billion dong with the 12 ha ragworm pond. 
"This year is a poor harvest of ragworm, and yet prices are high. We are selling ragworms at a farm-gate price of 500,000 thousand dong/kg, 100,000-200,000 dong/kg higher than that of previous years", said Nhà.
In different ragworm areas, such as Kiến Thụy, Tiên Lãng, An Lão, and Vĩnh Bảo districts, many households have drained their ponds to harvest ragworms for the second time since September (lunar calendar). Traders come to the pond and buy ragworms at 400,000 – 600,000 dong/kg.
Ragworm fields are crowded with traders all day, leaving frequent sold-out status.
With more than 20 years working in ragworm farming, Nhà says that ragworm culture does not face potential risks as other sectors. Investment cost in a ragworm pond is not as high as a livestock farm. As compared to rice fields, the economic efficiency of a ragworm can be 6-7 times higher. However, due to the increasing salinity intrusion, and climate and water environment changes, the output of ragworms has reduced sharply.
VFM