Markets
Pangasius prices remain at bottom amid China buys back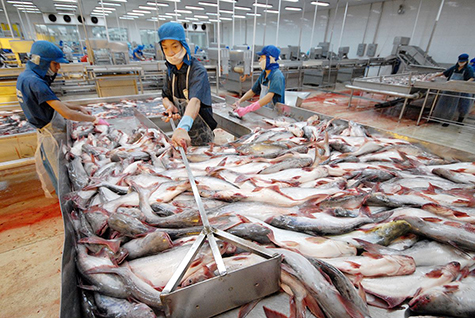 As China imports seafood again with limited quantity, pangasius exporters look to get products moving, but trade hasn't taken off fully yet.
According to Biển Đông seafood, a big pangasius exporter in Vietnam, there's a small good sign around Covid-19 in China, it seems better. We hope more sales will be done there with it even more controlled soon. But the market isn't any brighter yet, really. It's fair to say there's no price improvement yet.
Many pangasius enterprises agreed, stating that inquiries for pangasius were starting to come out china again, and some other countrier as well.
Up to late February, pangasius prices had hid what was widely hoped would be the bottom, of 1,750 USD per tons for fillet with 20% glazing exported to the EU. Its mean that prices remains at USD 1.75/kg, for kilogram packs; even USD 1.70/kg sometimes on bulk packs.
Some traders, who work closely with farmer in the Mekong delta said that prices had actually dippled in the interim, to USD 1,60/kg and back up to USD1.70/kg on March 19 due to China return to the market. That prices to the farmers are very low, ranging from VND17,500-18,500/kg. Local traders said that lower raw pangasius prices due to high stocks at many processing factories.
Chinese importers has been slowly buying but the orders is not really significant due to the low demand from food service channels as restaurants or hotels after the lockdown.
VASEP asker farmers to reduce their farming, given the weakened market demand in key regions. However, there was no need for VASEP to call for less stocking due to farmers have already slowed down the stocking since last October. Therefore, there will be some supply shortage after April.
Local pangasius processors were buying more raw material from outsourced farmed currently, as availability was not high and farm gate prices remain low. However, the output of these plants is still limited due to recovery of Chinese market is still very low.
VFM