Markets
Businesses are struggling with insufficient materials for processing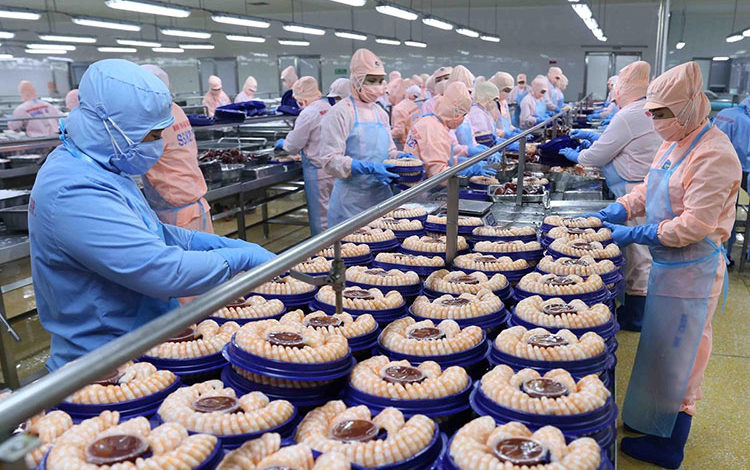 Vietnam has spent more than USD 13.2 billion on importing seafood products, vegetables, and materials for food processing, mainly corn, cashew nuts, shrimp, and fish.
According to the General Statistics of Vietnam, in the first eight months of 2022, the Index of Industrial Production of Vietnam's Food processing industry increased by nearly 9%, with Hồ Chí Minh city jumping by 11.9% as compared to the same period last year.
However, businesses have to face with the short supply of materials, leading to the fact that as much as 90% of the materials must be imported. Thus, Vietnamese food has found it difficult in competing against the same products made by other countries and lost strength in the very domestic market.
According to statistics by the General Department of Vietnam Customs, as of mid September 2022, Vietnam has spent more than USD 13.1 billion on importing seafood products, vegetables, and materials for food processing from China and the EU, mainly corn, cashew nets, seafood, and vegetables.
Doctor Nguyễn Đăng Nghĩa, former Director of the Southern Center for Soil, Fertilizer and Environmental Research, explained that Vietnam's agricultural products are produced by small households without a sustainable connection. Meanwhile, the organization and application of science and techniques by farmers of each region are a big challenge. This makes producers and processors run into difficulties because a large quantity of materials must be available.
Lê Nguyễn Đoan Duy, Director of Business Development of Asia Group shared that his company wanted to build a processing factory with 100,000 ton capacity, thus 200,000 – 300,000 tons of materials are needed. However, it was not easy because local material areas can not afford such numbers.
Many food companies said that they just had 70-80% of the capacity filled due to the disruption of the supply chain (materials are in short supply for production). Worse, some companies were facing serious losses due to the skyrocketing production costs. Thus, an investment into local material sources is paid attention to as a proper solution.
Phạm Ngọc Hưng, Vice Chairman of the Association of Businesses in Hồ Chí Minh city said that food companies were looking forward to a stable supply source, especially right from Vietnam. In his opinion, if households and companies cooperate and receive financial support from material processing companies, the value of agricultural products will definitely be improved. This requires the expansion of production scale with hygiene being controlled more strictly than global standards and marketing being carried out professionally. Besides, the Government should adopt policies to support farmers.
VFM