Markets
Cà Mau: Blood cockles prices drop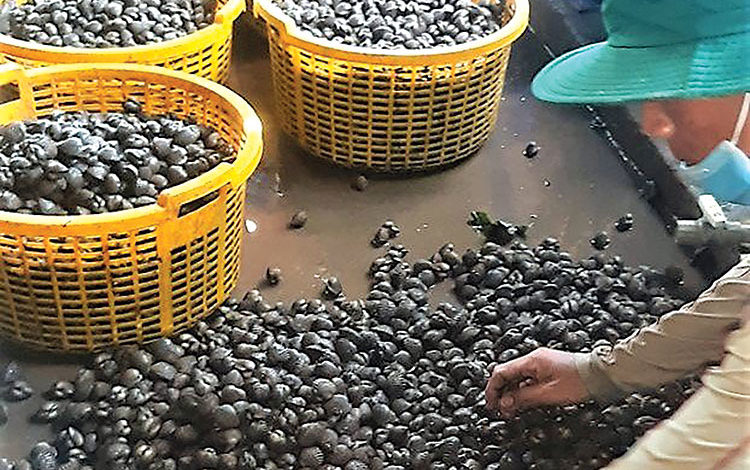 Farmers in Đầm Dơi, Phú Tân, and Ngọc Hiển districts in Cà Mau province are harvesting blood cockles. Despite higher output, the price is much lower than before Tet holiday, affecting the income of local farmers.
Besides shrimp-crab polyculture, farmers have cultured commercial blood cockles to earn more money.
Huỳnh Hải Dân's family in Việt Thắng commune of Phú Tân district, who has just harvested blood cockles, sadly shook his head and said: "Blood cockle is sold at 120 thousand dong/kg, farmers earn no profit".
Dân's family has been culturing blood cockles for over 15 years. On a land of nearly 2ha, Dân applied the polyculture of shrimp, crabs, and blood cockles, earning over 200 million dong per year. He said that he earned much more from blood cockles than shrimp and crabs.
Nguyễn Mai Hằng, Head of the Farmers' Union in Má Tám hamlet, said that most of the households in the hamlet were related to blood cockle culture. For stable sales, the hamlet established a blood cockle cooperative with 27 members. Despite the Covid-19 pandemic and fluctuating prices over the last four years, members achieved over 90% of the profit.
Hằng said: "With 100 tons of granosa seeds stocked in a one hectare pond averagely, I earned over 500 million dong". However, it is when commercial blood cockles are sold at high prices, for example size 60 pcs/kg are sold at 210 thousand dong/kg, size 80 pcs/kg are sold at 160 thousand dong/kg. Price is dropping sharply when blood cockles size 60 pcs/kg are just sold at 140 thousand dong/kg and size 80 pcs/kg are sold at 110 thousand/kg. The price drops by 50-70 thousand dong/kg on average. Compared to the time when prices stayed high, blood cockle farmers are suffering from a loss of 130 million dong/ha.
Trần Thị Ngân, Vice Chairman of People's Committee of Việt Thắng commune, said: "The shrimp-crab-blood cockle polyculture model brings in high economic value. However, prices of shrimp, crabs, and blood cockles were not as expected due to the COVID-19 pandemic. Farmers are struggling with the question low prices during a bumper crop.
VFM