Markets
Challenges that could break the supply chain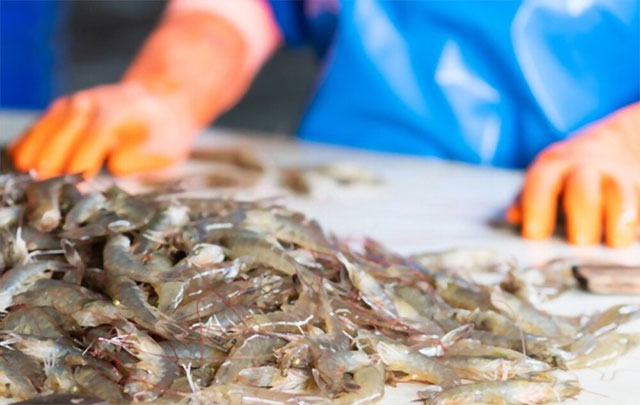 Controlling the COVID-19 epidemic over the past month, tightening circulation, closing traditional markets and restaurants, requiring businesses to implement "3 on the spot" has severely affected the seafood industry, creating the risk of supply chain break.
Traffic congestion, devaluation
At the beginning of August, Litopenaeus vannamei  farming in Vinh Chau town (Soc Trang) reached 60 heads/kg but there were no buyers. Occasionally, traders agree to buy at 100,000 VND/kg, down 16% compared to the previous month because shrimp trucks are difficult to travel. If they cannot pass the COVID-19 checkpoint, they have to pay more for cold storage. Deputy Head of the Economic Department of Vĩnh Châu town Nguyen Minh Chi said that the town has 24,000 hectares of industrial shrimp farming, has stocked over 12,000 hectares, but at the harvest time, it is difficult because it is not allowed to gather in large numbers of people. 
In Bạc Liêu province, at the beginning of August, all kinds of shrimp and crabs lost their value by 15-20%. Black tiger shrimp with 20 heads/kg is only 200,000 VND/kg, 30 and 40 shrimp/kg are 160,000 VND and 140,000 VND/kg, respectively. The price of 50 pcs/kg Litopenaeus vannamei is 100,000 VND/kg, 100 pcs/kg price is 70,000 VND/kg. Delicious sea crab is only 300,000 VND/kg. Crayfish of 20 – 30 shrimp/kg are only 100,000 – 130,000 VND/kg and it is difficult to sell because only for domestic consumption, but traditional markets and restaurants are closed. Other aquatic products are difficult to consume due to the high yield and congested circulation.
In Dong Thap province, at an online meeting on the afternoon of August 6, the provincial Department of Agriculture and Rural Development said that in August 2021, the expected harvest of pangasius is 30,058 tons, red tilapia 1,831 tons, and frog meat 1,893 tons. Pangasius consumption is difficult because export processing enterprises reduce capacity. As for frogs and tilapia, snakehead fish, a representative of Đồng Tháp Co May Company complained of output congestion, because previously it was mainly consumed through the Bình Điền wholesale market (Hồ Chí Minh City), but now the market is closed. Currently, the price of meat frog and tilapia in Châu Thành district (Đồng Tháp) is less than 20,000 VND/kg, snakehead fish is 20,000 – 25,000 VND/kg, down more than 40% compared to before.
In Bến Tre province, the Department of Agriculture and Rural Development said that in August, 6,000 tons of Litopenaeus vannamei  were harvested, 295 tons of blood cockles and about 1,200 tons of other aquatic products were harvested. The ability to consume 20 – 50% of the harvested output has just been determined. In Bà Rịa – Vũng Tàu province, there are also hundreds of tons of seafood. Particularly, Đất Đỏ district and Phú Mỹ town have 118 tons of snakehead fish, Châu Đức district has more than 65 tons of fish of all kinds, in Long Sơn commune (Vũng Tàu city) there are 290 tons of Pacific oysters. All have depreciated but are still difficult to sell.
Actively connect and suggested
The big worry covering the seafood industry today is the risk of supply chain breakage. In the last months of the year there will be a shortage of processing materials, loss of business partners, and loss of export markets. Therefore, localities, sectors, levels and associations are making great efforts to connect consumption.
Bến Tre Province established a Logistics Sub-Committee headed by Vice Chairman of the Provincial People's Committee Nguyen Minh Canh to solve the supply and demand issues of goods and connect the consumption of agricultural products. The subcommittee has representatives from the Departments of Agriculture and Rural Development, Industry and Trade and leaders of districts and cities. In Dong Thap province, Vice Chairman of the People's Committee Huynh Minh Tuan asked localities to promote the local consumption of small-scale seafood to overcome the strict time limit.
The Ba Dinh Agricultural Cooperative in Vĩnh Lộc A commune (Hồng Dân, Bạc Liêu) has giant freshwater prawns of 10-20 shrimp/kg with an output of 2-3 tons/day, but traders can't come in and buy them and have used social networks. Zalo association, Facebook post products for sale. Up to now, it has established one selling point in Bạc Liêu and two in Can Tho city, consuming 700-800 kg per day and is trying to expand. In Kiên Giang province, the Department of Agriculture and Rural Development of U Minh Thuong district supports giant freshwater prawn farmers in various ways of connecting consumption. In particular, from August 5 to 31, the addresses that can supply 2 to 5 tons of shrimp a day are Ms. Nguyen Thi Ngan and Mr. Nguyen Van Giau both in Thanh Yen commune, and Mr. Nguyen Van Cuong in An Minh commune. North with the price of 10-15 pcs/kg about 150,000 VND/kg.
The Ministry of Agriculture and Rural Development has established a Working Group to coordinate with the Working Group of the Ministry of Industry and Trade, the Department of Industry and Trade and the Department of Agriculture and Rural Development of 19 southern provinces and cities that are separating according to Directive 16, to solve problems in the circulation of agricultural products. Working group 970 assessed that the initiative to connect the consumption of agricultural products in 19 localities is a good model for other localities in the country to apply, to avoid product chain disruption. For its part, on August 5, Working Group 970 received registration of 778 focal points to supply agricultural products, including 318 focal points of aquatic and seafood products.
Many practical recommendations have been raised. Bạc Liêu Department of Agriculture and Rural Development recommends early vaccination against COVID-19 for workers of enterprises; Localities have suitable solutions to help workers and drivers to buy and deliver goods. Deputy General Director of Nam Viet Joint Stock Company Do Lap Nghiep also frankly analyzed that the implementation of "3 on-site" increases costs, causes panic among workers, cannot be prolonged but needs vaccination to stabilize. .
In a report sent to the Prime Minister on difficulties in COVID-19 prevention and control, VASEP said that there are 270 member enterprises mainly in the Mekong Delta and the South Central region. Currently, about 70% of businesses have had to suspend production, those that are still operating, the capacity is only 40-50% and the highest ability to maintain is only 4-5 weeks. So the basic solution is to vaccinate workers.
Working group 970 of the Ministry of Agriculture and Rural Development also suggested that the Government direct 19 southern provinces and cities to prioritize vaccination for 100% of workers in agricultural and aquatic product processing factories. Recently, in some factories, workers maintaining production only injected about 30-40% of vaccines, so the risk of disease spread is very high. In addition, a number of businesses have had outbreaks of diseases, been blocked, and suffered great losses.
Recently, VASEP also has a proposal to implement "medical on the spot". Enterprises actively use the medical team, the factory's medical station, to organize self-testing for workers twice a month, test samples to be sent to health authorities and the results are applied in circulation and transportation. Translate. Workers who are fully vaccinated will go to the factory on a controlled, convenient and safe route.
Businesses that are facilitated to actively prevent and control epidemics, maintain and restore production will have the ability to limit supply chain disruptions. At that time, the food supply system to meet domestic and export needs will be smooth, ensuring a safer and more secure life for millions of people.