Markets
Clam prices on rise as harvesting begins in Mai Phụ, Hà Tĩnh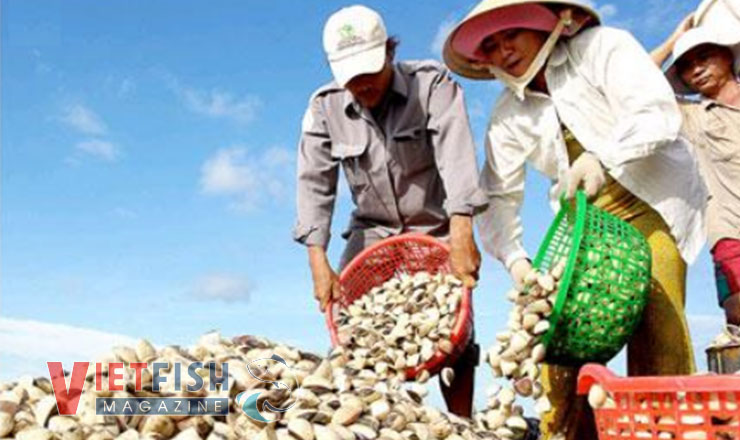 Clam farmers in Mai Lâm village of Mai Phụ commune, Lộc Hà, Hà Tĩnh are busy getting the harvest in. Prices of clams are rising back after many times of "hitting the bottom" due to the covid-19 pandemic.
"A large number of clams were not sold and found mass dead at the end of February due to the covid-19 pandemic. But in the last ten days, traders came and purchased large quantities of clams, resulting in an increase in prices from 10,000-11,000 dong/kg to 14,000-16,000 dong/kg (depending on size). After stocked in one year and a half, clams are in the run-up to harvest and cover a part of damages with such price", said Nguyễn Hồng Thanh, Director of the Bình Định Aquaculture Cooperative. In the main harvest, the cooperative can bring in 3-4 tons of clams per day on average and sell to local traders and other provinces, earning 45-60 million dong per day.
Nguyễn Văn Việt, Director of Việt Hồng Aquaculture Cooperative said: "Seven members of the cooperative are stocking clams in a 15ha farm. The recent massive death has caused a loss of 1 billion dong, leaving a damage of 30-40%".
"The rise in prices can help farmers cover the initial expenses and have some money to invest into the next crop. We are hoping restaurants and travelling destinations will open soon and clams prices can reach 18,000-20,000 dong/kg. We are selling six tons of commercial clams to traders on April 25".
According to clams households, prices this year are 2,000-3,000 dong/kg higher than the previous year because recent massive death has resulted in short supply while demand inside and outside the province is growing in the run-up to summer.
Mai Phụ has the largest area of clams farm in Lộc Hà district, more than 80ha owned by 36 households.
VFM