Markets
COVID-19: insights into two biggest destinations of Vietnamese pangasius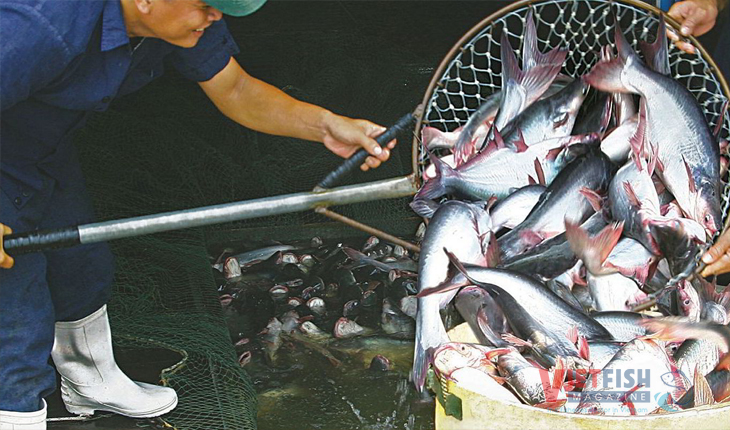 A picture of the post-COVID-19 world  has been drawn by the Government and experts recently, including multiple workshops being held to assess the impact of this pandemic into economic activities.
The COVID-19 crisis has affected societies, livelihood and economies around the world with a rampant speed and level. This is the first time mankind has encountered such a crisis, resulting in a change in consumption behavior, pangasius included.
Companies achieving self-sufficiency of pangasius material accounts for 70% of supply; thus, most pangasius processors suffered from "double challenges" when many countries shut down their economies. There are some companies swimming upstream catching opportunities to grow by producing processed food for retail services.
Vietnamese pangasius "set sail" in defiance of COVID-19 pandemic and suffered from so much pain but tried to stand still. We have learnt many lessons of risk management, market and product diversification; however we are falling into the market trends instead of mastering the game by mapping out long-term and proactive strategies.
Truong Thi Le Khanh, Founder & Chairwoman Of The Board, Vinh Hoan Corp.
Is it possible that Vietnam's pangasius sector should think about how to stand still and cope with possible pandemics in the future, not only the COVID-19? It is said that "In danger lies opportunity". What good can come to pangasius? Let's brief the two biggest destinations of Vietnamese pangasius, the US and China.
Coronavirus erupted in China after Tet Holiday, making sales of Vietnamese pangasius in Quarter 1 of 2020 in this market decline by 37.5% compared to the same period last year. Demand in pangasius has been recovered since April 2020 due to the requirement for stockpiles for food security and reopened restaurants. And yet, another surge of coronavirus hit Shincheonji (Beijing) and made consumers fear imported seafood. Pangasius going into China must enclose with a pass covid certificate to alleviate consumers' worries. Supermarkets once again cope with pressure of "imported goods", while those labels themselves comforted consumers in terms of food safety and quality.
A prompt reaction of Chinese importers and China's proven ability in disease control have made Vietnam's pangasius exporters adhere to a belief that the Chinese market would recover in July.
Foodservice has been the main channel of consuming Vietnamese pangasius in the US market for 20 years since penetration, and yet the media of this species is hardly boosted. According to an investigation by a group of investors taking interests in Vietnam's pangasius sector, this species is little known in the US compared to tilapia. Most chefs in restaurants hardly can tell the differences between these two kinds of white meat fish. During the COVID-19 pandemic, while Brazil have its market share of tilapia spike nearly 100% and China saw a noticeable sales of this species in the US regardless of being imposed a 25% tax rate, Vietnamese pangasius suffered from a slump of nearly 25% in the first six month of 2020. However, Vietnam's pangasius suppliers believed that export volume will be stabilized in the last months of the year when the US agreed to reopen the economy and local restaurants recovered.
However, we have let our pangasius swim among an ocean of suffering by taking advantage of competitive prices, changing the process method, and adapting to the global economic situation. We haven't been proactive or raised a prompt reaction when our products are boycotted or attacked by barriers imposed by importing countries. It's time for us to work with importers to build a trademark and set up official and long-term media activities for Vietnamese pangasius. Media will help consumers recognize  and buy Vietnamese pangasius over thousands of products sold in supermarkets, not only during the pandemic but also in their daily lives.
We have seen a remarkable growth of our pangasius in England during the eruption of the pandemic and the habit of consumers will naturally guide them to Vietnamese pangasius. Does the name "Basa" and the cooperation between two countries to remain the quality standards in many years bring in this success?
The US needs a name close to consumers and producers rather than strange-sounding names like "Swai" or "Stripped Pangasius" which is hard to be recognized and ingrained into consumers' mind. The refined pangasius won a big prize at the Global Seafood Exposition held in Brussels, then why can't we give us the right to think about a bright future of Vietnamese pangasius? What's important is how to do, how to media and how to get companies' cooperation. We need a share and cooperation in the whole supply chain for an overall sustainable development.
The COVID-19 lesson has given us an experience to strike a balance between Foodservice and Retail by adopting in-time media activities to stabilize market sentiment and having an immediate reaction to gain consumers' trust. The fish must be given a name suitable to each market and widely introduced to consumers.
Need sharing
Need cooperation
Need improvement
Need planning
Balance between supply and demand
Need environmental protection
There are many things we can do together to give pangasius a rank it deserves.
VFM