Markets
Pangasius prices inch up, focusing on expanding domestic market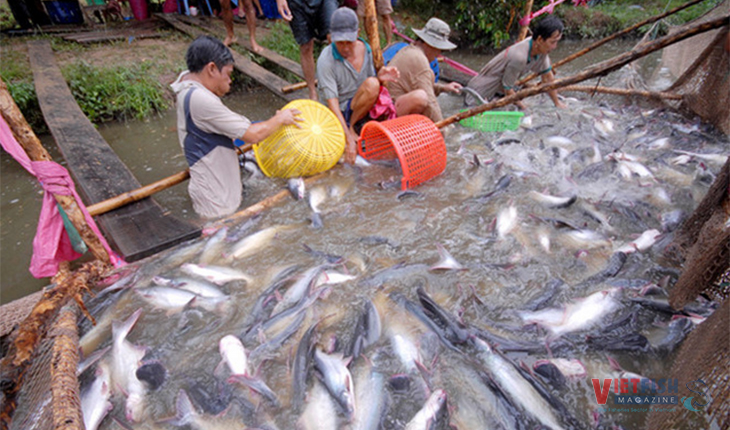 In the face of challenges in pangasius exports due to the impact of Covid-19 pandemic, the exploitation of the domestic market is being paid attention and considered a significant solution to maintenance and development of the pangasius sector.  
Local farmers and companies related to pangasius culture for processing and exports in the Mekong Delta are paying attention to either boost the consumption of fresh fish or diversify processed products. Local authorities are mounting efforts to support farmers and companies so as to ramp up trading and encourage the domestic consumption. All fairs and trade promotion programs held recently received attention by Mekong Delta's authorities, Ministries and sectors so that units and companies have enough favorable conditions to advertise and promote pangasius products in the domestic market.
Nearly 20 processed pangasius products, which are convenient, nutritious, and qualified enough for exports, have been introduced by Vĩnh Hoàn Corporation in Cao Lãnh city of Đồng Tháp province.
In Cần Thơ, not only do farmers and households increase the quantity of pangasius sold in markets, but they also set up more pangasius sale spots along the road with selling prices ranging between 28,000 and 30,000 dong/kg. Many companies are paying attention to processed products and delicious food made of pangasius so as to list in menus in supermarkets, kitchens, canteens, restaurants, and hotels. Thus, besides fresh pangasius, frozen pangasius fillets and grilled chopped pangasius, companies are producing dried pangasius, pangasius sauce, meat and fast food from pangasius skins.
Chương Văn Khanh in Trường Thọ 1 of Tân Lộc ward, Thốt Nốt district, Cần Thơ city said: "He usually purchases more than one ton of pangasius to make dried fish and fish sauce, helping farmers sell their fish and improving the product value. Pangasius sauce is sold at 120,000 dong/kg and dried pangasius ranges between 140,000 and 160,000 dong/kg".
During pangasius farming for exports, Minh Đức Thành company in Thốt Nốt district of Cần Thơ city is paying attention to develop pangasius products to improve the added value and boost the consumption of pangasius in the domestic market, meeting the demand in restaurants and families. Until now, the company has produced a lot of Kocana pangasius products to serve the domestic consumption such as fresh fish, half dried pangasius and dried fillets. Likewise, the company is cooperating and supplying pangasius to kitchens in restaurants and traveling destinations.
Prices of pangasius materials in many parts of the Mekong Delta increased more 1,500-3,000 dong/kg compared to the last three weeks. Farmers in  Cần Thơ, An Giang and Đồng Tháp are selling pangasius to traders at 19,500-22,000 dong/kg, the highest level over the previous months. Companies are ramping up purchasing oversized pangasius to process for selling domestic consumers and exporting, especially to China. Prices of pangasius material are forecasted to increase over the coming days.
VFM