Markets
COVID-19: Look forward to the domestic market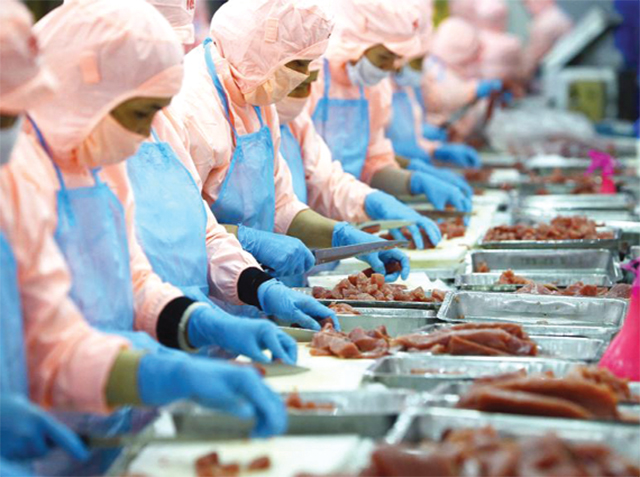 The disease caused by COVID-19 is slowing world trade, Vietnam's seafood exports are also significantly affected. Unable to bring products abroad, many businesses are looking for opportunities in the domestic market.
Opportunities after the "rescue"
In the middle of last year, just a move to change the management mode of the Chinese side, many Vietnamese seafood products were devalued, with backlog of goods, such as falling prices of Khanh Hoa lobster, thousands of tons of dried squid, dried fish in Quang Nam, Quang Tri stagnant … While the story is still not cool down yet, recently, the outbreak of COVID-19 broke out, China banned the border, immediately many agricultural and aquatic products of Vietnam. Back to the market. Containers line up next to each other at Tan Thanh border gate because they are not cleared, if any, it is also very sluggish, farmers can not harvest because of sluggish … People all over the country are exhorted to "rescue" dragon fruits. , watermelon and lobster.
The story of Vietnam's agricultural and aquatic products depends on the Chinese market is not new. Regardless, this country of billions of people is still an important market for many agricultural products of Vietnam. Therefore, with just a slight "turn around" from China, a series of products stand and lose value. The story is not new but what is worth mentioning is that after so many years, the answer is still open.
According to Dr. Nguyen Tri Hieu, economic and financial expert, agriculture is a very volatile and risky economic area, because the agriculture industry is based not only on domestic consumption but also on international consumption, exports account for a very large proportion of GDP. This is what makes agriculture highly dependent on market fluctuations. The current COVID-19 epidemic has caused agriculture to fall into a sudden crisis situation, affecting the market.
"The agricultural plan still have many deficiency, and when the crop is on time, the market will lose its value. Then sometimes the market needs the goods, the price increases. I think that it is necessary to check and rethink Vietnam's agricultural development plan, must go together with import policies, currencies, fiscal … All these must be linked together to have a suitable mechanism for farmers, "Mr. Hieu emphasized.
The domestic market needs to be respected
Domestic consumption cannot be compared with imports, but it will also occupy not a small amount of aviation. More importantly, creating a certain domestic consumption channel will not cause the goods in the localities to be congested every time the export market has problems, leading to large-scale "rescues" which takes place every year.
Not to mention, these rescues also cause experts to worry and shoppers sometimes have some anxiety. That they are "rescuing" who, because in the supply chain of the market today, people do a lot but get the least! And furthermore, why is the domestic market not focused on investing in a consumption channel but only as a destination when "it can't sell"? And as shared by economist Pham Chi Lan, not cleverly rescuing and accidentally turning "an acute disease into a chronic".
Regarding the reason, according to the Minister of Agriculture and Rural Development Nguyen Xuan Cuong, it is because of fragmented and small-scale agricultural production that can lead to risks, and expect these production households to reunite in a new cooperative model. However, Minister Cuong also emphasized that replicating the model or ending the rescue of agricultural products is not overnight. It also depends on the upward process of society.
Currently, the amount of agricultural products in our country exceeds the domestic demand but the prices are not low. Only when exports have slowed down or failed, prices will drop to consume the backlog goods. But, if the situation is less stressful, the price will rise immediately, like the situation of "rescuing" dragon or lobster over time. This shows that the market regulation is extremely important, to ensure that prices do not fluctuate and goods are distributed evenly, there is no situation of congestion and waiting for "rescue".
With seafood products, many businesses now pay more attention to the domestic market because of the wide potential. According to data of the Department of Agro-product Processing and Market Development, the domestic consumption of aquatic products annually reaches over VND 22,000 billion, equivalent to US $ 1 billion. This value is not less than the traditional markets of our country. However, most local businesses are not big and strong!