Markets
Shrimp sector decisively prevents value chain from being disrupted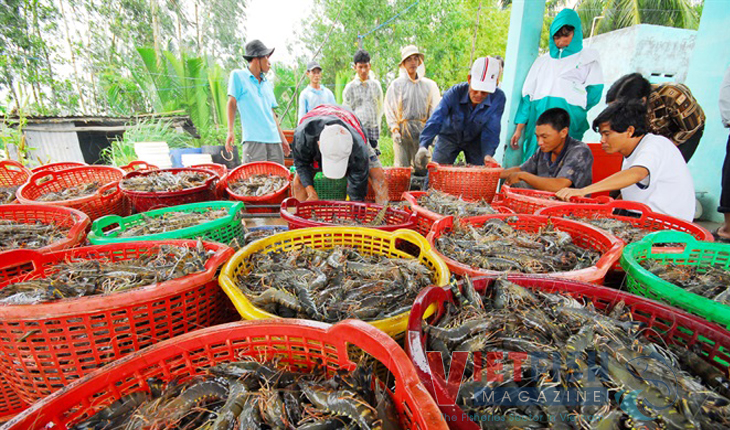 The covid-19 pandemic has been disrupting multiple Vietnamese businesses. The most important factor to help them overcome the already harrowing time is adaptation.
Vietnam's shrimp sector grasps some opportunities while  many sectors are desperately struggling amid the overwhelming COVID-19. Võ Văn Phục, General Director of Vietnam Clean Seafood Corporation, addressed in An Nghiệp Industrial zone, Châu Thành district, Sóc Trăng province, said that Vietnam's success in suppressing and preventing the COVID-19 is the root of this result.
Sustain trademark
Besides, as Vietnam's competitors are desperately struggling with the pandemic, their customers start to shift to buy Vietnamese shrimps. In Phục's opinion, the growth of Vietnam's shrimp sector amid COVID-19 pandemic was mainly driven by credible shrimp processing facilities located in Sóc Trăng with a good quality management system.
Besides, companies in Sóc Trăng have succeeded in proceeding up the value chain, from cultivation to facilities and management; therefore they were not cracked under the impact of the pandemic. "His company brought in $65 million from exporting shrimps, up 26% compared to the same period last year", said Phục.
Not being badly impacted by the pandemic, SAO TA Foods Joint Stock Company (FMC) has just announced its output of processed shrimps of 2,268 tons, bringing $20.3 million revenue in July. Chairman Hồ Quốc Lực said that this may issue an optimistic forecast about the picture of Vietnam's shrimp exports in the next few months.
However, in Lực's opinion, the courses of this situation can't be evaluated amid the ongoing COVID-19 pandemic. Thus, Sao Ta must take wiser precautions in setting up its business plan.
"We are focusing on completing the deliverables as soon as possible to reduce the amount of unsold stocks, which may result in capital difficulties. We focus on the next crop and try to remain some profits", said Lực.
Even though Sao Ta doesn't have a high growth speed as compared to its competitors, this shows its steady steps in the fisheries industry.
With a sustainable strategy and without pursuing a rapid growth, Sao Ta has always been managing the fluctuation of the industry and continues to grow. Remarkably, Sao Ta has turned the COVID-19 pandemic into a big opportunity to expand its market share.
However, for smooth exports of Vietnam's products in general and shrimps in particular, Võ Văn Phục proposed that the Government should continue to give strict directions of preventing coronavirus. "If exports are broken, the whole production value chain will be interrupted, making shrimp farmers seriously suffer", said Phục.
Take precautions of "barrier" of traceability
Vietnam's shrimp sector will experience a fierce global competition in the next few months when more and more countries are expanding their shrimp area, according to the Import-Export Department (of the Ministry of Industry and Trade).
When importing countries are strengthening their requirements of quality and food safety, Vietnam's seafood exports in general and shrimp exports in particular will be impacted.
Besides, small businesses without traceability and global certificates have always been a big problem of Vietnam's shrimp sector. The COVID-19 pandemic has changed the habit of consumption, requiring businesses to swiftly catch up with changes.
In particular, when the tariff barrier was removed, the EU built a non-duty barrier with new regulations of using Ethoxyquin in preserving feed products.
As of March 31, 2020, Ethoxyquin wouldn't be used in all aquatic feed. Vietnamese businesses must update this information and meet this requirement if they want to export shrimps to the EU without any difficulties.
To tackle the situation of traceability, Trương Đình Hoè, General Secretary of VASEP, said that farmers must discuss with traders and processing and exporting companies to know about the demand and quality requirements as well as consider their capital to produce an abundant crop.
Companies should attract more foreign investment, improve production technology and product quality, and take part in the local production chain so as to grasp opportunities from the EVFTA.