Markets
Hà Tĩnh: Prices of shrimp fell by 20-30% from last year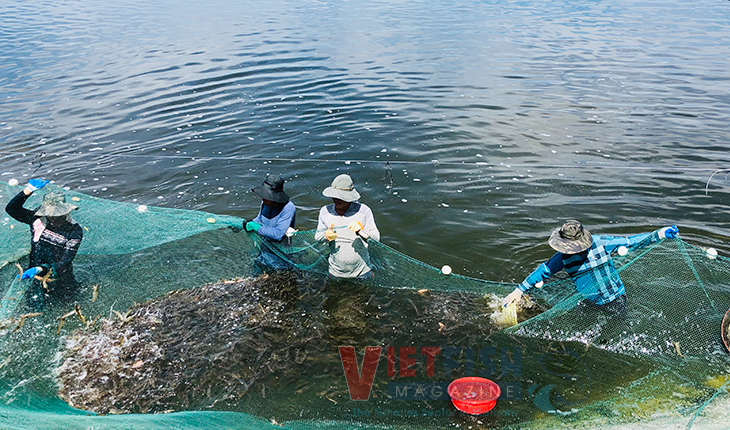 This year's spring-summer crop saw a slump in productivity and output in defiance of high investment cost; plus prices are low, resulting in Hà Tĩnh farmers suffering difficulties.
Early harvest due to retard shrimp growth
Farmer Lê Đình Thông in Trung village, of Thạch Hạ commune, Hà Tĩnh city, has just harvested and sold out two shrimp ponds of 6,400 m2 after more than two months and a half of stocking. "In the face of summer heat, retard shrimp growth and poor feed intake, we have to conduct an early harvest although shrimps only weigh up to size 100-120 pcs/kg and sell them at 90-100 thousand dong per kilogram. However what we earn is only enough to cover what we spent on this crop, due to a slump in productivity and output, increase in investment cost and low selling price", said Thông.
Farmer Trần Minh Thượng, owner of four ponds of white leg shrimps, 2 hectares, in Đông Hà village of Thạch Long commune, Thạch Hà district, is worrying about one pond of shrimps infected with white feces disease. He said: "I spent nearly 400 million dong on four shrimp ponds at this year's spring-summer crop. With such potential risks, we will conduct early harvest and sell shrimps to avoid disease spread".
According to many experienced shrimp farmers in Hà Tĩnh, slow growth is driven by summer heat and some other factors such as broodstocks and environment. This will prolong the farming duration, increase production cost, and affect productivity and output; and yet low selling price is making farmers earn less profit.
Shrimp price decreased by 20-30% compared to average prices of previous years
Hà Tĩnh plans to reach 2.750 hectares of spring-summer shrimp crop. As many as 1,976 hectares has been filled with shrimps so far, with a vast majority of white leg shrimps.
Prefectures with large farming area such as Kỳ Anh town, Kỳ Anh, Cẩm Xuyên, Thạch Hà, Lộc Hà, Nghi Xuân districts, begin harvesting and sell shrimps at lower prices compared to the average prices of previous years.
"The 20-30% drop in shrimp prices is attributed to the fact that this is the main crop with an abundant supply and the economy is being hit by the COVID-19 pandemic, causing various difficulties", said Nguyễn Thị Hoài Thuỳ, Head of the Aquaculture Management Office of Hà Tĩnh's Department of Fisheries.
Hà Tĩnh's shrimps were exported to China before; however the COVID-19 pandemic has reduced the sales to this market. A vast majority of shrimps consumed by the domestic market has resulted in a slump in prices. In particular, shrimps size 100 pcs/kg are sold at 86 thousand dong, shrimps size 60 pcs/kg are at 115 thousand dong, shrimps size 30-40 pcs/kg are at 150,000 dong.
Nguyễn Bùi Thanh Sơn, a farmer related to white leg shrimp cultivation in Kỳ Khang commune of Kỳ Anh district said: "A lot of traders from southern prefectures such as Hà Nội, Quảng Ninh and Hải Phòng came to Hà Tĩnh to buy shrimps at harvest time before. But southern farmers are expanding their shrimp farms, resulting in a decrease in sales of Hà Tĩnh's shrimps to these prefectures."
Besides, disease outbreaks in some shrimp farming areas have brought down selling prices. When shrimps were found dead of intestinal disease in some ponds, some farmers in Thạch Sơn (Thạch Hà) ramped up selling shrimps at prices which were 80 thousand dong/kg (size 100 pcs/kg) lower than market price.
VFM