Markets
Pangasius exports to the EU bounce back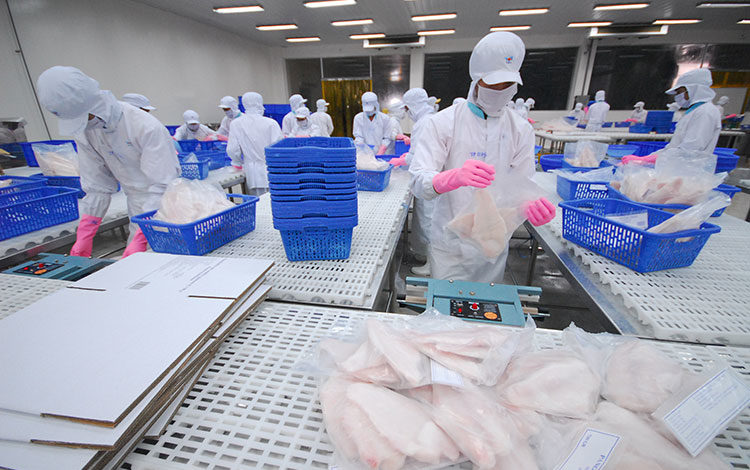 According to VASEP, as of mid-February 2022, the total export value of Vietnamese pangasius to the EU reached USD 20.2 million, up 40.2% from the same period last year. This is a good sign after months of fading away or slumping.
The Netherlands, Belgium, Germany, and Spain are the top four biggest importers of Vietnamese pangasius, with the Netherlands ranking the first position with a 36.6% density of the total sales in these markets.
Ten years back, the EU was a traditional market and the biggest destination of Vietnamese pangasius. However, after thriving between 2016 and 2018, sales of this species to this market started to fade away and fall.
After the outbreak of the COVID-19 pandemic, importers said that they had to face financial difficulties amidst the decreasing demand for white meat fish, pangasius included, in many markets; meanwhile logistics and freight charges increased sharply. Many customers from the EU proposed to reduce their purchases, or canceled signed contracts or draft contracts. Moreover, importers related to the FOB method faced difficulties when waterway transportation charges increased but pangasius prices in the EU stayed still. And yet, importers hesitated to purchase.
As the EU customers were demanding while prices were not so attractive, big importers to the EU shifted to other markets in 2021 such as: China, Mexico, Brazil, Egypt, Colombia, and Thailand. That also led to consecutive decrease in pangasius export value to the EU.
Even though Vietnam saw a slump or disruption in pangasius export value to the EU countries, this is still a big and important market of Vietnam's enterprises.
Earlier this year, Vietnam saw a positive growth in pangasius export value to the EU, bringing hope to enterprises who want to come back with this market.
Rising demand for seafood in the EU and preferential tariffs upon EVFTA will enable Vietnamese seafood products to compete in the EU market.
However, Vietnamese pangasius products have to go into fierce competition with other providers to the EU.
On the other hand, the on-going Covid-19 pandemic in the country and the world and consequences from fulfilling recommendations by the EC related to IUU fishing will continue to pose a huge impact on Vietnam's seafood exports to this market.
VFM