Markets
Pangasius industry is struggling in the COVID-19 pandemic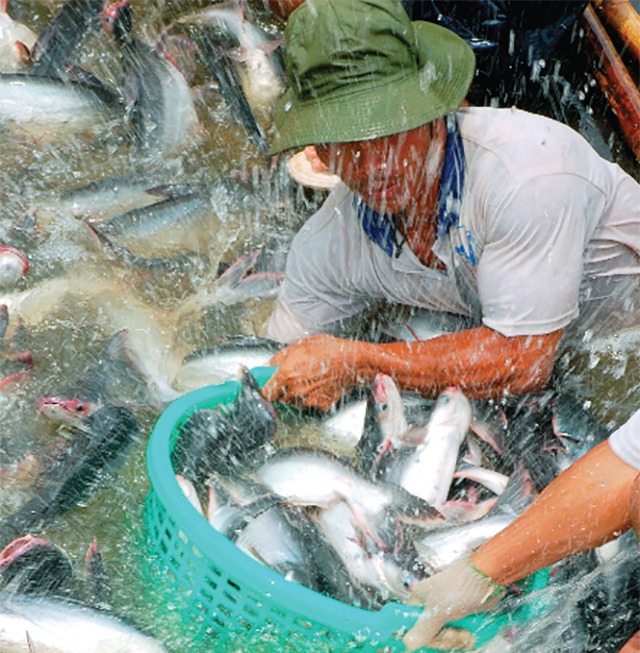 Pangasius production and processing is currently facing many obstacles. As recorded by the end of July 2021, pangasius companies were severely affected due to the COVID-19 pandemic outbreak in Hồ Chí Minh City and the Mekong Delta region. Owing to the closure of up to 50% of production facilities in some key regions, the pangasius in the pond was oversized.
Đồng Tháp is known as a province with the largest area and output of pangasius in the country, raw pangasius here is currently priced at 20,500 – 22,000 VND/kg, while the average cost to produce 1 kilogram of raw fish is almost 22,500 VND. Raw fish prices have fallen as a result of the reduced capacity (30-50%) and the temporary shutdown of processing plants. According to pangasius enterprises, their biggest difficulty is to implement the "3 on-site" rule because of costs incurred, increased salaries, challenges in transporting materials and commodities.
The supply of pangasius in other localities such as Cần Thơ, Vĩnh Long, An Giang, etc., is abundant; however, the pangasius price has dropped due to the temporary closure of the processing factories or reduced capacity. It is the reason why this tendency is forecasted to continue in the coming time. The capacity of the whole pangasius industry decreased to 10-20%. 
A representative of An Giang Department of Agriculture and Rural Development said that due to the application of social distancing, the 3-level pangasius breeding project was just on hold; the trading and transportation were restricted. If the epidemic was controlled, there would be a shortage of breeding when restocking. It was suggested that the policy bank system should provide farmers and businesses with preferred interest rates and electricity bills.
The International Development & Investment Corporation (IDI), one of the leading pangasius enterprises in Vietnam, is currently operating at 30% capacity under the "3 on-site" regulation. This company expects that the Ministry of Agriculture and Rural Development and localities have solutions to deal with the problem of labor shortage, especially prioritizing vaccination for workers. In the long term, it is necessary to issue licenses for business operations.
Besides, the transportation of raw fish from farming areas in several provinces (An Giang, Đồng Tháp, Cần Thơ) to processing companies is extremely challenging. Banks are expected to lower interest rates, but they decline insignificant by about 0.5%. It is possible for enterprises to implement the "3 on-site" principle; nevertheless, the transportation of raw materials is inadequate because of "green channels", business travel slips, and COVID testing. Therefore, ministries and branches need to facilitate stable and better production. 
>> According to VASEP, the prospect of seafood exports in August and September is predicted to be tough; in which, the production and processing of pangasius are seriously affected. Consequently, the export situation is difficult to improve at this period.