Markets
Pangasius market flat due to low demand, tough farming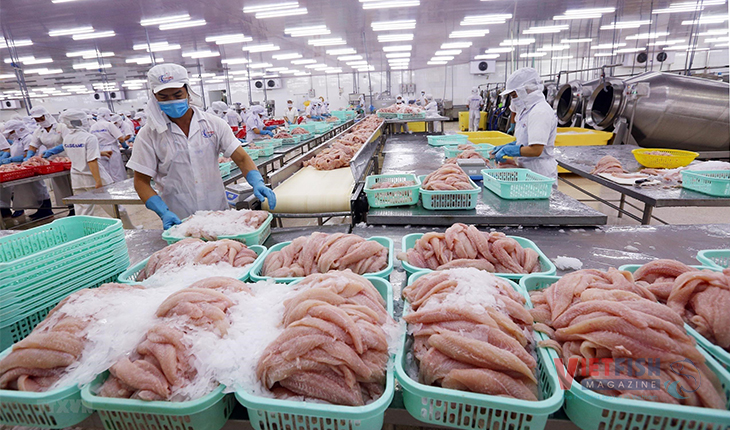 Seroust summer heat causes a lot of challenges to pangasius farming in Vietnam. But due to the slow market, the raw material supply is still sufficient for demands, and so far did not cause unstable prices.
Farmgate prices of pangasius have still belowed VND 20,000 per kilogram since 2020 began, and are currently stable at VND 18,300/kg.
The COVID-19 pandemic has not affected farming or supply in any way. Government's strict measures from the off have meant the country still only has some confirmed cases, and no deaths registered as of June 5. Therefore, the harvests are only being influenced by demand and price.
"Supply of fish is stable as it is normally harvesting season in summertime," according to Tâm Nguyen, CEO of Vietnam's largest pangasius exporter, Vĩnh Hoàn Corporation.
"However, there has been very little new stocking since February, when the Covid-19 outbreak first happened in China. So, we keep our forecast of lower supply year-on-year for 2020 and 2021," Tâm said.
There have not been any changes to prices either for fillet product or raw material over the last two months, said Tâm. EU import price for fillets stuck firm at roughly the $2.00/kg level.
Local traders predict prices will remain flat until the fall, with the trader stating Vietnam's packers expect levels to remain "at the bottom" for the next three-to-six months. The main size in Q4 will be bigger ones; smaller sizes will be short, and especially 6/8 will be very short.
Tâm agreed in general, forecasting that as global markets recover, demand for pangasius would no longer be depressed, leading to an improvement in prices, "hopefully in the late months of the year.
All sources mention the EU market has dived in terms of imports due to the spread of coronavirus there. Farmer and exporter Nam Viet Corporation wrote that Vietnam made sales worth $56.9 million to the EU in the four months leading up to May 2020 — down 39% y-o-y.
The China market has resumed buying, but not much, as they want a lower inventory level," said the trader. Also the value of the Chinese renminbi is lower, which also affects importation. The export volume to China increased in May, and it is expected to further increase for June, as China will continue to buy.
Vinh Hoan had seen a "full recovery" in sales to China in April and May. The company's most recent financial update, for April, showed that revenue from sales to China in that month was down 48% y-o-y. Sales to Europe for that month were up 68%, presumably spurred by retail demand.
Finally, US remained a fairly strong market for Vietnamese pangasius. It is an active market. During the pandemic period, panga fillet as a cheaper product is selling well in retail, so importers are keeping their high stock level.
VFM