Markets
Seafood exports to the US reached over USD 1.1 billion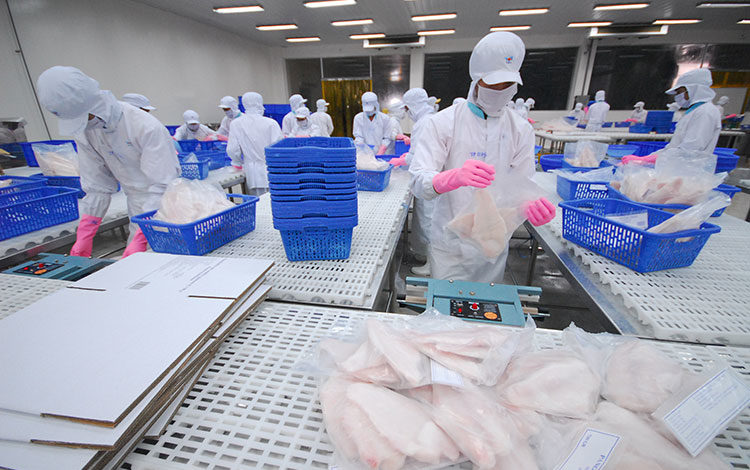 Vietnam earned nearly USD 1.1 billion from exporting seafood to the US in the first five months of 2022, up 65% from the same period last year. Seafood exports to the US are predicted to reach USD 2.4-2.5 billion, up 25% from 2021.
The US has been the biggest importer, accounting for 23% of Vietnam's seafood export volume. The US has been also the largest destination of Vietnamese shrimp, accounting for 21% (sales of white leg shrimps to this market account for 25%). Sales of tuna account for as much as 54%. As for pangasius, the US is the second biggest market after China, accounting for 25.6%.
Except for a 10% decrease in bivalves, noticeable sales of shrimp, pangasius, tuna, and other key species were recorded in the US market as compared to previous years, especially pangasius with a 131% increase from the same period last year.
The remarkable growth of pangasius exports to the US was attributed to five factors: reduction of output of the US catfish, high inflation, advantages from the anti-dumping duty upon the POR17, more enterprises allowed to export to the US, exporting prices of pangasius to the US reaching a new peak.
In the first five months this year, exports of white leg shrimp and black tiger shrimp to the US increased by 33% and 29% respectively as compared to the same period last year. Vietnam has been the biggest provider of shrimp to the US, with nearly USD 390 million worth being exported for the first five months of 2022, up 32% from the same period last year.
Vietnam has exported mainly loin/frozen tuna to the US, accounting for 74%, valued at USD 251 million, twice as much as the same period last year. Exports of loin tuna alone reached USD 186 million, up 184%.
The US bought over one million tons of seafood in the first four months this year, valued at more than USD 10 billion, up 35% respectively as compared to 2021, leaving a 17% increase in the average importing price. Shrimp has been mainly consumed, accounting for 28%. The importing value increased by 32% because the average importing price rose by 13%.
Even though the demand for seafood consumption and imports into the US is predicted to stay high amidst the strike between Russia and Ukraine, the trade tension between the US and China has kept going.
VFM