Markets
Redirect the tuna export market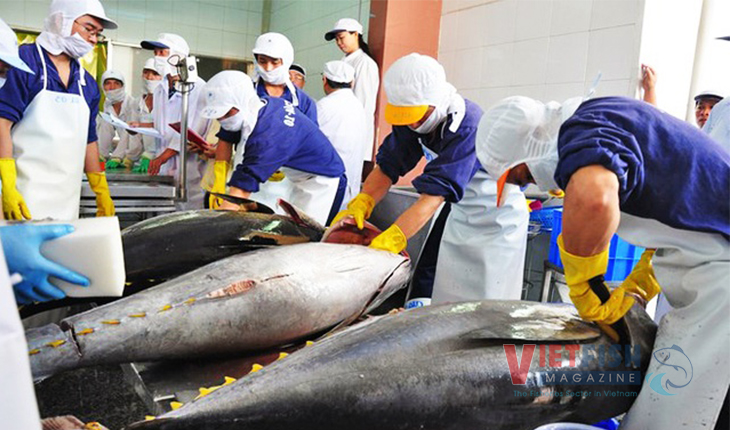 Many tuna export enterprises make efforts to gain multi-direction export to avoid their dependence on only one market. 
On 18 August, Mr. Vũ Đình Đáp, Chairman of the Vietnam Tuna Association, said that there were 17 enterprises and 24 factories all over the country specifying in processing and exporting tuna, and they are mainly based in Khánh Hòa (17 factories) and others are in Bình Định and Phú Yên.
Enterprises are trying their best to search for export markets, maintain their production amidst the complicated COVID-19, and reach 648 million USD of total tuna export value as of 2020. 
According to Mr. Vũ Đình Đáp, compared to the first 6 months in 2021, the tuna export market is gradually changing. Currently, the Middle East (accounting for 15% market share), the U.S. (accounting for 40% market share) and the EU (accounting for 14% market share) are basically in balance. Many enterprises are attempting to expand to 2 markets namely North Africa and South America. Particularly, Vietnam is the fourth biggest tuna supplier for the North American country named the Republic of Chile, with 10 tuna enterprises taking part in (mainly based in Khánh Hòa, Bình Định).
The export of tuna products is also transforming. After activating the EVFTA, the EU accommodated 11.500 tons of canned tuna with the preference of 0% tax, thus, enterprises have turned into canned products instead of exporting tuna fillets as before.
In Khánh Hòa province, HAI VUONG CO., LTD (with 5 member companies) which operates in processing and exporting several central products made from tuna, targets to export approximately 51.700 tons of tuna and other fish products in 2021. 
Mr. Nguyễn Văn Dư, a member of the Board of Director of HAI VUONG CO., LTD noted that enterprises mainly export canned tuna products due to the EU's yellow card application.  Regarding other products, the company has to make an effort to export the right orders in time. However, the emerging production price subjects several traditional markets, such as the U.S. and the Middle East, to struggle. Just a few customers approve an increase in products' prices, therefore, the company is improving exports to countries in North Africa and South America to maintain their business.
VFM