Markets
Shrimp prices in Kiên Giang slump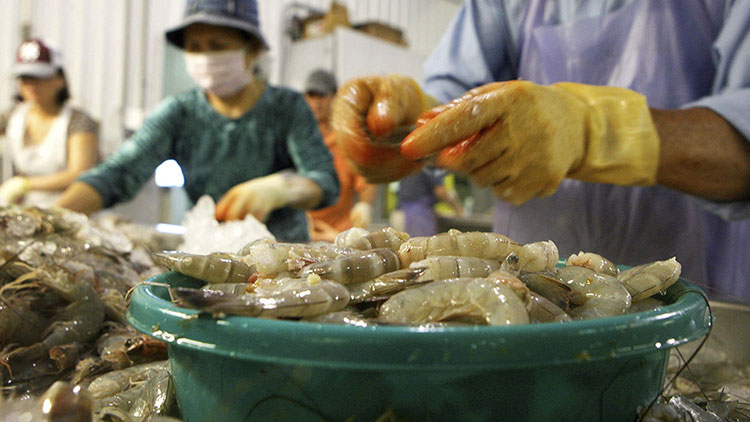 At the moment, Kiên Giang is getting in the main harvest of shrimp, but prices sharply declined from the same period of 2022 and earlier this year.
Particularly, the price of 30 count black tiger shrimp ranged between 145,000 and 150,000 dong/kg, down 60,000 – 70,000 dong/kg; the price of over 30 count black tiger shrimp was at 110,000 – 120,000 dong/kg, down 50,000 – 60,000 dong/kg; the 100 count shrimp is sold at 70,000 – 75,000 dong/kg, down 20,000 – 25,000 dong/kg.
The global economic recession, high inflation in many countries, cost cutting, and poor consumption are to blame. In 7 months of the year, the province's export value reached over USD 130 million, down 16.87% from the same period last year. 
So as to grasp contracts with international seafood importers, the provincial companies must reduce production costs by lowering the price of input materials, shrimp included, resulting in a plunge in shrimp prices. On the other hand, some conventional markets have imposed technical and trade barriers, leaving bad impacts on seafood exports of local companies.
According to the Kiên Giang provincial Department of Agriculture and Rural Development, the local farming area of brackish water shrimps reached over 134,390 ha, accounting for 97.6% of the plan, with 3,194 ha of industrial shrimp farms, 24,897 ha of extensive – improved extensive shrimp farms, and more than 106,300 ha of shrimp – rice farms. The production reached 93,268 tons, accounting for 77.4% of the plan, nearly 30% higher than the same period last year.
VFM