Markets
Tiền Giang: Soaring prices of feed and fish fries affect pangasius culture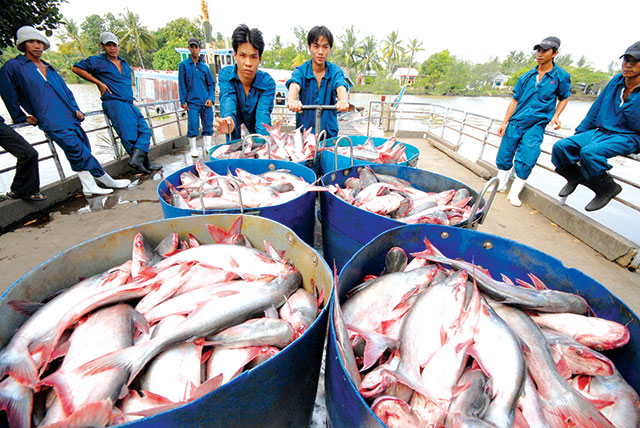 Since late 2020, prices of feed have kept increasing and shown no sign of halting. Pressure of fuel prices has resulted in an increase in production costs, leaving insurmountable difficulties.
Pangasius farmers in Tiền Giang are facing lots of difficulties due to the increasing production costs. Even though pangasius prices are high and farmers earn large profits, they hesitate to stock.
That is attributed to the fact that the Covid-19 pandemic has resulted in a temporary emptying in ponds. When the pandemic is under control, seafood enterprises rush to produce, leading to a shortage of pangasius material. Prices of pangasius material, thus, are pushed up. Such an increase in production costs worries farmers that prices will be different at the harvest time.
According to the Manager of the farming area by Ngọc Xuân Seafood JSC Co. (in Châu Thành district), the company has 10 ponds, in a 7 ha area, in Phú Túc commune of Châu Thành district, Bến Tre province. Due to the prolonged pandemic, the company had to halt feeding pangasius for a long time because of difficulties in sales and started feeding when the pandemic was controlled.
Increasing production costs are the major difficulties faced by the company and pangasius farmers, prices of feed and fish fries have been skyrocketing the most. It costs VND 27,000 to rear one kilogram of pangasius, with around VND 20,000 on feed. If pangasius is sold at VND 32,000, farmers can earn some profit; however prices may not be as high as they are at the harvest time.
Actually, there are many reasons affecting the price of feed. According to a representative of the business division of the Viet – France Cattle Food Production JSC (Proconco), the increase in feed prices in those days was led by the rising global prices of materials. Moreover, the ascending prices of container hiring, gas and oil have resulted in high prices of feed. Thus, in early March, the company had to push the feed price up, around further 250 vnd/kg. This has affected pangasius farming.
Not only has feed prices fluctuated increasingly, but also there have been lots of factors affecting production costs and selling prices in the agricultural sector, not to mention the pandemic and other causes.
VFM