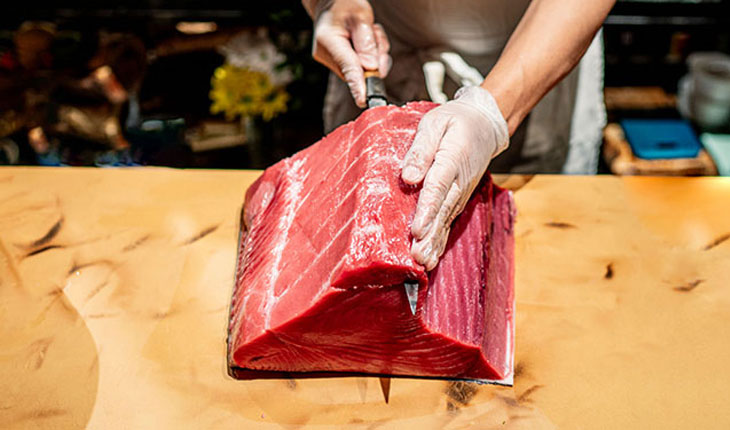 According to the Vietnam Association of Seafood Exporters and Producers (VASEP),  Vietnam's tuna export growth has slowed down after a remarkable increase in April.  In the first 7 months of the year, tuna exports reached 420 million USD, an increase of 20% over the same period in 2020.
The US is the main tuna exporter of Vietnam. In July alone, the value of tuna exports to this market reached 28.6 million USD, up 6% over the same period in 2020, but lower than in June. As of the end of June 2021, the total export value of Vietnamese tuna to the US reached 153 million USD, up nearly 21% over the same period in 2020. According to the International Trade Center (ITC), Vietnam is the second-largest tuna supplier to the US in the first 6 months of this year. The price of Vietnamese frozen tuna fillets in the US is relatively stable compared to its counterparts such as the Philippines, Indonesia, and Thailand. Vietnam's market share is declining because the average export price of processed and canned tuna products of Vietnam tends to be higher than that of competitors.
The competitiveness of Vietnamese enterprises is currently hindered due to the increasing freight charges from Asia to South America (2,500 – 12,000 USD/container). Therefore, the growth rate of tuna exports to this market is slowing down.
In July 2021, there was a decline of 21% in the tuna exports of Vietnam to the EU compared to the same period in 2020. However, the export value of tuna to the EU during the seven-month period saw an annual surge of 20% to nearly 87 million USD. The export value of tuna has witnessed a downward trend each month since May. High freight costs and the application of preferential tariff quotas for processed tuna products under the agreement of the EVFTA Agreement are the factors leading to the decrease in export shipments to the EU. Tuna exports to the nations in the Comprehensive and Progressive Agreement for Trans-Pacific Partnership (CPTPP) increased by 6.5%, equivalent to 7.4 million USD.
However, VASEP forecasts that the growth rate of tuna exports will slow down in the coming months. According to tuna exporters, many orders are unable to export due to the increasing transportation costs.
Besides, enterprises are seriously affected owing to the complicated developments of the COVID – 19 pandemic nationwide. Workers of these ones have not been vaccinated while they have a high risk of infection because of mainly working in cool environments. Thus, it is recommended that workers in the tuna businesses should be prioritized for vaccination. 
VFM