Markets
Tuna exports to France increase by 510% per month on average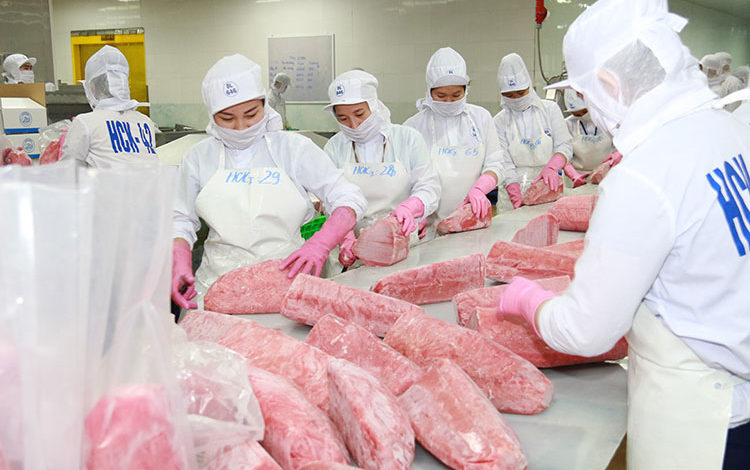 After the upward trend in late 2021, Vietnam continued to see a sharp increase in tuna exports to France in the first half of 2022, with an average growth rate of 510% per month.
The accumulated value of tuna exports to France reached nearly USD 3 million, up 203% from the same period last year.
According to the General Department of Vietnam Customs, exports of tuna products to France all increased as compared to the same period last year, with highlights being processed tuna and canned tuna. Frozen tuna meat/loin HS0304 has been the key product going to this market, accounting for 63% of the total export value.
Vietnam is the fourteen biggest provider of tuna to France among non-EU countries. France's importation of tuna recovered this year and the country has tended to increase their purchases of tuna from Asian countries except from Vietnam, such as Philippines (up 442%) and Indonesia (up 42%).
In the first months of 2022, the output of wild-caught tuna of France and Spain was sufficient to provide domestic processors and the EU countries. France tended to increase their imports of frozen steamed tuna meat/loin and decrease purchases of frozen whole tuna. 
Moreover, the fact that the EU countries reopened the tourism triggered a growing demand for high value fresh and frozen tuna. Big size canned tuna products highly required by the foodservice and restaurant supply chain helps recover the importation of tuna in the first six months of the year.
However, the euro is falling to its lowest level in two decades and high prices of raw material have decreased the purchases all over the countries. And yet, the increase in interest rate, which means the increase in borrowing cost, during the downturns may pose further challenges on businesses and households. Tuna enterprises in the EU are importing tuna by the USD, thus the devaluation of the euro makes tuna become more expensive than ever. Besides, the soaring value of the US dollars may drive importers to pay a pretty penny for final imported products into the EU, resulting in reduced demand.
VFM