Markets
Vietnamese seafood increase market share in EU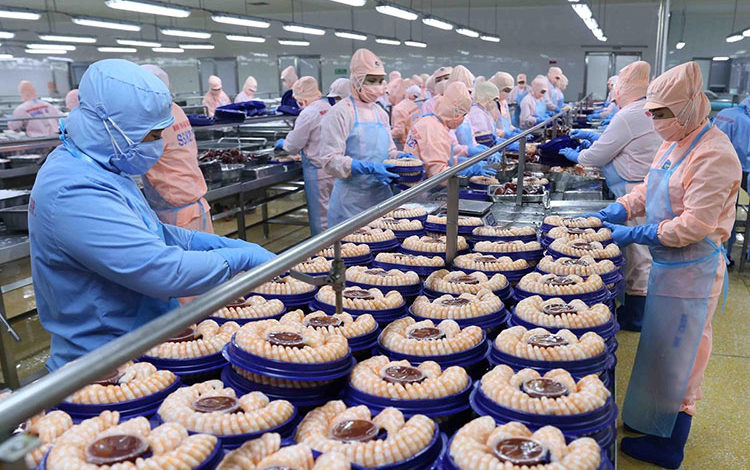 The EVFTA has paved a way for Vietnam to export agricultural products with competitive prices in the EU market. At the same time, the on-going tension between Russia and Ukraine will change history and create a new picture of politics and economy of the EU. 
Blooming exportation
Lê Hằng, Deputy Director of VASEP.PRO center, the EU is a big market with various segments and products, creating a favorable condition for Vietnam's exportation of seafood products. Besides, the European people have been increasingly in favor of white fish products for their health benefits; meanwhile the awareness of environmental and natural fish protection has been raised, leading to considerable opportunity for farmed fish, especially pangasius. Revenue from seafood exports has recovered after the Covid-19 pandemic and the EU is leaning towards convenient and instant food. Moreover, the EVFTA gives Vietnam an advantage related to import duties over other exporters, and the affection of Brexit against the EU market also offers opportunities for Vietnamese seafood.
The EU always demands abundant resources due to the average consumption of 24.35 kilogram of seafood per capita. While the strike between Russia and Ukraine is occuring in Europe, demand for storage and consumption of seafood increases.
According to the Ministry of Industry and Trade, in the first two months of 2022, pangasius exports to the EU reached USD 28 million, up nearly 76% and shrimp exports reached USD 159 million, up 66% as compared to the same period last year. Exports to the biggest markets, Netherlands, German, and Belgium increased by 77%, 59%, and 82% respectively.
Among advantageous products going to the EU market, clams are showing positive signs in sales. The EU has been the biggest importer of Vietnamese seafood, accounting for 70% of the country's total exported products, trailing the US, Singapore, and Japan. As clam products are produced upon MSC standards for food safety assurance, they easily penetrate into supermarkets, high-end restaurants or demanding markets such as the EU and Japan. Packages with MSC label prove to consumers safety and environmental and social responsibilities. 
The EU is in favor of products such as clam meat, steamed whole white/brown clams, clams steamed with butter and garlic, clams mixed with tomyum, etc. Vietnamese clams have been increasingly attractive to the European consumers amidst inflation and skyrocketing prices of food in this market. Thanks to preferential tariffs upon the EVFTA, Vietnam's exportation of clams to the EU is forecasted to grow considerably this year. Among the EU countries, Italy, Spain, Portugal, the Netherlands, and Belgium are the biggest importers. In the first quarter of 2022, only sales to Portugal slightly decreased by 9%; the other markets showed a double-digit growth, from 33 to 45%; Italy was the biggest single importer of Vietnamese clams with a worth of USD 6.4 million, up 45% from the same period last year. Clam exports to Spain reached USD 6.3 million, up 44%.
Impress in the Seafood Expo Global 2022
The Seafood Expo Global 2022 was held in Barcelona city of Spain from April 26 to 28. Three Vietnamese enterprises came to introduce clam products: Godaco, Beseaco, and Aquatex. During the first two days of the Expo, the stalls of Vietnamese clam were visited by nearly 100 importers and distributors from Spain, Italy, France, the US, Portugal, the UK, Turkey, the Netherlands, UAE, Korea, Egypt, Israel, and Denmark.
After talking with consumers, Vietnamese enterprises realized the clear requirements and necessity of MSC certification. MSC is being paid the most attention in the world, helps prove sustainable fisheries, and is recognized as a passport for exported seafood products.
Seafood supply shortage
The Russia-Ukraine tension made many EU consumers turn their back on Russian products. The retail system in the UK has boycotted seafood products from Russia. This may become a trend in other countries if the war is not over. Spain has banned the importation of Russian seafood and prohibited Russia vessels and boats from docking in harbors of Spain and other EU countries.
White fish products from Russia have been boycotted and can not be paid by foreign currency, resulting in a higher demand for white fish in the EU. This is one of reasons for the remarkable recovery of Vietnam's sales of pangasius products with USD 646 million worth in the first three months of the year, up 88% from the same period of 2021. 
The war in Ukraine led to an increase in prices of feed ingredients and charges of transportation. Prices of wheat and corn rose by 10-20%. In Vietnam, prices of pangasius material increased by 30-40%, making factories struggle in purchasing materials.
However, exports of Vietnamese products to the EU and Russia will continue to benefit from free trade agreements and long-term partnerships. Vietnam's enterprises and people are looking forward to a peace in the EU and sustainable exportation, accordingly, Vietnamese products will easily approach consumers of Russia, Ukraine and other EU countries.
Nguyễn Anh – Diệu An
Nguyễn Quốc Toản, Director of Agrotrade Vietnam: Vietnam has an advantage of having a large amount of wild-caught and farmed species. While markets are struggling with short supply, we have enough for exportation, especially to the EU, the US, and Russia. This is the moment for enterprises to take advantage of the EVFTA and UKVFTA to boost exportation of all products. Seafood enterprises must satisfy requirements of quality control and seize opportunities to conquer the market, especially the segment of pollock (Russia).
Nguyễn Thị Hoàng Thúy, Commercial Counselor in Switzerland and Denmark, Finland, Iceland, Norway and Latvia
Bright picture for pangasius
Even though the average consumption is high in Northern Europe, Vietnam has exported just a small amount of seafood to this market. However, not to mention the EU member countries, Vietnam is the second biggest exporter to the EU, after China. Vietnam does not have any competitors when selling pangasius to Northern Europe, and yet the export volume is low due to the geographically remote and small-scale market. Northern European countries have to buy Vietnamese products from other markets such as the Netherlands, Germany, Belgium, and France. Clearly, this is an ideal opportunity for Vietnamese pangasius. Vietnamese shrimp is the key product going to Northern Europe, and Vietnam is the second-largest exporter of shrimp to the EU. 
Lê Hoàng Tài, Deputy Director of Vietnam Trade Promotion Agency under the Ministry of Industry and Trade
Achievements from EVFTA benefits
The EU is one of the leading importers of Vietnamese seafood. On August 01, 2020, the officially effective EVFTA with preferential tariffs offered plenty of opportunities for Vietnamese seafood to enter the EU market. As a result, in February of 2022 alone, Vietnam achieved USD 28 million from selling pangasius to the EU, up nearly 76%, and USD 159 million from exporting shrimps, up 66% as compared to the same period of 2021. Exports to the Netherlands, Germany, and Belgium increased by 77%, 59% and 82% respectively. As the EU's demand for shrimp rises in summer and autumn, local importers usually prepare for orders at the beginning of the year.
Nguyễn Như Tiệp, Directorate of National Agro-Forestry-Fisheries Quality Assurance Department
Huge demand for mollusk in EU
The world is always in high demand for bivalves such as clam, blood cockle, sweet snail, scallops, abalone, oyster, etc. In the EU market, bivalves are also the main seafood products to be consumed. Last year, exports of mollusks to the EU increased sharply by 37%, valued at USD 87 million, due to a noticeable increase in sales of clam by 42%, valued at USD 78 million. However, Vietnam's total output of clam can not fulfill orders from the EU because just a small amount of clam is certified for origin. Besides, there are not plenty of clam products, the value-added level is low, advertisement and trademark promotion is poor, and markets are not diversified. Moreover, some cargoes of bivalves going to foreign countries were given warnings, three of them destined for the EU received a warning for Salmonella infection in 2021.
Trương Đình Hòe, General Secretary of VASEP
Must satisfy standards regulated by the EU market
The EU has tightened the application of Good Manufacturing Practice in accordance with responsibilities for society and environment when it comes to exported seafood. Thus, Vietnamese enterprises must: label products exactly, obey compulsory regulations imposed by importing markets, satisfy additional regulations of single markets in the bloc, follow up the information of economy, politics, and COVID-19 pandemic so as to give prompt prediction and solutions, seek for opportunities to increase market share of pangasius amidst the short supply of white meat fish in the EU, control product quality well to keep credibility, take further advantage of the EVFTA in the future. Besides, enterprises should be given more specific instructions by competent authorities and supporting organizations.
VFM