News
A push in deep processing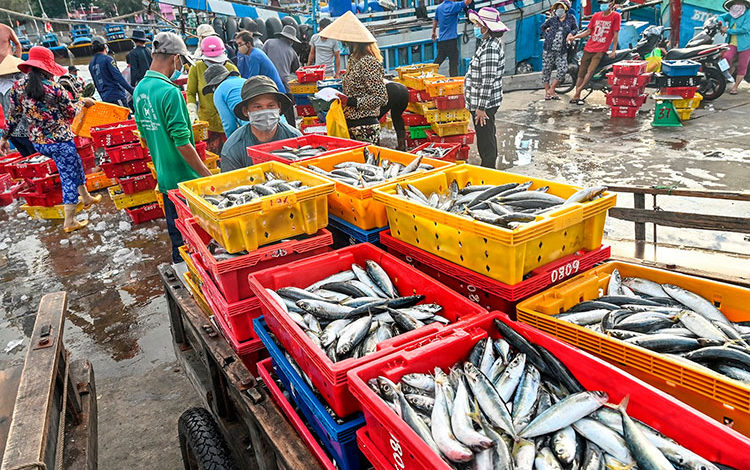 "In 2023, besides challenges driven from global inflation, enterprises and farmers have to face difficulties in capital, increasing production costs and high interest rate. However, the Ministry of Agriculture and Rural Development determines to fulfill the target of producing over 1.1 million tons of shrimp and exporting over USD 4.3 billion worth", shared MARD Deputy Minister Phùng Đức Tiến, at the Conference of Shrimp development in 2023 held in Sóc Trăng on March 03.
Difficulties and challenges faced by the shrimp sector in 2023 are clear and are forecasted to prolong. In your opinion, where can the shrimp sector count on to fulfill its target?
The shrimp sector has been facing specific difficulties and challenges for three consecutive years, from 2020 to 2022. However, with flexible, suitable and effective solutions, the shrimp sector has achieved success in both export volume and value. Despite severe difficulties in 2022, the shrimp production reached over 1 million tons and the shrimp export value reached USD 4.3 billion. And as such, even though 2023 will be much more difficult than 2022, we are determined to set a target of producing over 1.1 million tons and exporting over USD 4.3 billion worth.
New free trade agreements are considered good opportunities for the shrimp sector; however, challenges are enclosed. How will we deal with these challenges?
It can be seen that the number of rejected shipments due to violation of local regulations has reduced a lot as compared to the past. However, when new free trade agreements are signed, we must control our products more strictly. Food safety and traceability amidst digitization are important to the exportation of shrimp and other products. Thus, all the phases of culture, from breeding to harvest and processing, must be tightly managed. One more thing, our facilities are still poor. Better facilities will reduce production costs and increase the success rate, resulting in a more effective and sustainable supply chain. As for capital, MARD will propose to the Government for a larger amount of loan with a proper interest rate so that the supply chain can work smoothly.
In your opinion, what solutions should be put forward to produce over 1.1 million tons of shrimp and achieve over USD 4.3 billion from exporting?
We must focus on synchronous solutions. MARD institutes, especially the Directorate of Fisheries, must pay attention to input materials, especially breeding stocks. Then biosafety must be assured on the basis of environmental survey and disease outbreak management. As for farming methods, a suitable farming model should be considered to apply on each farming condition so that environment and disease outbreak are assured. A good facility will offer a good living condition for shrimps. Besides, science and technology should be applied in shrimp culture. Localities must well control and register farmed species, and manage their work. Businesses must enhance their ability in technology, equipment, facilities, capital, human resources, and promote advantages in high processing to remain in the high-end market segment.
VFM