News
Bến Tre: A nudge from aquaculture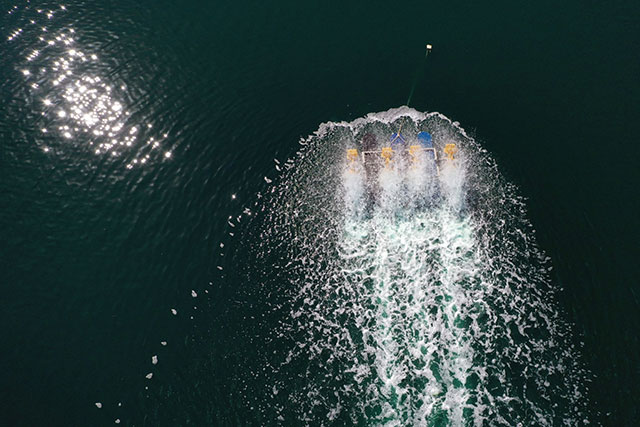 With a coastline of 65 km, over the years, Bến Tre province has focused resources on exploiting potentials and advantages of aquaculture in all three regions: salty, brackish, and fresh; with many high-value farmed species, such as clams, brackish water shrimp, pangasius, giant freshwater shrimp, etc. The development of this field not only contributes to improving the living standards of coastal residents, but also a nudge to promote the development of the marine economy in particular and the province's socio-economic in general.
The main factor is brackish water shrimp
Talking to the reporter of Vietnam Fisheries Magazine recently, Mr. Nguyen Van Buoi, Deputy Director of Bến Tre Department of Agriculture and Rural Development, said that with favorable natural conditions for all 3 regions: salty, brackish, sweet, the potential of aquaculture development in Ben Tre is huge. The main aquatic species selected for development are mostly those with high economic value and are well adapted to the environment as well as the form of stocking. In the saline area of ​​the coastal alluvial plains, the province focuses on developing clam farming with a water surface area of ​​about 9,600 ha and can grow to 15,000 ha. For brackish areas, there are 2 main species of shrimp farming: black tiger shrimp and Litopenaeus vannamei with an area of ​​about 36,000 ha; including 12,000 hectares of intensive farming and 1,950 hectares of high-tech farming. In the freshwater area, the province chooses pangasius as the main farming object with an area of ​​about 800 hectares and giant freshwater shrimp over 2,000 hectares. The province's total annual aquaculture production is nearly 300,000 tons on average; including 71,000 tons of brackish water shrimp.
Talking about brackish water shrimp farming, Mr. Buoi said that this is a rapidly growing culture in 3 coastal districts of the province with many farming models: extensive, shrimp – rice, semi-intensive, intensive and intensive farming. recent high-tech farming. For the extensive and shrimp-rice farming model, mainly black tiger shrimp, the average yield is 200-250 kg/ha, while the intensive farming model for Litopenaeus vannamei is 8 tons/ha/crop, black tiger shrimp is 5.5 tons. /ha/crop. In particular, the model of high-tech white-leg shrimp farming in 2-3 stages with a yield of up to 180 tons/ha of water surface/year is currently growing stronger and stronger. Mr. Buoi informed: "This is the main direction in the coming time for the brackish water shrimp farming in Ben Tre to minimize the risk of damage to diseases, weather and the environment; increase productivity, quality and output of farmed shrimp in the province. Therefore, the province aims to strive to develop the area of ​​high-tech vannamei shrimp farming to 4,000 hectares by 2025.
Besides brackish water shrimp, with an area of ​​15,000 ha of coastal alluvium, Ben Tre farmers have exploited 9,600 ha to raise clams, concentrated in three coastal districts: Bình Đại, Ba Trì, Thạnh Phú; with a total annual output of clams (seeds, meat) of 27,000 tons. This is a very effective farming object because in addition to the cost of seed, care, and harvesting, farmers do not have to spend money on food, chemicals, and medicine like brackish water shrimp farming.
Pangasius, crayfish for sweet areas
Pangasius is one of the main aquatic species of Bến Tre, after brackish water shrimp. In the past, despite difficulties in price and consumption, the province's pangasius farming area still retains 800 hectares per year, mainly concentrated in enterprises (90% of the area). This is also a great advantage for Ben Tre's pangasius because most businesses focus on farming according to the industrial model, achieving high productivity and farming practices according to domestic and international standards, such as: : VietGAP, GlobalGAP, ASC… According to Mr. Buoi, the province is currently organizing farming according to planning on a large scale, focusing on disease and environmental safety and meeting domestic and international standards, to improve high value, efficiency and competitiveness in the market.
Along with pangasius, thanks to its high adaptability in brackish water and freshwater conditions, in recent years, giant freshwater prawns have been increasingly favored by Bến Tre farmers to be farmed mainly in two models: in-farm farming. garden ditches and rotated farming with black tiger shrimp according to the shrimp-rice model. Although the productivity is not as high as brackish water shrimp, in return, giant freshwater shrimp is easy to raise, has few diseases and has a stable selling price at a high level. Recently, thanks to the all-male giant freshwater shrimp, along with the transfer of farming science and technology from the Provincial Agricultural Extension Center, the efficiency of giant freshwater shrimp farming in Bến Tre is increasing. According to farmers' estimates, on average, the all-male giant freshwater prawn farming model generates a profit of about 100 million VND/ha after 6-7 months of farming.
Evaluating the effectiveness of the all-male giant freshwater prawn farming model, Mr. Buoi said: "In the context of increasingly severe climate change, the giant freshwater prawn in general and the all-male giant freshwater prawn in particular show interest when it can grow well in the salinity from 0 to 10‰. In addition, freshwater prawn farming requires capital and technology is not as high as that of vannamei or black tiger shrimp, which can be utilized in a combination of shrimp-rice farming or raised in ponds and ditches in coconut gardens, so it is very suitable for investment potential as well. level of the majority of households. Ben Tre's crayfish output is currently about 1,100 tons/year, but this is considered a potential farming object of the province because the potential for development is still very large.
Elevate key products
According to the plan, Bến Tre strives to achieve 37,000 hectares by 2030; in which, black tiger shrimp reached 22,500 ha, Litopenaeus vannamei 13,500 ha, and pangasius intensively cultivated 1,000 ha. Total production of key aquaculture reached 402,870 tons; export turnover reached 200 million USD.
To achieve this goal, Bến Tre will focus on investment and construction of early completion of infrastructure for farming areas: irrigation, traffic, 3-phase electricity. To increase seed production to proactively source quality and sufficient seed to meet the demand of the farming area. Technically, focus on solutions to transfer new science and technology into farming such as: high-tech farming, international standard farming and easy traceability, etc. In which, with the public Litopenaeus vannamei farming models. High technology will pay attention to stricter environmental management because wastewater and waste from this model is very large; At the same time, it is necessary to have large investment capital, suitable human resources, enough 3-phase power source and output connection because Bến Tre currently has only 1 shrimp processing factory with a relatively small capacity.