News
Hậu Giang exports of bronze featherback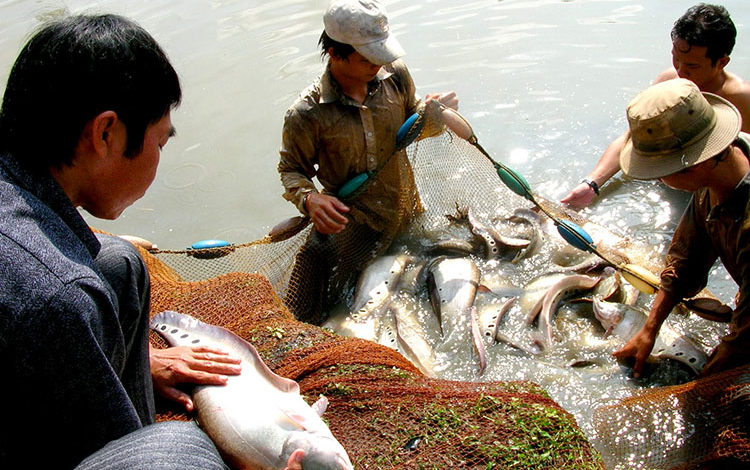 As the year-end crop approaches, most fish farming cooperatives in Hậu Giang are speeding up their production to meet domestic orders and export to one of the most demanding markets in the world, the United States.
Kỳ Như Cooperative in Thạnh Hòa commune, of Phụng Hiệp district, possesses 3 hectares for bronze featherback farming and has approximately 12 hectares of linked raw material areas, enabling them to actively control the quality of their input bronze featherback. The cooperative currently has 10 products meeting the 4-star OCOP standard and one exemplary OCOP product of the Mekong Delta region. There are 10 bronze featherback products, which are consumed domestically and processed for export.
Thùy, Director of Kỳ Như Cooperative, stated that in October 2023, the Cooperative will provide its customer from the US with 20 tons of bronze featherback products. This is the second shipment, with the quantity being twice as much as the first one. In the past, the Cooperative sold products to agents in Laos.
"The products going to the United States have higher standards compared to the Chinese, Japanese, and EU markets. We rear bronze featherbacks in accordance with VietGAP standards. The testing results for 8 antibiotic criteria are good. Each year, about 600-700 tons of bronze featherback products are sold to the market. We can produce as much as 1.000 tons per year". According to Thủy, the current challenges for are factory facilities and the lack of a logistics system.
Bronze featherback is one of the five major agricultural products of Hậu Giang province. In the past 9 months, the local bronze featherback farming area has reached nearly 72 hectares. It is expected to reach about 100 hectares by the end of this year, mainly in Phụng Hiệp district and Long Mỹ town. The province aims to achieve 150 hectares of bronze featherback farming areas and a production of 13,500 tons by 2025.
With the efforts of authorities, businesses, cooperatives, and local farmers, bronze featherback will be known to more consumers. Bronze featherback products will not only conquer the U.S. market but also other major markets, resulting in stable income for local farmers and economic and social development for the region.
VFM