News
Environmental issues in intensive shrimp farming unsolved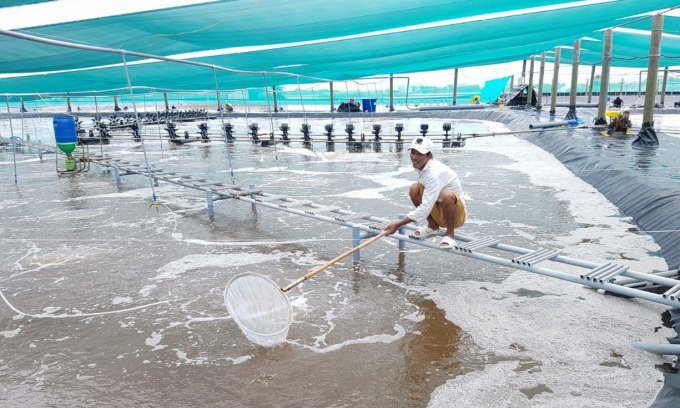 Intensive shrimp farming in the southern province of Bac Lieu is facing big challenges in wastewater and waste treatment.
Bạc Liêu's intensive shrimp farms have problems with waste/wastewater treatment. Photo: Trọng Linh.
Intensive shrimp farming is developing quite fast in the southern province of Bac Lieu with advantages like high rate of success, high productivity and shrimp's fast growth.
A few years ago, few dozen hectares in Bac Lieu Province was used for intensive shrimp farming. Until now, the area for intensive shrimp farming topped 2,000 ha, producing about 50,000 tonnes per year.
However, such shrimp farming is facing big environmental challenges relating to waste and wastewater treatment as intensive shrimp farming is featured with a high density of shrimp – about 250-300 shrimp per square metre.
Luu Hoang Ly, director of the province's Agriculture and Rural Development Department said that to solve the environmental issues, shrimp farms needed to have waste treatment facilities.
However, few intensive shrimp farms in the locality had a proper waste treatment system, he said, adding that on many farms, waste/ wastewater was directly discharged into the environment, causing water pollution and air pollution in the neighbourhood.
Nguyen Van Mao, a resident in Dien Hai Commune, Dong Hai District in Bac Lieu Province said that many shrimp farmers committed with local authorities to treat wastewater before discharging the wastewater into the environment.
"However, without strict authorities' overseeing, the shrimp farmers are still illegally discharging untreated wastewater into the environment," Mao said.
Nguyen Hoang Tinh, a shrimp farmers in Long Dien Commune, Dong Hai District said that as untreated wastewater from intensive shrimp farms was released into the environment, local water resource was polluted and local farmers did not use the water for farming any more.