News
Farming high-tech giant seaperch, an American company in Khánh Hòa received the award from the United States Department of State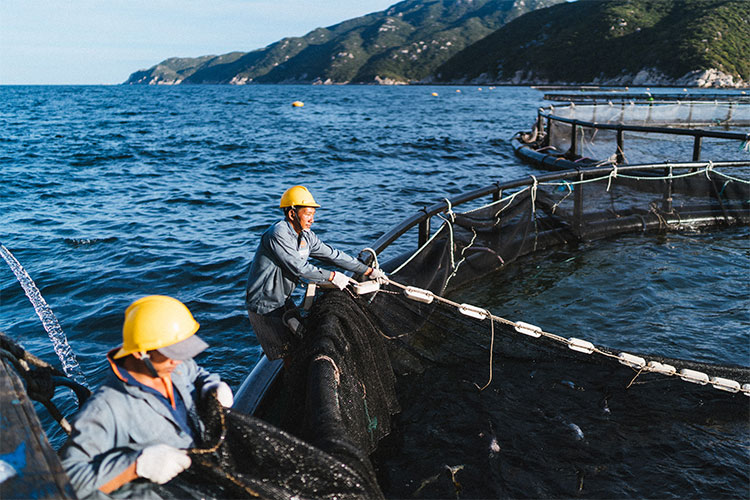 Recently, Australis VN Seafood Co., Ltd., an American company investing in aquaculture in Khánh Hòa province, won the 2021 Award for Corporate Excellent (ACE) presented by the US Department of State for outstanding business in the climate innovation category.
On December 10, Mr. Trần Công Khôi – deputy director of the Department of Aquaculture (Ministry of Agriculture and Rural Development), said that the ACE Award was an annual award to recognize and honor US companies that uphold high standards as responsible members of the community.
This company started aquaculture in Vân Phong Bay in 2010, focusing on investment, technical research, recruitment of foreign experts, managers training, and developing international markets for giant seaperch. Australis is currently one of the most modern marine fish farming companies in Vietnam.
According to Josh Goldman, CEO of Australis Aquaculture, with about 1000 workers in four processing factories in Khánh Hòa, this company currently exports about 10,000 tons of fish a year.  
In December, Australis will complete its largest automated feed barge and a new large automated harvester that can harvest 200 tonnes of fish per day.
Moreover, Australis also plans to build a modern seafood processing factory in Ninh Thủy Industrial Park (Ninh Hoà town) by 2022.
Ocean overfishing and climate change pose accelerating risks to our global food supply and to marine ecosystems. Therefore, nurturing the richness of the ocean is a must. "We make effort to create a model of marine tropics for a stable future. Our farms generate export revenue and play a vital role in the economic diversification of Khánh Hòa province," said Mr. Josh Goldman.
VFM