News
Khánh Hòa: fish found dead, farmers suffering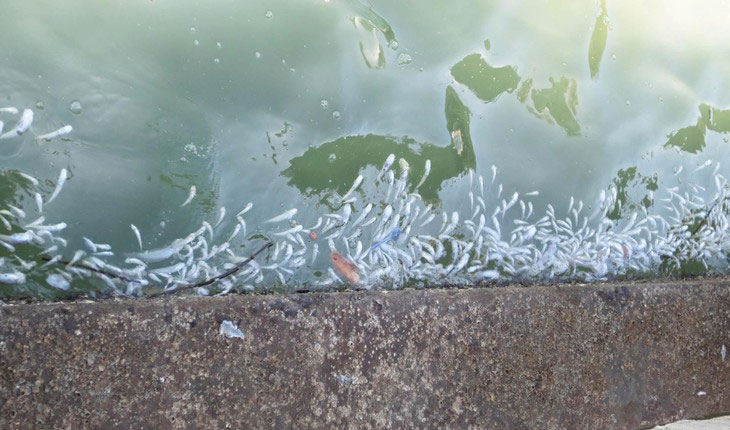 Farmers in Ninh Ích and Ninh Hoà communes of Khánh Hoà have been suffering from black pomfret and cobia being found dead recently. Unsecured environment is the main root of this incident.
Massive death of fish
After receiving a report of the massive death of fish in mid-July 2020, the animal health agency came for examination, according to the provincial sub-department of Animal Health and Livestocks. There are 42 households in Hòn Lăng, Ninh Ích related to fish cage farming, with 700 cages, 4m in length, 4m in width and 4m in height each.
Cobia, black pomfret, groupers and sea bass are stocked there. Cobia and black pomfret aged from two to five months, stocking density were 200-300 pcs/cage up to age of the fish. Black pomfret were fed with industrial pallets while cobia were fed with low value fish and frozen by fish by-products.
The examination was conducted with fish found dead, with the vast majority being black pomfret and cobia, up to 86-95%. Chairman of Ninh Ích commune Farmers Association Trương Quốc Tường said that a large amount of fish was found dead in farming ponds owned by farmer Nguyễn Văn Nghiệp who had been suffering from a loss of 8 billion dong.
Some households in a lack of awareness discharged dead fish into water, resulting in a situation of massive dead fish floating on the sea and drifting into the shore, especially along the coastline of Ngọc Diêm village of Ninh Ích commune, about 3 miles from Hòn Lăng farming area. The Farmer Association had to urge members to collect those dead fish and bury them. Hòn Lăng farming area has been suffering from a loss of up to 15 billion dong.
Unsecured farming environment
As reported by some local fish farmers, on July 14, a spot rain lashed the sea, causing a serious lack of oxygen and massive death of fish in Hòn Lăng farming area. As reported by the provincial sub-department of Animal Health and Livestock's, the sample of black pomfret and cobia showed an infection of Streptococcus sp. bacteria which made fish blemished, crumbling, low vital resistance, and lose appetite. Plus, an abrupt change of farming environment was the root of the massive death of fish.
Many local farmers conducted an early harvest to alleviate the damage. Those fish left in ponds are small size ones. As warned by professional agencies, farmers should strictly follow environmental changes for prompt measures such as cage and fish shifting, increase vital resistance of the fish, swift notification to local authorities of abnormal courses of the situation.
VFM