News
Minh Phú: No worry in short supply of material but fear of lack of staff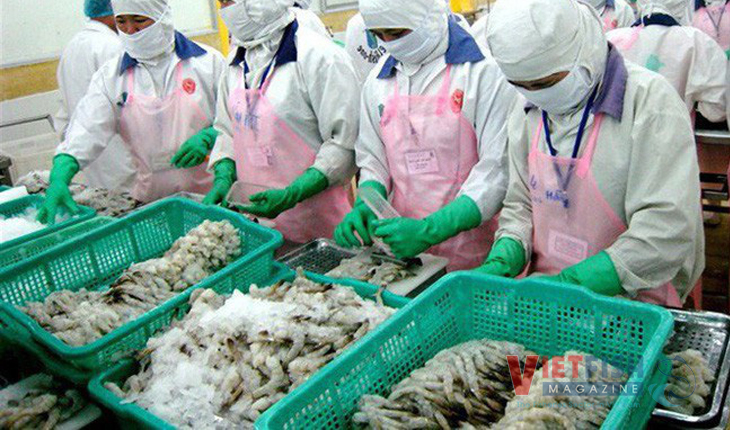 Minh Phú, the world's leading shrimp exporting business affirms it is struggling with a lack of staff.
50% of farming area is fulfilled due to lack of employees
Lê Văn Quang, General Director of Minh Phú Seafood Corporation said on June 27 said material was not the corporation's major problem but what leaders worried the most was a lack of staff.
The Corporation made a great investment into hi-tech based farming areas with around 400 ponds in Lộc An and 360 ones in Kiên Giang last year, especially from March to May. Staff left after the end of 2019 crop for Tet Holiday and haven't come back due to the coronavirus outbreak.
Due to a serious lack of employees in shrimp farms, only 50% of farms have been activated, such as 206 ponds in Lộc An and 201 ponds in Kiên Giang. And yet, as many as 30,000 tons of shrimps can be harvested from both hi-tech farms and traditional farms, hi-tech farms alone provide 20,000 tons.
Some 30 tons or even more can be harvested a day, alleviating the pressure of material. This year profit is higher than due to lower prices of material, Quang shared.
"Hi-tech shrimp output is estimated to reach 20,000 tons and the access road of ocean water is completed within July, extra one or two crops can be implemented in Lộc An, bringing further output of 10,000-15,000 tons; while Kiên Giang is trying to achieve two crops by focusing on stocking shrimps that can survive a salinity under 5/1000. Minh Phú plans to reach 25,000-30,000 tons of shrimps from all its farming areas".
The COVID-19 situation in Vietnam has reduced people's consumption of shrimps and increased stockpiles, resulting in shrimps being kept in ponds until growing up to size 20pcs/kg, thus, shrimps size 25-30 pcs/kg are sold at lower price than the same period last year up to 20,000 dong/kg.
"Never has white leg shrimp size 20 pcs/kg been as abundant as this year. Minh Phú's purchase accounted for 40% some day, therefore, this year's shrimp output increased considerably. The corporation plans to raise hi-tech shrimp output by 7-10%. Even though the output increased slightly, the pandemic made some factories in lack of capital close when they can not borrow from banks. Minh Phú's materials are enough to reach and exceed the export plan of 56,700 tons", said Quang.
Besides, the Corporation is studying a technology of partial harvest to harvest nine times per year instead of currently three times, bringing a twofold increase in output from 5 tons to 10-12 tons/pond. Its plan is to collect enough sizes of shrimps to satisfy various demands, such as size 30-35 pcs/kg for restaurants and 50-60 pcs/kg for supermarkets.
Quang expects to attract workers suffering from lay-offs conducted by pandemic-hit textile and footwear factories. Those will be assigned to work in the Hậu Giang factory to maximize its capacity.
"The capacity of 3,000 tons/month can satisfy the target of exporting more than 60,000 tons by the end of this year and help reach the Corporation's export plan and profit confidently", Chairman of Minh Phú shared.
Confidently fulfill profit plan regardless of an increase in unsold stocks
Quang said that the COVID-19 pandemic seriously hit Minh Phú's shrimp exports. Once 50% of its revenue was recorded from sales to restaurants, hotels, cruises, it has reduced to 20% since the closure of these services.
Thus, the Corporation's production value decreased by 8% in the first five months of 2020 and export value fell by 25% compared to the same period last year. Even though many contracts have been entered, backlog orders have resulted in an increase in unsold stocks.
"Quarter II profit is estimated to reach around 200 billion dong. Low profit in April and May was attributed to the pandemic. June is better, but exports start to grow from July", said Quang.
Minh Phú sets a target of bringing in $638 million in 2020, equal to last year's outcome, including revenue of 15,206 billion dong and profit after tax of 915 billion, down 10.5% and up 100% respectively compared to 2019.
Minh Phú's representative affirmed its 2020 business plan has been carefully calculated and would be completed confidently; however there's still high risks due to possible another surge of coronavirus outbreak.
VFM