News
Minh Phu Seafood Corp opens its seafood processing factories in Ca Mau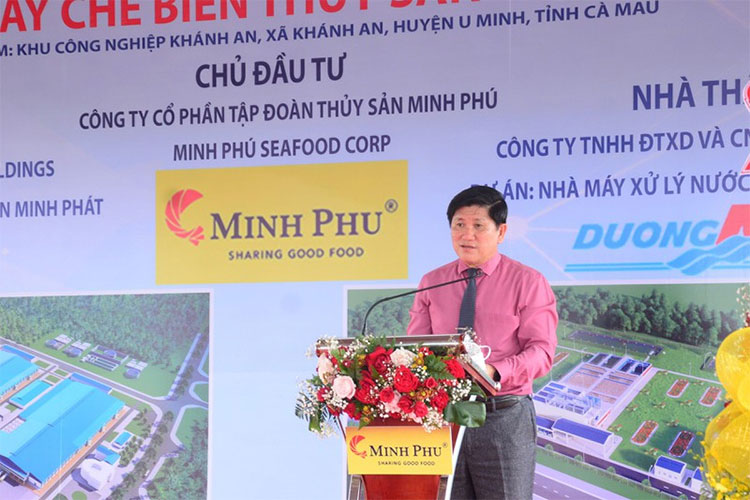 In the morning of October 27, the Opening Ceremony of launching seafood processing factories of Minh Phu Seafood Corporation in Cà Mau was held in Khánh An Industrial zone of Khánh An commune of U Minh district, Cà Mau province.
General Director of Minh Phu Seafood Corporation Lê Văn Quang said that the project consists of four sub-projects: Tô Minh Phát processing factory, Tô Minh Quý processing factory, and Tô Minh Phú processing factory with the same capacity of 18,000 tons per year, and Quang Minh packaging factory with a capacity of 5,000 tons per year.
There is a water treatment system of three phases, with a capacity of 2,700 m3 of water being treated day and night each. All sub-projects are applied with the technology of reusing wastewater and treating rain and surface water to use for processing shrimps for exports. The project is funded by more than 1,600 billion dong in a 24.5ha area of land. 
General Director Quang added that the sub-projects are implemented upon the circular economy system and carbon balance principle in the whole shrimp value chain of Minh Phú. The project includes an investment into building social houses and taking care of houses and welfare for workers of Minh Phú Seafood Corporation.
"This project aims to promptly catch up with the competition in shrimp processing and shrimp exporting technologies in the world", said Quang.
Vice Chairman of the Cà Mau provincial People's Committee Lê Văn Sử said that the province commits to support and create favorable conditions for Minh Phú to carry out further investment and development into local projects. 
VFM