News
Nghệ An: Thousands of tons of seafood unsold due to COVID-19 pandemic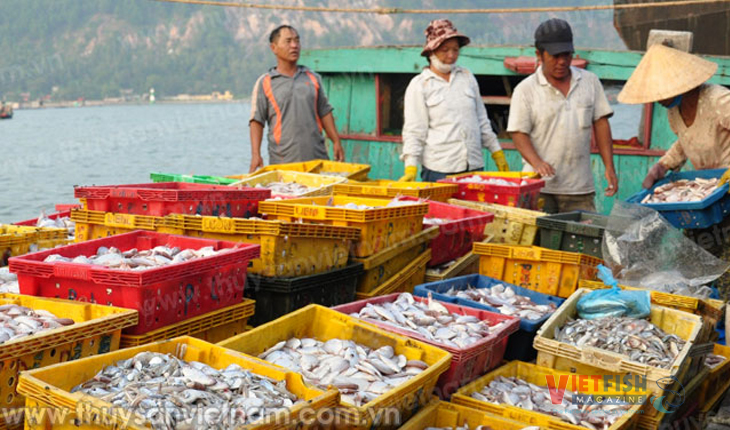 Many fishermen in Hoàng Mai commune of Quỳnh Lưu district (Nghệ An) are suffering from thousands of tons of seafood being unsold due to the coronavirus outbreak.
Seeing more than 2,000 tons of seafood stored in freezers, Lê Hội Hưng, Director of the Đoàn Kết Cooperative in Quỳnh Lập commune of Hoàng Mai town seem to sit on a fire. He said: "Fishermen were so hardworking exploiting the ocean, and yet now are worried about stored stocks being damaged and the loans for their trips being unpaid. The cooperative has 30 freezers specializing in freezing marine species such as cuttlefish and anchovy up to as many as 3,000 tons. These amounts should have been exported to China".
Hưng confirmed that local seafood products have been exported through border gates to China, accounting for more than 80%. However, since the COVID-19 pandemic, China has halted importing seafood, leaving an increasing amount of unsold stocks. Even though the cooperative has managed to boost domestic consumption, it doesn't go far enough.
"Never have unsold stocks at such amounts. As products can't be exported, domestic consumption is an option with prices being down 20-25%", said Hưng.
Some freezers in Quỳnh Nghĩa commune of Quỳnh Lưu district are facing difficulties. Hoa Hoàn, a freezer owner complained that his freezer can store nearly 300 tons of seafood. However, since coronavirus hit China and many countries in the world, his family has experienced a great number of unsold stocks.
Nghệ An has more than 300 freezers, mainly in Quỳnh Lưu and Diễn Châu districts, Hoàng Mai and Cửa Lò towns being able to contain tens of thousands of marine products. According to some owners of these freezers, there are not many unsold products stored in domestic consumed product freezers, but freezers of products going to traditional markets are overloaded in the face of COVID-19 pandemic without any solutions.
Bùi Xuân Trúc, Deputy Head of Agriculture and Rural Development Office of Quỳnh Lưu district said that so as to get over difficulties with local fishermen, competent authorities should give instructions and create favorable conditions for companies, traders and boat owners to reorganize the process of producing, purchasing and setting up a value chain so as to meet full requirements of importers. In the long run, domestic companies must carry out deep processing from dried marine species so as to enable fishermen to seek their products in the domestic market.
VFM