News
TARS 2023 – Shrimp Aquaculture: Regeneration raises the bar with huge interest among stakeholders across Asia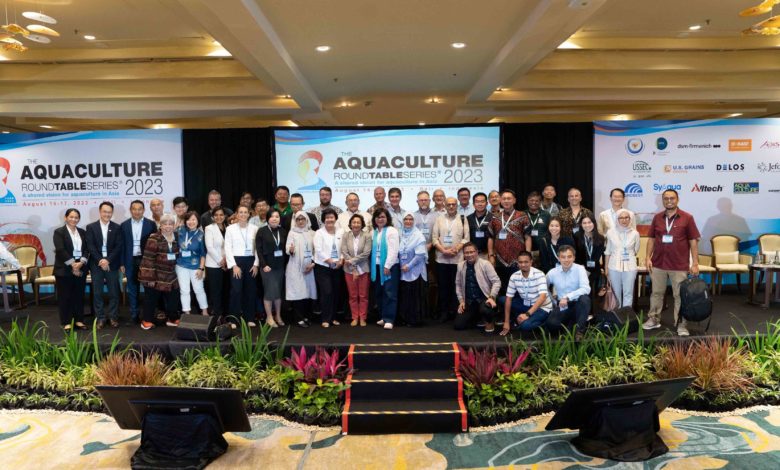 Held in Bali, Indonesia on August 16-17, 2023, the two-day meeting reflected on the current situation in Asia's shrimp aquaculture, mired by ten-year lows in shrimp prices with a global oversupply situation. This year's program featured 43 speakers, session chairs and panellists participating in 10 sessions.
Dr TB Haeru Rahayu, Director General of Aquaculture, Ministry of Marine Affairs and Fisheries, Indonesia delivered the opening address. Indonesia, he said, has invested IDR175 billion or USD 11.4 million on its zone-based environmentally friendly pond model to spearhead shrimp aquaculture. Further expansion is planned in East Nusa Tenggara, covering an area of 1,800ha.
The State of Industry session looked at the industry from four vantage points: why is Asia's industry lacking and stagnating within the current crisis with low prices and high production costs; potential markets for Asia's shrimp in domestic and regional markets by Kontali's Chris van Bussell; while genetics is leading in terms of selective breeding, IFFO's Brett Glencross showed the potential for nutritional innovation. A case study on industry in Indonesia was included.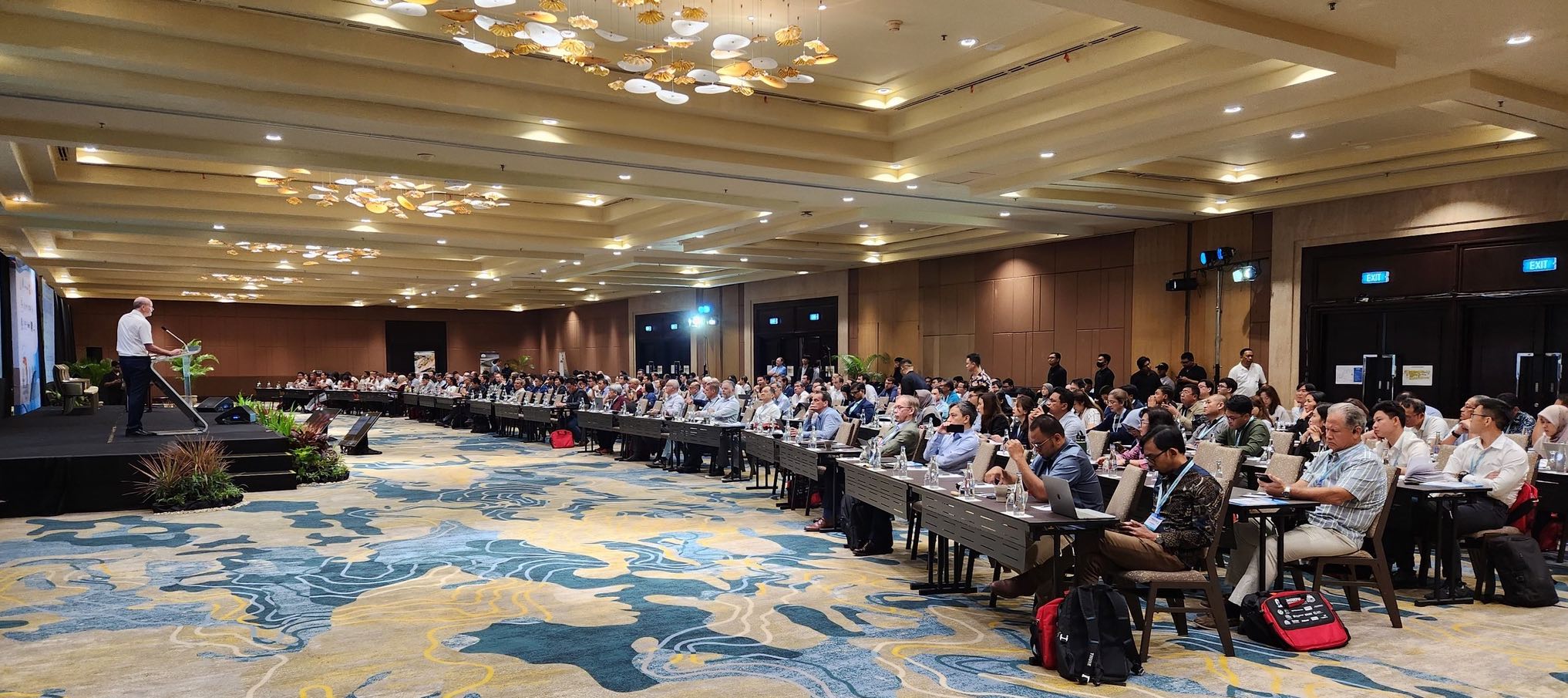 Overview of Plenary Session at TARS 2023
"The Indonesian shrimp industry has the potential to become a significant investment hub for sustainable aquaculture, but this requires embracing sustainable culture practices and effective marketing strategies, for its long-term growth and resilience," said Haris Muhtadi, Shrimp Club Indonesia (SCI) whose members contribute to almost 70% of Indonesia's production of farmed shrimp.
The challenge today, said Robins McIntosh, Charoen Pokphand (Thailand) was, "Why with so much technology has the industry lost profitability? Our success with technology has resulted in higher productivity and lower production costs, but we are now paying when the principle of carrying capacity is exceeded. Farmers have no control on market forces but do have control on costs. Therefore, we should remember the fundamentals of farming shrimp."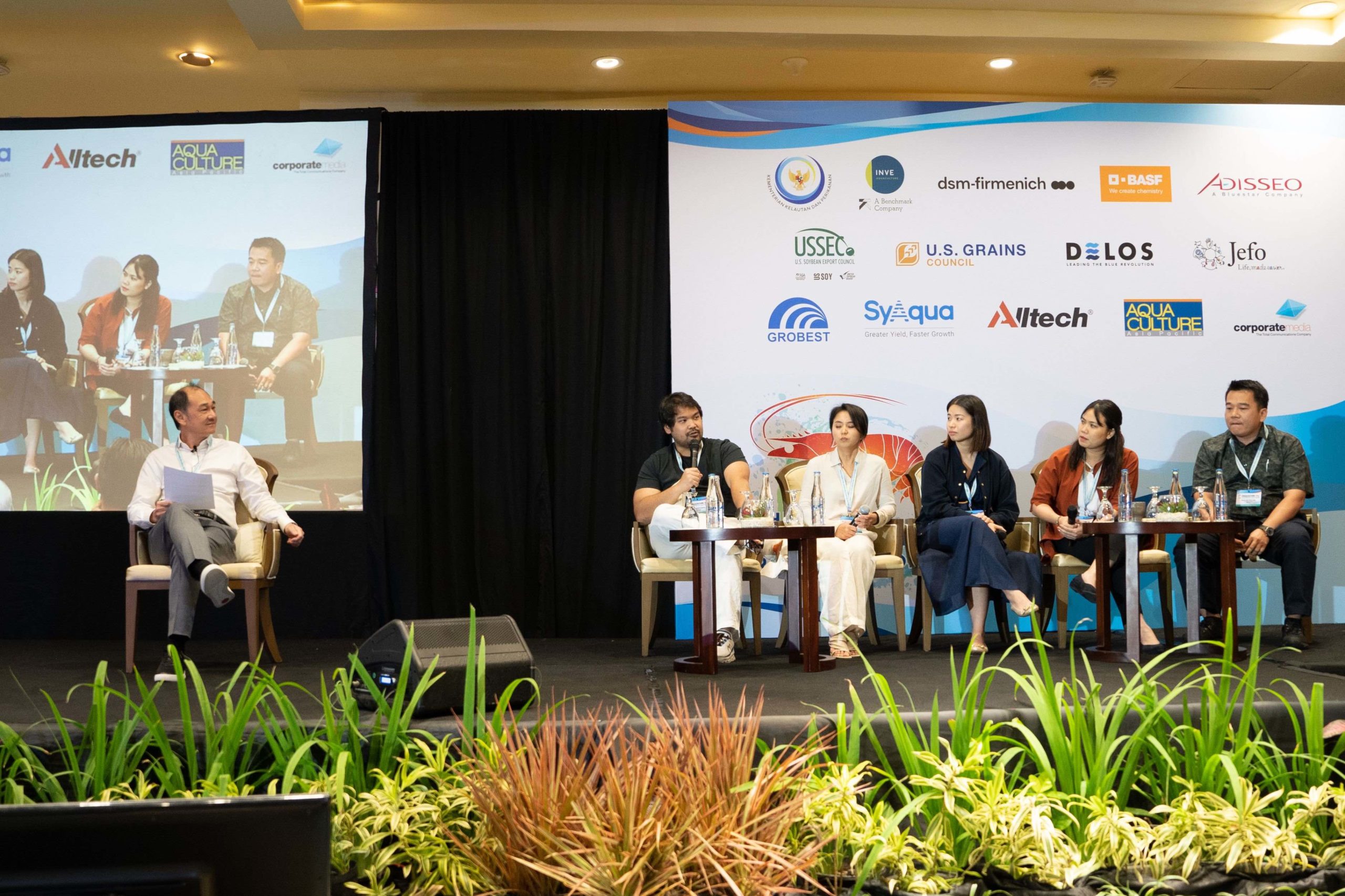 Young shrimp aquaculture professionals at the Industry Dialogue, (from second left): Guntur Mallarangeng, DELOS Aqua, Indonesia; Cynthia Darmawan, PT Delta Marine Indonesia; Bettina Valerie Lim, Hoc Po Feeds, Philippines; Kim Tran, Grobest Vietnam, and Benny Ng Thiam Hau, KS Pekan, Malaysia. Ronnie Tan, USGC, Malaysia was the moderator (left)
Technical presentations highlighted current challenges along the supply chain and provided solutions. Genetics has played a major role in the expansion of Asia's shrimp farming industry and will continue to support production efficiency, but it is not enough on its own. Post larvae is a critical investment and optimising protocols for the first 30 days in hatcheries and nurseries can deliver strong post larvae for successful crops. According to Dan Fegan, SyAqua (Thailand), the next step will require big data and automation for better management of resources and greater profitability.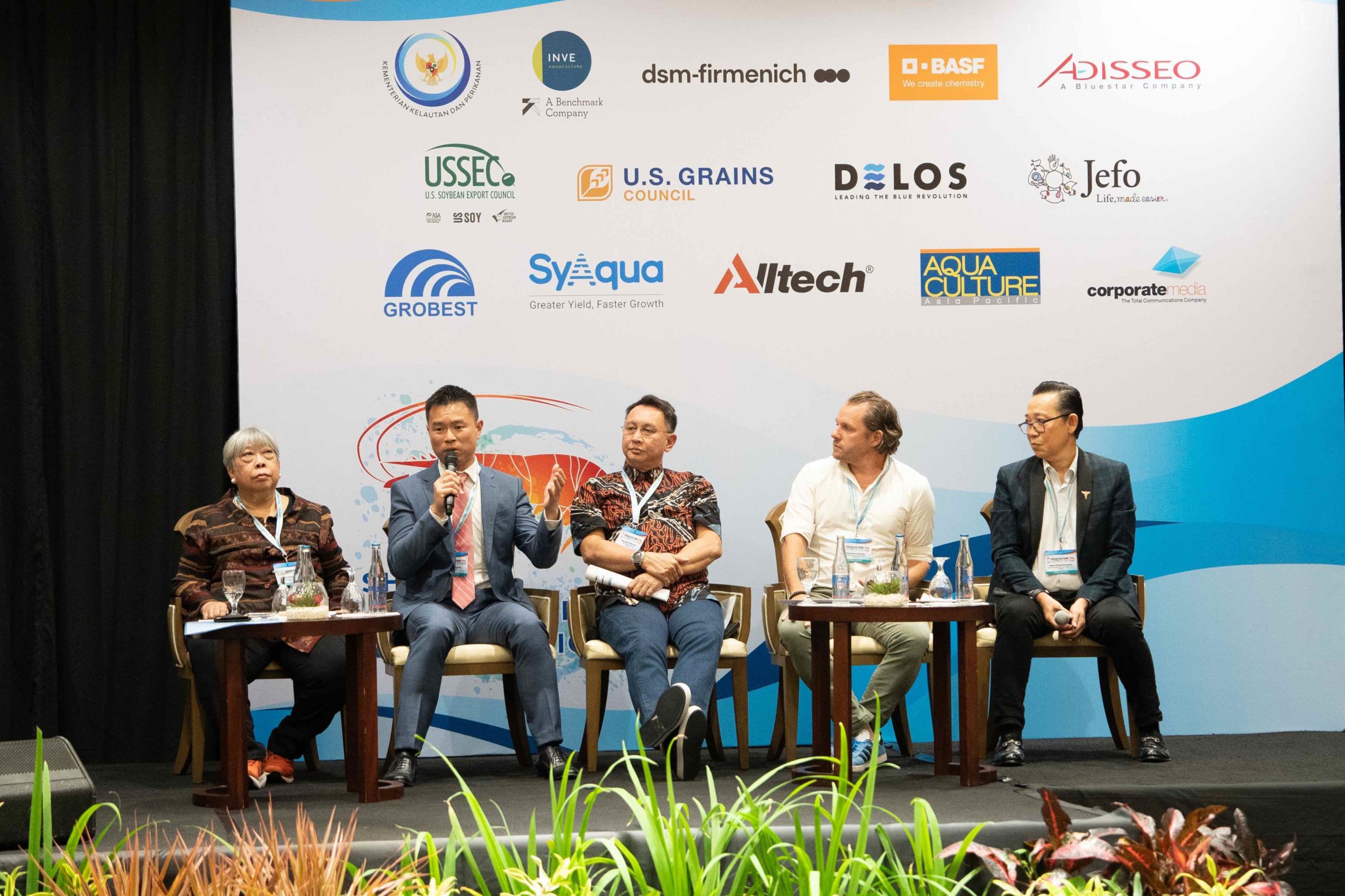 Business Leaders at the Session on Hard Talk. (From left): Lourdes Chingling Tanco, MidaTrade Ventures International Inc, Philippines; Fred Hsi Chung Kao, SyAqua Group, Thailand; Wan Nadhri Wan Fauzi, Blue Archipelago Berhad, Malaysia; Andreas von Scholten, Grobest Group, Hong Kong and Prakan Chiarahkhongman, AAHCPS, Charoen Pokphand Group Co. Ltd., Thailand.
In the Disease Mitigation session, based on a better understanding of the microsporidian EHP and WFS, a recommendation was to increase pH of pond water before stocking post larvae.  A promising opportunity was shown to proactively mitigate outbreaks of AHPND, WSSV and IMNV with data collection and AI to predict trigger points.
With feed playing an important role in the sustainable shrimp agenda there was a focus on nutritional approaches for optimal production performance including opportunities with enzymes and functional additives to improve nutrient digestibility, disease resistance, reduce feed costs and promote the sustainability of shrimp farming. The conversation was also on optimising feeding protocols and with volatility in quality of feed ingredients, effects of mycotoxin contamination on flesh quality.
The Future Proofing session explored technologies in disease prevention, smart feed management and modelling systems for pond carrying capacity. Microbiome monitoring and its management allows for diagnosis of health problems before they become critical.  Vietnam, faced with high costs of production, was developing models in consideration of carrying capacity. A future industry goal should be to focus on cost and quality for specific markets. A new era with smart feeding was presented with examples of simulations on growth and feed requirement. A dive into life cycle assessments (LCAs) in the shrimp value chain demonstrated how this is a powerful tool for decision making in the future.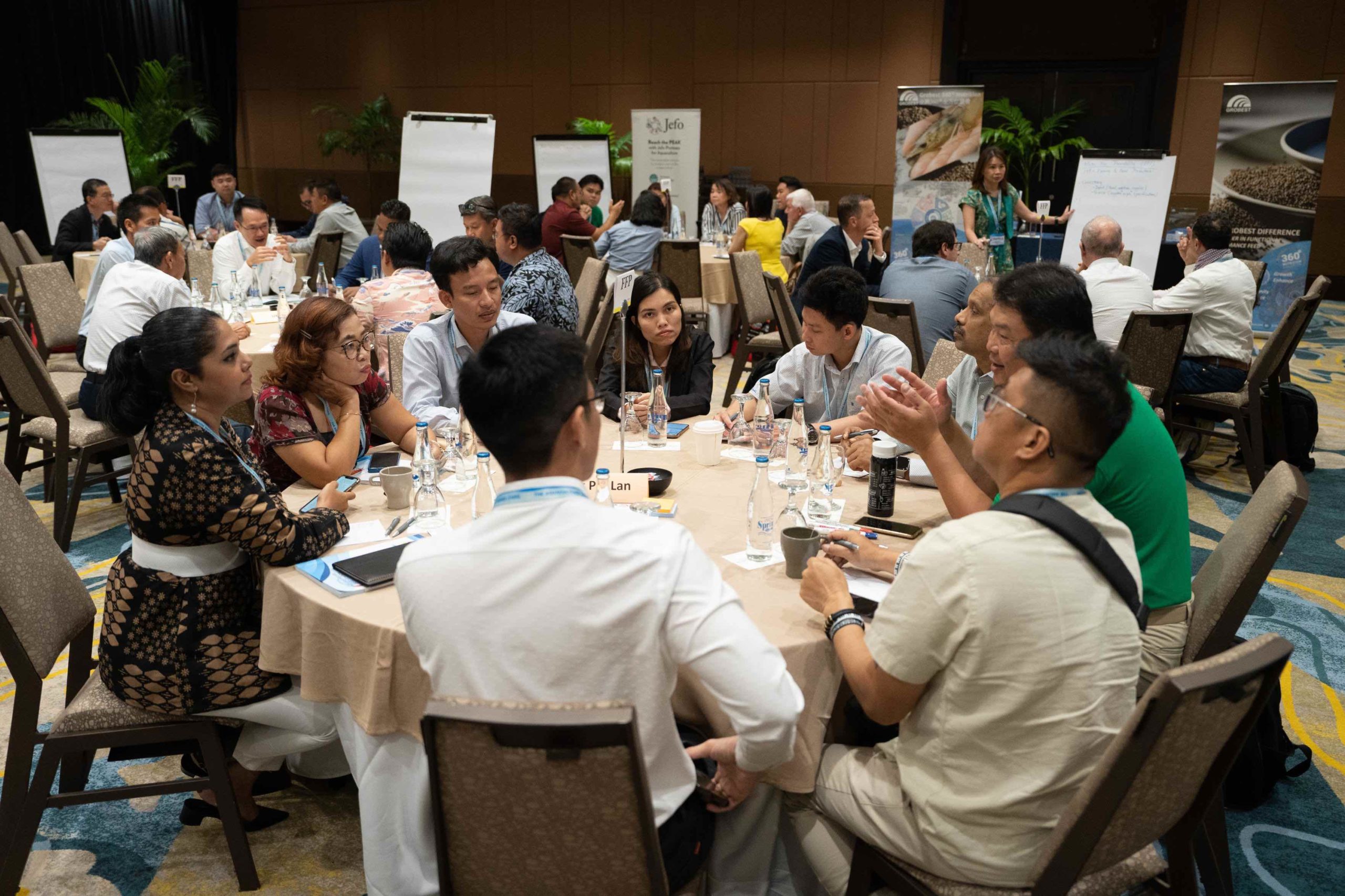 Active discussion among participants at the Breakout Roundtable Session.
There was an unfettered exchange of information, divergent perspectives on strengths and weaknesses and how to remake the industry by the panel of young professionals in shrimp aquaculture at the Industry Dialogue session. Most agree that the presence of startups, data analytics and technology such as in Indonesia and Vietnam is rejuvenating farming towards a more science-based industry. While aquaculture can be sexy for young farmers and investors such as in Indonesia, the group sees the need for long term commitments and to professionalise the industry.
While acknowledging that Asia should be responsible and produce sustainable shrimp either for mass or niche markets, business leaders representing different segments at the Hard Talk session displayed some scepticism on the ability to do so. Today, the focus is to strife for steady margin. Asia has sustainable shrimp but is it doing enough to promote or tell a story? Within this fragmented industry in Asia, there is a structural issue with lack of an organisation for a  branding. While governments in India and Vietnam are already supporting the testing and Thailand is tracking on traceability, the proposal was for marketing and creating consumption.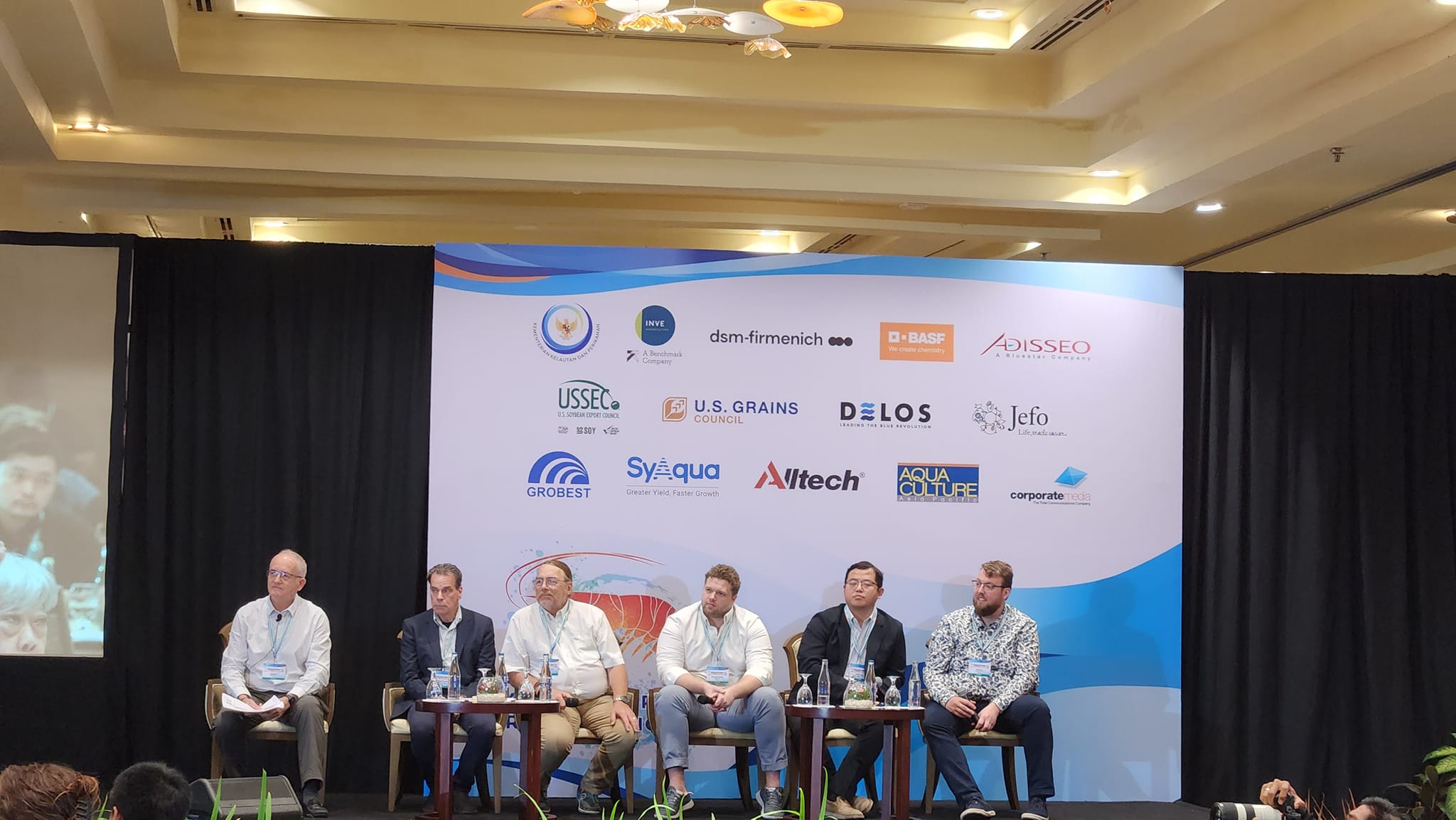 Speakers from the Session on Future Proofing Asia's Shrimp Aquaculture with Session Chair, Regis Bador, New Caledonia followed by (from left): Dominique P. Bureau, Guelph University & Wittaya Aqua, Canada, Hervé Lucien-Brun, Jefo Nutrition, Canada, Alexander Farthing, DELO Aqua, Indonesia, Björn Kok, University of Stirling, Scotland;
Shrimp aquaculture in Asia started with the black tiger which was the pride of Asia. The panel on the resurgence of the black tiger shrimp deep dived into the current scenario of prices and how to target premium markets. Panelists, Regis Bador (New Caledonia), Manoj Sharma, Mayank Aquaculture (India), Catherine Lee, GST (Malaysia), Yufan Zhang, Alltech (China) and Dean Akiyama (Indonesia) delivered the message that producers need to understand the exigent demands of key markets, particularly, with regard to quality and a sustainability story for premium markets.
Asian shrimp aquaculture is highly fragmented and  to develop sustainable shrimp, the key is  traceability along the supply. This year at the Interactive Roundtable Breakout Sessions, a hallmark of TARS, participants were tasked with proposing traceability criteria between two segments; Hatchery & Genetics and Farming (HGF); Farming and Feed Production (FFP); and Processing & Marketing and Farming (PMF).  In the final panel session, group leaders Craig Browdy, Ziegler Feeds (HGF); Romi Novriadi, Jakarta Technical University (FFP); and S Santhana Krishnan, Marine Technologies (PMF) presented the collated output from their respective groups.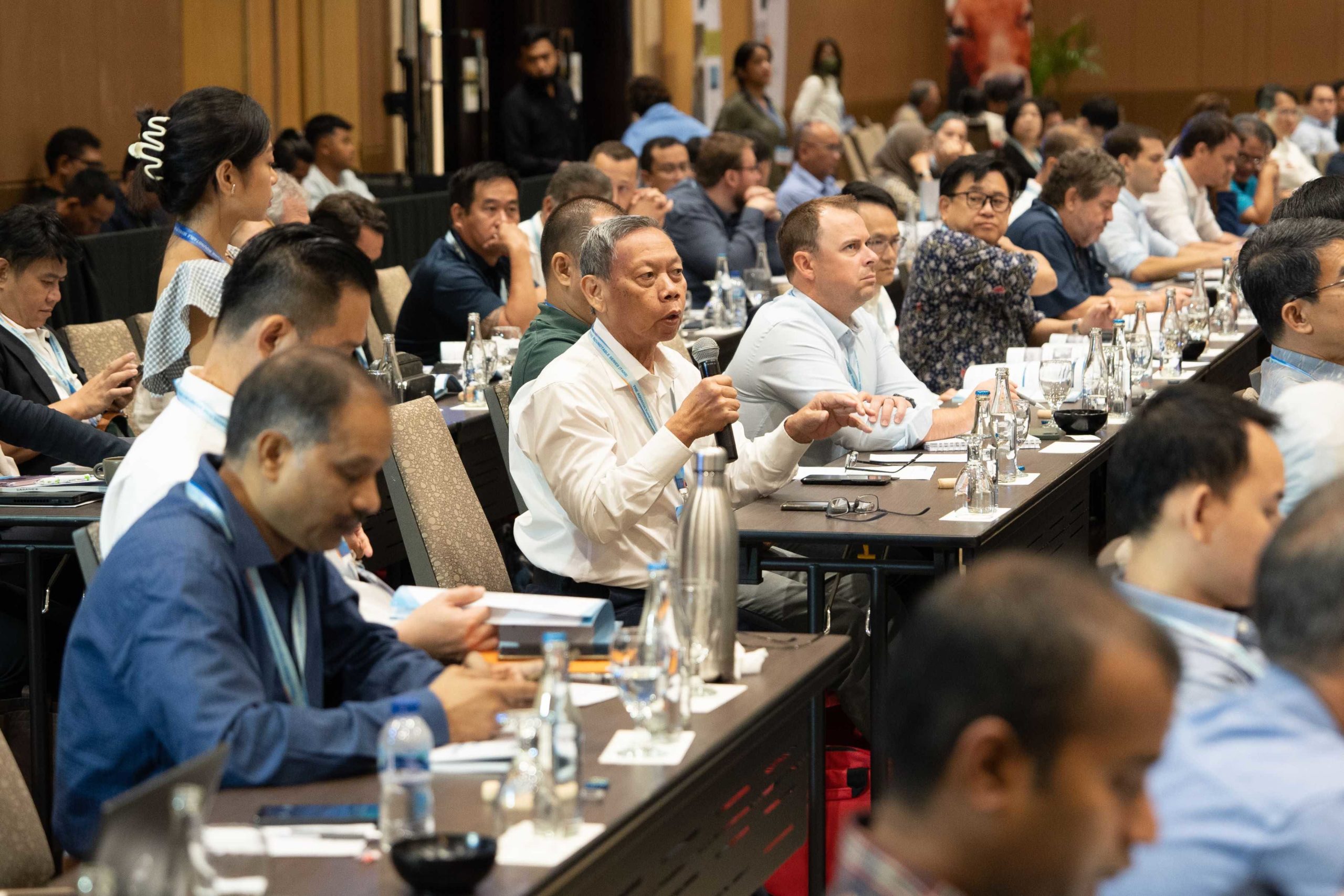 Q&A from the floor.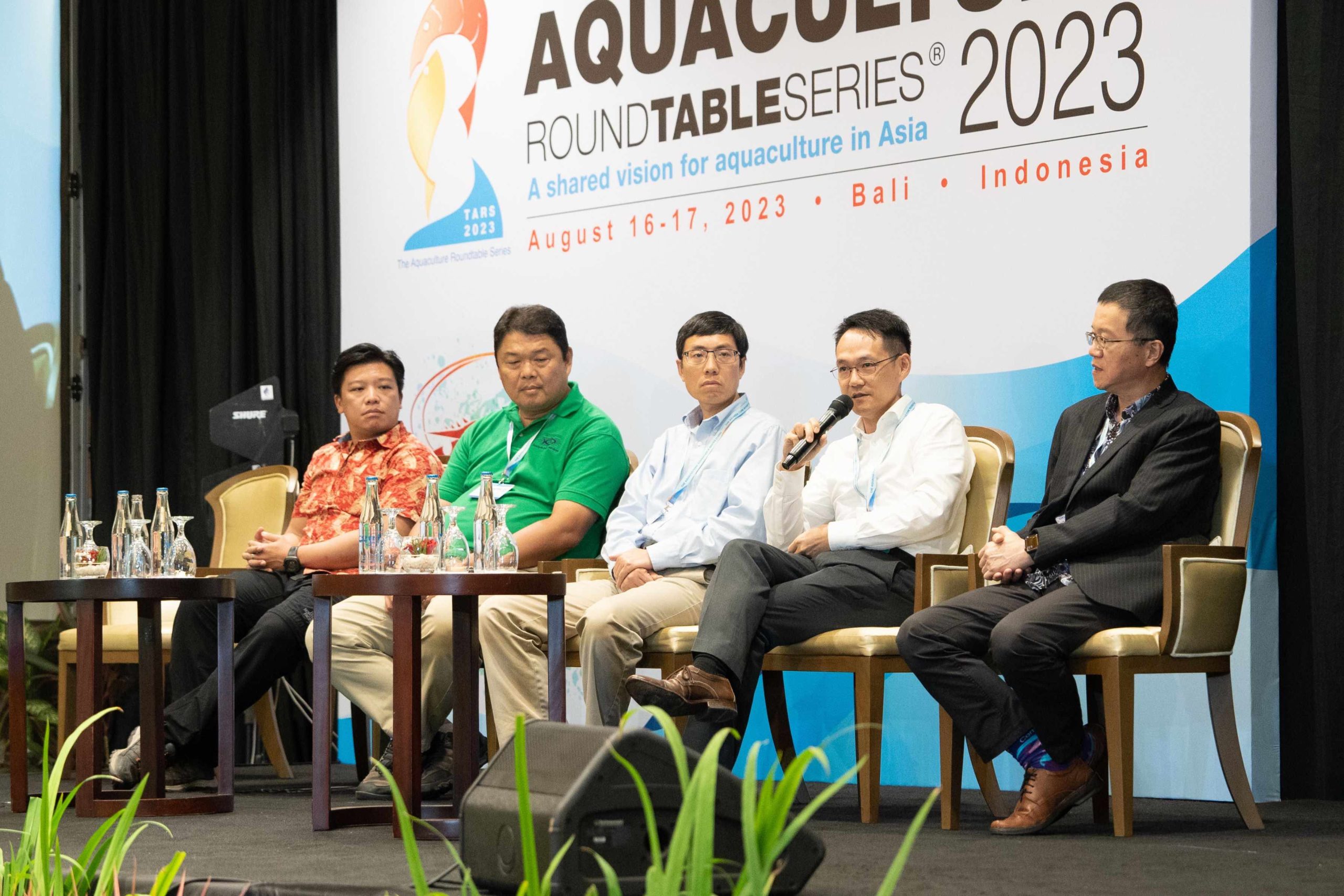 Roundtable leaders from the Feed Production and Farmer Group (FFP) shared their output from the discussions held earlier.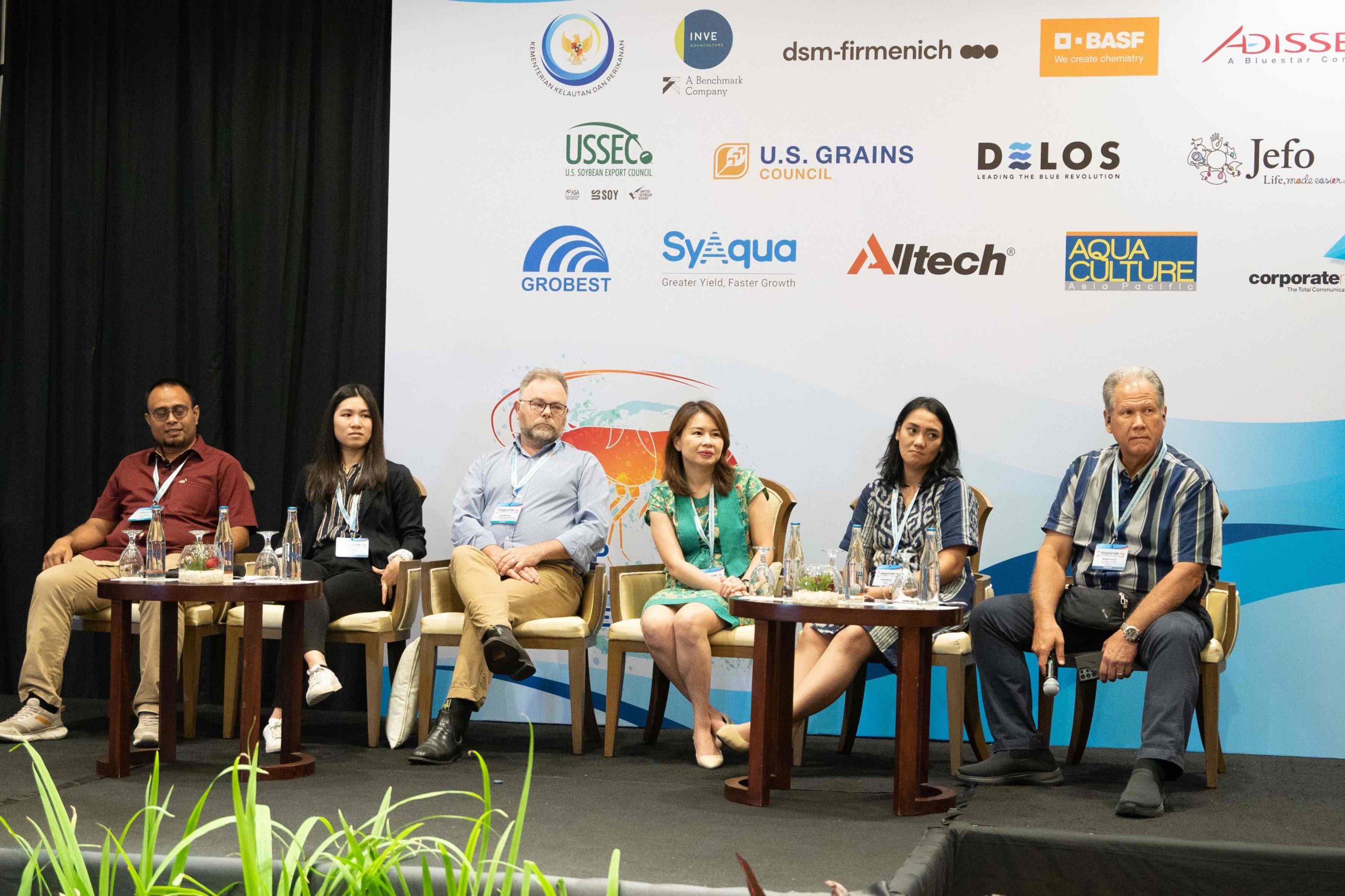 (Far left): Group Leader Romi Novriadi, Jakarta Technical University, Indonesia led the Panel Reporting Session for the Feed Production and Farmer Group (FFP).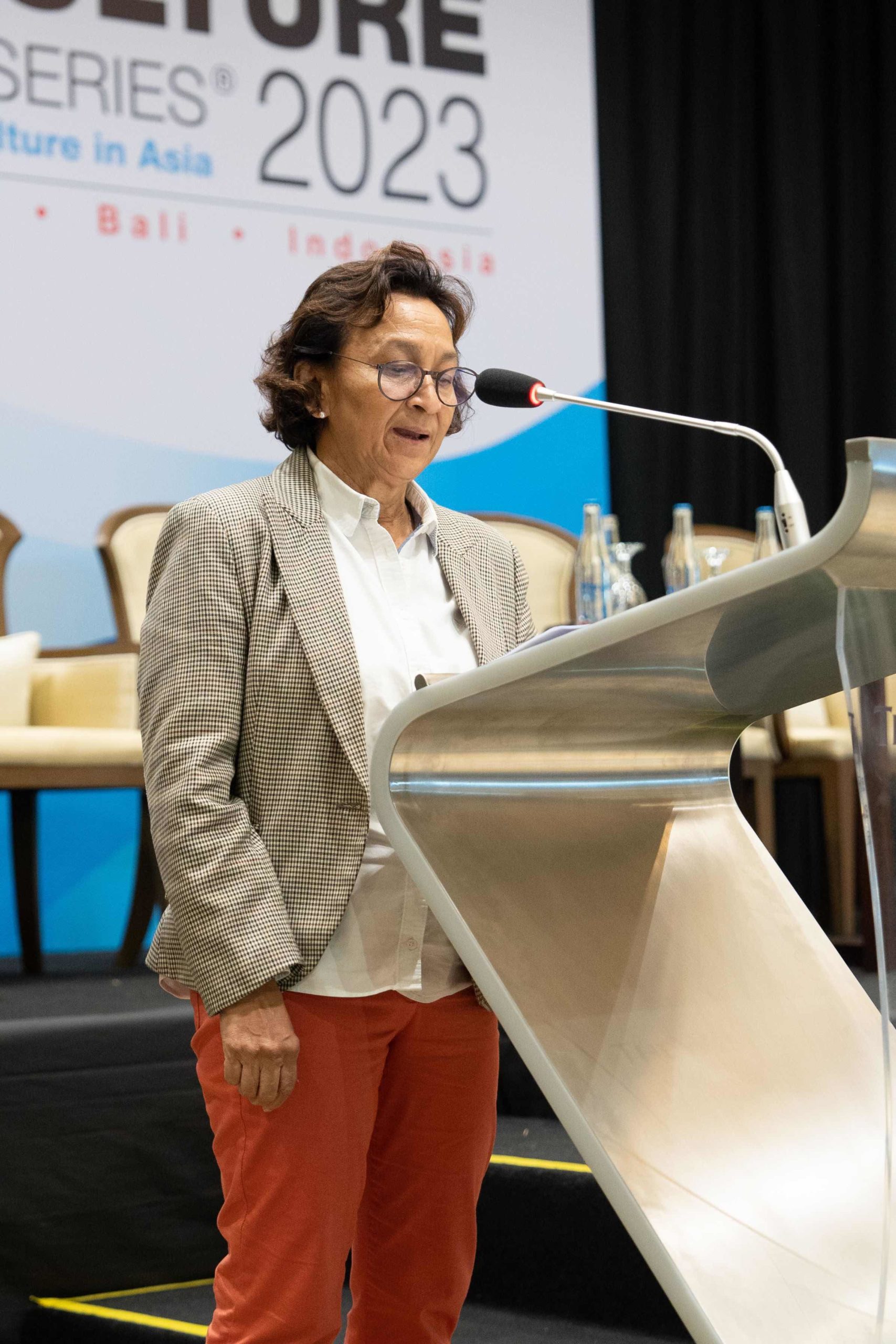 Zuridah Merican, Chair, TARS
"There is no doubt that shrimp aquaculture is a risky business but there are opportunities.  TARS offers all stakeholders a way to work together and move forward by identifying bottlenecks and proposing solutions for industry adoption. The roundtable breakout session is an important part of this event where all participants have a voice," says Zuridah Merican Chair, TARS 2023 and Editor of Aqua Culture Asia Pacific, co-organiser of the TARS series together Corporate Media Services PL, Singapore.
"We are happy that despite today's challenges in shrimp farming and economic environment, we reached our goal. We take this as a positive sign as Asia's stakeholders see the need to network and work together to position themselves for the future growth of the industry," added Merican.
The two days were full of positive, spirited discussions with a lot of energy in the room where everyone had a voice! Organisers acknowledged that the success of this TARS came with the hard work, insights, and dedication of all the presenters, moderator, session chairs and industry panelists as well as the active participation and invaluable inputs of all. The organizers would like to thank the Directorate of Aquaculture, Ministry of Marine Affairs and Fisheries, Indonesia for its support, and industry partners, INVE Aquaculture, dsm-firminech, BASF, Adisseo, USSEC, USGC, DELOS Aqua, Jefo Nutrition, Grobest, SyAqua and Alltech and for their contributions, as well as our media supporters. More details: www.tarsaquaculture.com
VFM