News
Nurture potential of marine culture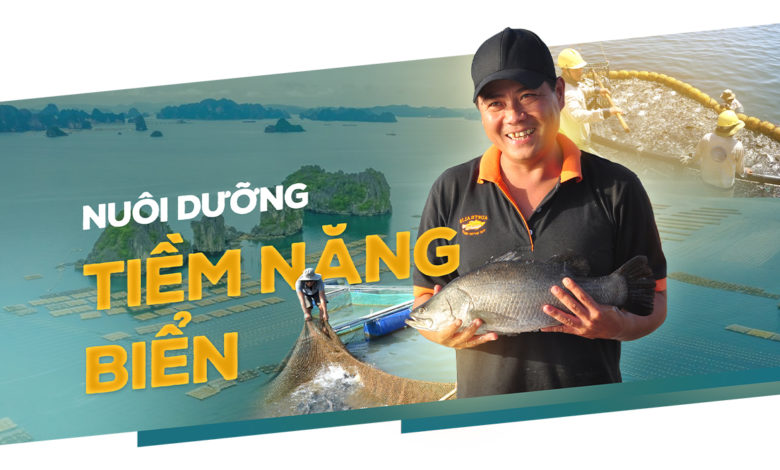 Attract investments from businesses, build a value chain, apply new technologies, and perform the Government's support policies are essential steps to improve marine culture in the direction of industrial and sustainable development.
Realize challenges
According to the Ministry of Agriculture and Rural Development, Vietnam has coastal and close bays, islands, and offshore areas. The total area for potential marine culture is 500,000 ha, with 153,000 ha of coastal areas, 79,790 ha of bays and island edges, and 100,000 ha of offshore areas. The main farmed species include grouper, cobia, red snapper, seabass, seabream, pompano, tuna, and milkfish.
Over the last few years, the Government has issued some policies encouraging marine culture and creating conditions for investment attraction. For example, the Project of developing aquaculture up to 2030, vision to 2045 approved by the Prime Minister in the Decision no.1664/QĐ-TTg dated October 04, 2021. The project would encourage fishermen to shift to marine culture so as to reduce coastal exploitation, create jobs, and help raise income for coastal residents.
In spite of rich potential, models of marine culture and sea fish farming have been spontaneous with a lack of planning, poor facilities and disqualified techniques of production, according to the Directorate of Fisheries. Besides, the science and technology of breeding is limited. The farming technology and cage system have not adapted to the weather in Vietnam. Some species are stocked without guidelines or trials. Trash fish are used as feed, causing possible environmental pollution. The investment fund must be large, the farming must take time, and yet just a few businesses participate in marine culture. Workers related to marine culture are not good at science and techniques, and lack experience and awareness of environment protection.
Some households related to cobia farming in Cửa Lở estuary of Quảng Nam province are taking gamble as fish fries are imported from other provinces without quarantine or quality examination, resulting in abundant harvest or loss. Just very few sea fish are produced on a small scale in Vietnam, the rest of them are imported through border gates with unstable quality. Thus, local marine culture farmers lack qualified fries. Besides, unsustainable feed, mainly fresh fish, is used in conventional culture models.
Khánh Hòa is one of the localities with high potential and strengths to develop marine culture as there are many ponds, bays and 200 islands along the coast here. The province has over 60,000 cages owned by more than 2,000 households. However, these cages are made of wood which can not resist huge waves and wind. It was proved when all wooden cages were destroyed by the storm no.12, Damrey, in 2017, leaving serious damages to farmers.
The National Center of Agriculture Extension Lê Quốc Thanh anticipated marine culture was small-scale, unplanned, and sufficient of high techniques. The natural conditions are different in each area, besides, storms and high investment funds as compared to inland culture have made farmers nervous. Products from marine culture have not been sold to factories for deep processing, but just served in markets, restaurants, and partly exported through border gates.
New wave for marine culture
For sustainable development of marine culture, the Directorate of Fisheries proposed to have policies attracting investment. Besides, essential infrastructure must be developed in centralized farming areas and potential breeding areas. Moreover, the Law on Fisheries 2017 and current regulations must be well performed; science, technology and new techniques must be applied in production of breeds and sales.
Dr Nguyễn Hữu Dũng, Chairman of Vietnam Seaculture Association said marine culture was not only to develop cage farming, but more importantly, it helps nurture the potential of the sea, preserve the ocean environment, hence, sustainably exploit the potential of the sea and enrich by marine culture. Industrial marine culture has become a trend in the world. Marine culture must be led by advanced technologies so as to produce under the most fierce weather conditions. Feed must also be sustainable and harvest must be industrialized. 
Hồ Quang Bửu, Vice Chairman of Quảng Nam provincial People's committee said scientists should research and transfer advanced technologies in fries production to marine culture farmers, especially high value fish fries with stable consumption. Quảng Nam proposed the Central to promptly supplement and adjust regulations related to marine culture so as to create favorable conditions for businesses to invest into this field.
Being a researcher and producer of various qualified fries, Seafood Hatchery South America Company said the company wanted to invest into marine culture in Quảng Nam. Accordingly the company hopes the People's Committee to plan the marine culture areas with encouraging schemes and supporting policies so as to build infrastructure. If there are many investors, Quảng Nam's marine culture and the whole country will experience a new wave which gradually erases fragmentation. Enterprises and their partners are joining forces on processing seafood and producing feed, aiming to boost self-sufficiency in breeds, feed and marine farming technique. 
, giải pháp quan trọng là tổ chức lại sản xuất theo chuỗi giá trị sản phẩm, từ vùng nuôi đến thị trường tiêu thụ, trong đó doanh nghiệp thu mua, chế biến, tiêu thụ đóng vai trò hạt nhân liên kết và vận hành chuỗi. Doanh nghiệp thu mua, chế biến, tiêu thụ cùng chia sẻ lợi nhuận, rủi ro với người nuôi. Cơ quan chuyên ngành chủ động cung cấp thông tin thị trường, dự báo xu hướng phát triển và hỗ trợ hình thành các nhóm doanh nghiệp từ cộng đồng ngư dân, tổ chức liên kết các khâu sản xuất (kỹ thuật, công nghệ, con giống, thức ăn, lồng bè, tiêu thụ, dịch vụ, thị trường…). 
Representative of Cà Mau provincial Sub-department of Fisheries said an important solution was to reorganize the value chain from the farm to the table, with enterprises, processors and consumers playing as connectors and operators of the chain. They will share profit and risks with farmers. Professional institutes should provide market information, forecast the development trend, support establishing business groups from the fishermen community, and link production phases (technique, technology, breeds, feed, cage, sales, services, market, etc.)
Hoài Phương
The country sets a target of having about 280,000 ha of marine culture, 10.5 million cubic meters of cages by 2025, achieving 850,000 tons output and USD 0.8-1 billion worth of export value. By 2030, the marine culture area will reach about 290,000 ha, with 12 million cubic meters of cages, 1.45 million tons of output, and USD 3-4 billion worth of export value of farmed species.
Key to marine culture by HDPE cages

Sustainable HDPE cages have been widely used in aquaculture all over the world as they well adapt to climate change and their longevity is 50 years. In Vietnam, many businesses in Quảng Ninh and Khánh Hòa are applying HDPE cages effectively.

In 2020, the National Center for Agriculture Extension supported households in Khánh Hòa to carry out projects of marine culture with HDPE cages. The project ended in 2022 with six HDPE cages installed. Phương Minh Nam, Deputy Director of Khánh Hòa provincial Center of Agriculture extension said after three years of installing HDPE cages in Vạn Ninh district, critical evaluation was given. The farmed fish weighed up well with survival rate reaching 90%, 15-20% higher than the traditional wooden cages. HDPE cages were proved to adapt to natural disasters, resist against waves and storms, and help reduce diseases and assure eco-friendly criteria. In Khánh Hòa, Australis Vietnam Aquaculture has 46 round HDPE cages, with 22 cages of 9,000 m3 each, 16 cages of 2,500 m3 each, 8 cages of 13,000 m3 each to rear seabass, producing 100,000 tons per year. The Center for Advanced Technology in Marine Culture under the Research Institute for Aquaculture no.I has 20 round HDPE cages (2,500 m3 each) and 22 square HDPE (125 m3 each) to rear pompano, producing about 200 tons per year. Phương Minh Aquaculture Company rears pompano in six round HDPE cages (1,000 m3 each) and 5 square HDPE cages (125 m3 each), producing about 150 tons per year.

After a while of researching and testing, the Trường Phát Super Plastic Group has been producing materials specialized for marine culture with the same quality as Norwegian cages but just a half price. The Group is producing materials for marine culture, directly carrying out marine culture, and demonstrating a model in Vân Đồn district of Quảng Ninh province as a tourism destination like in Paris and Norway. The Group is waiting for Khánh Hòa to give a license for hiring surface water of the ocean to deploy the project of culturing fish and algae in association with tourism on a large scale.