News
Pangasius exporting companies gradually recovered in quarter II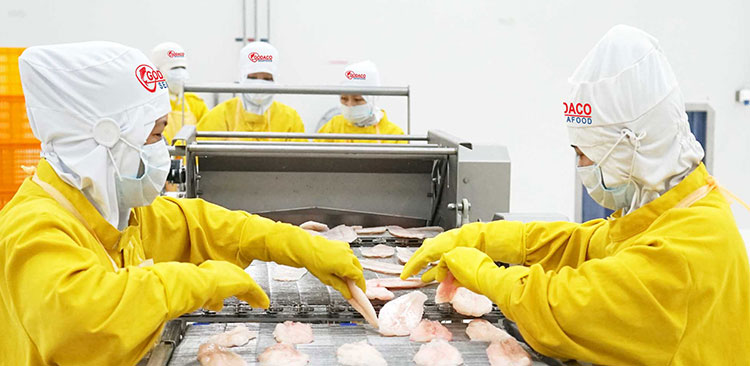 Pangasius exports have gradually recovered after months of plunge due to rising inflation and global economic downturn.
Sign of recovery
According to VASEP, Vietnam's pangasius exports reached USD 143 million in June, down 33% from the same period last year. However, the slowdown rate was lower than previous months. In July, pangasius exports were down just 20%, USD 150 million less than a year earlier.
Companies saw decrease in revenue and profit from pangasius exports as compared to the same period last year, but some good signs as compared to quarter I. It must be noticed that the last year revenue and profit stayed high, some businesses saw records high in pangasius exports, driven by favorable conditions during the post Covid-19 period.
As one example, Vinh Hoan Corporation achieved 2,724 billion dong in revenue in quarter II, down 36% from the same period last year, but up 23% from quarter I. The profit after tax reached nearly 430 billion dong, down 46% from the same period last year but nearly twice as much as quarter I.
Bentre Aquaproduct Import And Export JSC (ABT) tripled its profit from quarter I with over 28 billion dong, slightly down 11% from the same period last year.
However, some companies haven't recovered yet. As one example, revenue of Nam Viet JSC (ANV) just reached 1,074 billion dong, down 17% from the same period last year and 7% less than quarter I.
Vĩnh Hoàn intended to stop increasing prices and improve product quality to enhance competitiveness. The corporation still expected pangasius demand to recover from quarter IV 2023.
Will pangasius exports be improved at the end of the year?
In a recent report, the SSI Research of SSI Securities Corporation believed that profit of pangasius exporters will be improved in H2 of 2023 when input materials and shipping costs go down.
According to SSI Research, there haven't been any good signs of recovery from major markets such as the US, EU, and China due to the prolonged inflation and slowdown in recovery release.
Besides, SSI Research estimated the average price of Vietnamese shrimps and pangasius sent to the US to stay at 10.6 USD/kg and 3.5 USD/kg, down 12% and 26% respectively from the same period last year.
VASEP has just constructed two scenarios of seafood exports. The first one is that with favorable conditions from the market recovery, production capability, stable material supply, and competitive products, Vietnam will achieve over USD 9 billion, down 15 – 16% from 2022. And as such, Vietnam's pangasius sector will bring in USD 1.7 – 1.8 billion, down 28% from the same period last year.
In a less optimistic scenario when the market starts to recover and demand increases but Vietnam finds it hard to compete against Ecuador, India, Indonesia and Thailand in terms of price and supply, the country will just earn USD 8.5 – 8.7 billion in 2023. The country will see the biggest decline in the two key species, pangasius and shrimp.
VFM