News
Press conference announcing the Fair of Vietnam Shrimp Technology Exhibition for the fourth time (Vietshrimp 2023)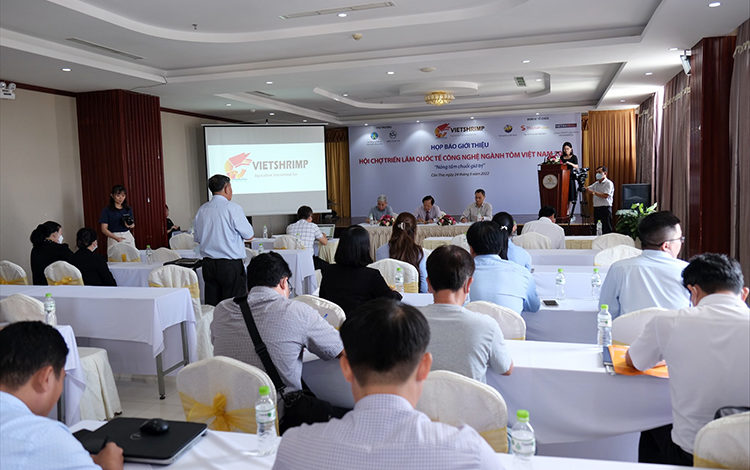 In the morning of May 24, a press conference was held in Cần Thơ by the Organizer of Vietshrimp 2023 to announce the most important event of the shrimp sector. Chairman of Vietnam Fisheries Society and Leader of the Organizers Nguyễn Việt Thắng, representatives of Cần Thơ provincial department of Agriculture and Rural Development, institutes, sponsors, and central and local press agencies attended the event.
Vietshrimp 2023, titled "Enhance the value chain", is a big forum of the four parties: managers, scientists, businessmen, and farmers. The fair is a place where technology products and new models are introduced and production is connected with consumption.
Director of the Science Division of Vietshrimp 2023 Phạm Anh Tuấn said that the fair will offer an opportunity to produce a bird's eye view of the sector and it will also be a playground for parties to learn and exchange new technologies, techniques, and experiences in terms of digital transformation in the shrimp sector. 
Speaking at the press conference, Deputy Director of Cần Thơ provincial department of Agriculture and Rural Development Nguyễn Tấn Như highly evaluated the title "enhance the value chain" of Vietshrimp 2023 as it is suitable with the current situation where the value chain of Vietnam's shrimp sector has been finalized but needs further improvement.
Vietshrimps 2023 intends to build 200 stalls registered by local and international enterprises related to the fisheries industry and covers seminars where managers, scientists, experts, enterprises and farmers take part in, share information, and give solutions to Vietnam's shrimp sector for value chain improvement and sustainable development.
Vietshrimp 2023 will run from April 12 to 14, 2023 at the Can Tho Promotion Agency Conference Room, addressed 108A, Lê Lợi street, Cái Khế ward, Ninh Kiều district, Cần Thơ city. Vietnam Fisheries Magazine and VietnamMedia Ltd.,Co are assigned to hold this event by the Vietnam Fisheries Society.
VFM