News
Prices of pangasius is below the production price, making it hard to achieve growth in exports in quarter II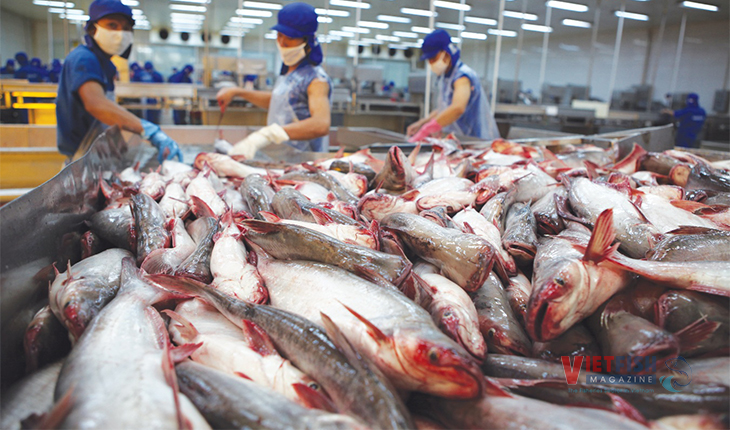 The average price of pangasius is around 18,000 – 19,000 dong/kg, meanwhile it costs from 21,000 dong to 22,000 dong to obtain one kilogram of commercial pangasius. Many farmers are suffering great loss. 
According to statistics by the Directorate of Fisheries (under the Ministry of Agriculture and Rural Development), the pangasius farming area in the Mekong Delta has reached 3,788 ha by the end of April 2020 (equal to 96.65% compared to the same period last year), the harvested area reached 886 ha (equal to 82.88% compared to the same period last year), bringing in over 248 thousand tons (decrease by 17% from last year).
The earlier, prolonged and high summer heat has made many rivers in Bến Tre, Trà Vinh and Tiền Giang have a salinity degree of 4‰ – 25‰, This has caused to a massive death of pangasius, resulting in a slump in pangasius material prices and large output of oversized fish.
To sustain the production, pangasius farmers in many prefectures have shifted the farming practices from intensive to extensive with lower density and fewer feed to reduce production cost and market price and hold back the fish from weighing up so fast while waiting for the market signal.
The prices of pangasius in the Mekong Delta in the first quarter of 2020 are falling. Once ranging between 20,000 dong and 21,000 dong per kilogram in Jan and early Feb 2020, it reduced to 18,000-18,500 dong/kg.
By mid Feb 2020, it fell by 42.6% compared to the same period last year and ranged at 19,500 dong/kg, which maintained during Mar 2020. Pangasius is sold at 18,000-19,000 dong/kg on average, meanwhile the production cost is from 21,000 dong to 22,000 dong, resulting in many farmers suffering from loss.
Some ponds have been left empty after being harvested. Prices of commercial pangasius type 1 are ranging at 18,000-18,500 dong/kg, which has been the same for the last two months and may sustain in May and June 2020.
Pangasius broodstock size 1.5cm is sold at 26,000-27,000 dong/kg and size 1.7cm is at 24,000-24,500 dong/kg.
The average prices of exported pangasius fell to 2.15-2.25 USD (in Oct and Dec 2019) from such a good price of 2.75 USD in Mar 2019. Once prices of exported frozen fillet increased to 2.25-2.35 USD/kg in Jan 2020, it fell to below 2.2 USD/kg in Feb and Mar 2020.
Quarter II forecasted not to reach a positive growth
The demand in pangasius in China and Hongkong, which have been the biggest destinations of Vietnamese pangasius and account for 22.5% of the total of the country's exported pangasius value, is recovering. However, some other importing markets are being affected by the covid-19.
According to VASEP, by the end of quarter II of 2020 at the earliest, the total exported value of pangasius to most markets can not reach a positive growth compared to the same period last year.
The Ministry of Industry and Trade said that in the next few months, Vietnam will benefit from exporting pangasius to the US when the US Department of Commerce (DOC) has just announced its reduction of the anti-dumping duty on companies that participated in answering questions given by and cooperated with DOC.
VFM