News
Sóc Trăng: 51,000 ha of land used for brackish water shrimp stocking in 2022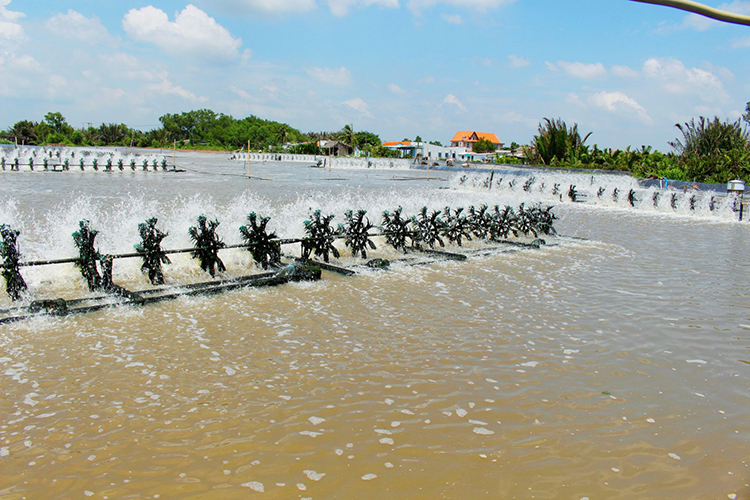 Shrimp farmers in Sóc Trắng started stocking brackish water shrimp in 2022, with 51,000 ha being used intentionally.
According to Sóc Trăng provincial Department of Agriculture and Rural Development, as many as 53,000 ha of land was used for stocking brackish water shrimp in 2021, exceeding 3.9% of the plan, up nearly 2.5% as compared to the same period, with 40,000 ha of white leg shrimp (accounting for 75.5% of the total farming area) and 13,000 ha of black tiger shrimp. The intensive and semi-intensive farming areas accounted for 93.7%. The mortality rate reached less than 6%.
Trần Quang Cần, Director of the Hưng Phú Seafood Cooperative in Cù Lao Dung district said: "Once proper stocking schedule is given, local farmers can avoid bad weather and stock shrimp at the right time for healthy growth".
Nguyễn Văn Tân, Manager of a Shrimp farming area owned by Vietnam Clean Seafood Corporation in Sóc Trăng said: "The pond liner model helps prevent the disease outbreak and improve the quality of shrimp". 
According to Sóc Trăng provincial Sub-department of Fisheries, the stocking schedule of brackish water shrimp will start on January 10 and end on September 30 while white leg shrimp will be stocked within January 10 and September 30 and black tiger shrimp will be stocked from March 10 to September 30. As for enterprises with large-size farms which satisfy the requirements of farming conditions, intensive model, semi-intensive model, hi-tech appliance, two phases or more of farming, shrimp can be stocked all around the year provided that enough water must be filled and solutions to bad weather must be given.
Quách Thị Thanh Bình, Deputy Director of Sóc Trăng provincial Sub-department of Fisheries added: "Competent authorities have issued instructions of further management of farming areas as well as conservation of the environment and assurance of productivity".
Sóc Trăng sets a target of spending 51,000 ha on brackish water shrimp, producing an output of 196,000 tons. So as to achieve this target, the province will gather households to become a cooperative to form large-scale material producing areas in association with enterprises to work in supply chains. Hi-tech based farming models will be multiplied in association with ecological environment protection, climate change adaptation and production cost reduction so as to enhance the value and promote sustainable development.
The province has a total of 4,000 ha of pond liner and farming models of intensive, super-intensive and hi-tech application. Sóc Trăng has paid special attention to the cooperation among the Government, producers, enterprises, association and society. Likewise, safe and responsible production has been focused to aim the VietGAP, GlobalGAP, and ASC standards so as to improve the quality of products and satisfy the demanding requirements of the market.
VFM