News
Proactively adapt to any changes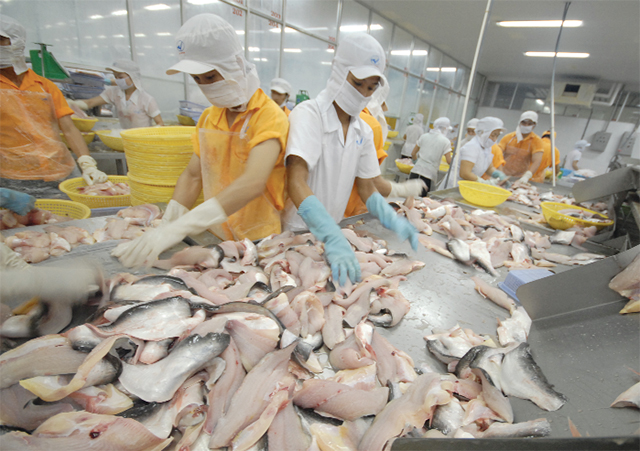 In 2021, the agricultural sector in general and the fishery industry, in particular, will achieve impressive numbers in exports. However, with the anticipated difficulties, in 2022, what will this industry have to do to be able to continue to set new records? In this regard, Deputy Minister of Agriculture and Rural Development Phung Duc Tien gave some answers.
Dear Deputy Minister, the economy in 2022 is forecasted to grow again in the context of the "new normal", how do you forecast the export potential of Vietnam's seafood industry in 2022?
Vietnam's seafood industry in 2021 is difficult, but we overcame it, with export turnover reaching 8.89 billion USD, making an important contribution to the implementation of the Government's goal of assigning the agricultural industry 42 billion USD. But this year, agricultural exports have reached 48.6 billion USD, exceeding 6 billion USD compared to the Government's target.
In 2022, seafood export will still have a clear direction based on the development strategy, which will be implemented by ten projects, including exploitation and farming. Shrimp export value in Conclusion 79 of the Government has been decided to implement by the Ministry of Agriculture and Rural Development, will step up in all sections, including marine farming, in-field farming, and exploitation, striving to reach a turnover of 9 billion USD.
This is the goal of the Directorate of Fisheries, and of course, the Ministry of Agriculture and Rural Development will consider it on the basis of the targets assigned by the Government. In this year's case, there will be 48.6 billion US dollars; in the next year's case, there will be how many billions. We will review in all fields of cultivation, animal husbandry, fisheries, and forestry that are the pillars and spearheads of agriculture and strive fiercely to achieve that goal. Because we know that agricultural exports are people's exports, and FDI exports no matter how big, we only have a part of it.
Dear Deputy Minister, currently, our country's export market is placing higher and higher orders on the quality and safety of food and seafood products. How does the Ministry of Agriculture and Rural Development direct so that in the near future, Vietnamese seafood can meet these increasingly strict requirements?
To begin with, we must realize that restructuring brings added value and enhances value-added. Restructuring is crucial for both domestic investment and exports. With important markets such as the US, Japan, EU, China, Korea, when implementing 16 FTAs, we already have the concept of it. Now switching from agricultural production to an agricultural economy, as former Prime Minister Nguyen Xuan Phuc said, "When sowing seeds, we have to take into account the market". Markets all have their own standards, businesses, farms, farmers all understand that now bring to the market to sell what people need, not sell what we have. The pace is very fast, that's why we have a large export value in 2021 of 8.89 billion and 196 markets. Therefore, we have faith in production and business. However, we cannot be sure what is already there and the requirements of the markets are constantly changing. We must have enough capacity to react to those changes in order to maintain the growth momentum, maintain the export value increasing every year. It is true that "Vietnam will become the kitchen of the world".
How can we take the most advantage of FTAs in 2022 and in the future, Deputy Minister?
As I said, in addition to restructuring on 3 products which are national products, regional products, and OCOP products, we focus on infrastructure, focus on science and technology, processing… All these solutions help Vietnam's agriculture quickly transition to an agricultural economy. At the same time, the huge resource that we identify as digital transformation is agriculture. Because of each seafood import market, we must trace the origin, ensure food safety and prevent and control diseases. For example, the Chinese market is moving towards "zero COVID", while Vietnam is easing when the vaccination rate is high, with different regulations so we have to adapt to all markets. As I just mentioned, especially the US, EU, Japan, Korea, and China markets are big markets, we don't let the congestion of agricultural products and have to export officially with high value and take the initiative.
Thank you very much, Minister!