News
A New Appointed Non-Exclusive Distributor in Vietnam for Diana Aqua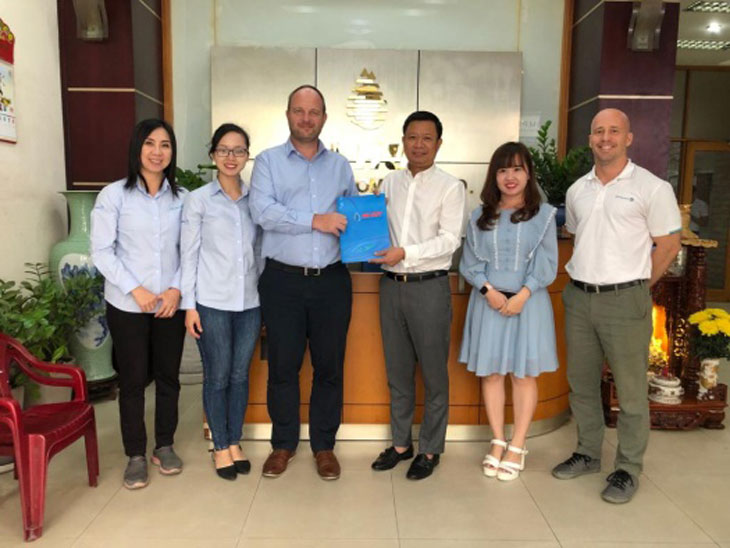 Diana Aqua has signed a Non-Exclusive Distribution Contract with An Huy Company Limited in Vietnam.
On 3rd December 2019, Diana Aqua Thai subsidiary (SPF Diana Thailand), appointed An Huy Company Limited as our non-exclusive distributor entitled to promote Aquativ products portfolio in Vietnam. Established in 1998, An Huy Company Limitedis recognized as one of the leading suppliers of Animal Feed, raw materials, additives in the pharmacy, food industry and veterinary medicine in the Vietnamese market.
A driving collaboration to strengthen our local presence
Through An Huy Company Limited,Diana Aquawill supply aquafeed manufacturers with competitive and local ingredients in liquid and powder to enhance fish and shrimp feed performances and optimize farm results. This strong foothold in Vietnam will allow Diana Aqua to deliver desired solutions and services adapted to the local conditions and species while facilitating the supply of Aquativ unique ingredients sourced and produced in our plants in Latin America and Thailand:
The ACTIPAL© range, composed of unique cutting edge solutions which provide high palatability and proven health benefits thanks to high levels of bioactive peptides and free amino acids. ACTIPAL© range is stem from oriented and controlled hydrolysis designed to improve the feed performance and ultimately the farming productivity.
The NUTRIPAL© range, quality marine ingredients (Tuna soluble extract, Tuna liver powder, Dried Fish Soluble), providing high nutritional values and cosmetic properties to aqua feed diet.
This new partnership will fully support Diana Aqua's ambitions to enlarge its leading position to deliver traceable, responsibly sourced and standardized marine ingredients with high functional value to aqua feed players in Vietnam.
About Diana Aqua
With a proven performance based on ethically managed fish and shrimp testing centers,Diana Aqua develops and delivers advanced natural and sustainable solutions for the aquaculture feed industry, contributing to its sustainable growth and, indirectly, the consumers' well-being.
Valorizing marine co-products, Diana Aqua acts as a responsible and trustworthy partner, providing advanced functionalities such as feed intake, health and nutrition of farmed fish and shrimp, enhancing aqua farms performance.
Diana Aqua relies on a unique global network of scientific and technologies experts, a team of 140 passionate employees and 6 industrial sites all over the world.
Diana Aqua is part of Symrise Nutrition Segment.
Symrise Nutrition (through Diana, ADF/IDF and Probi) provides advanced natural health & well-being nutrition solutions to three industries: human food, pet food and aquafeed.
Symrise is a global supplier of fragrances, flavors, food and cosmetic ingredients.