News
Removing bottlenecks to facilitate businesses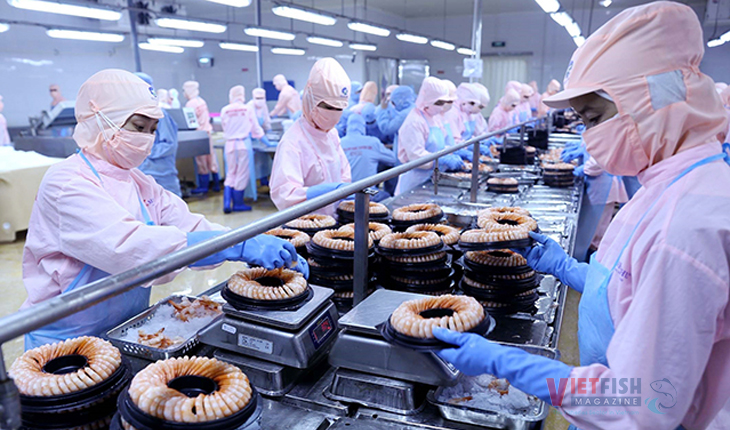 Aquatic exports didn't show good signs in the first four months of the year, with a 31% negative growth in value being recorded. A slump in orders made leading seafood businesses rush to restructure and seek solutions to respond, besides they really need support from the Government.
Depressed market
The fisheries industry is sinking into difficulties when the market slumps, supply is falling, and businesses are struggling with capital sources.
According to VASEP, aquatic exports continued to decline by 28% in April 2023 as compared to the same period last year, reaching just USD 810 million. The accumulated value of aquatic exports in the first four months reached over USD 2.6 billion, down 31% from the same period of 2022. Shrimp exports decreased by 39.6%, reaching USD 843 million; pangasius exports declined by 39.9%, reaching USD 558 million; tuna exports was down 30%, reaching USD 109 million; and exports of crabs and mollusks fell by 46%.
VASEP informed that the reduction in spendings resulted in a 51% slump in exports of Vietnamese seafood to the US in April, making the US drop to the third position after Japan and China. The accumulated value of seafood exports in the US in the first four months is estimated to reach USD 418 million, down over 57% from the same period last year.
Exports to China are showing some good signs, but no sign of positive growth has been recorded as compared to the same period last year. This is mainly attributed to poor sales of pangasius to this country, driven by a slump in the average exporting price. Moreover, the local demand for pangasius recovered more slowly than expected. Thus by the end of April 2023, Vietnam achieved about USD 435 million from exporting seafood to China, down 37%.
As compared to the same period last year, a lower value was recorded in sales of Vietnamese seafood in both Korea and Japan, but the decline was slighter than in the US and China. Even though a slump in shrimp exports to these markets was recorded, it was compensated by the revenue from processing activities for the purpose of aquatic export.
Struggling businesses
According to the business performance of quarter I/2023 by Minh Phu Seafood Corporation, the net revenue reached over 2,120 billion dong, dropping by half as compared to the same period last year. Besides, the interest cost increased by three times, making the Corporation lose 98 billion dong after tax, meanwhile they earned over 91 billion dong at the same period last year. According to the plan given by the Corporation earlier this year, the business performance in quarter I/2023 lacks nearly 18,000 billion dong to reach the target revenue and about 1,146 billion dong to reach the interest after tax. This proves the slowdown after years of earning high profit from this "shrimp king" of Vietnam.
Quota for some imported products is high, according to some seafood exporting companies. For example, expenses for a quota of shrimp to be exported to Korea upon the Vietnam-Korea Free Trade Agreement (AKFTA) via bidding have risen by 14-16% as compared to the import value. This makes the price increase and be hardly competitive. Thus, the policy to reduce quota should be adjusted. According to seafood companies in Kiên Giang, the fact that increase or decrease in orders depends on the market demand is obvious. What matters the most is the material source because material scarcity results in the fall of the fisheries industry.
Đinh Hiền, Deputy Director of Son Tra Seafood Processing Co., Ltd, said that since earlier this year, the company had just exported 9 tons of seafood, down 70% from the same period last year. That was partly attributed to material scarcity because the company used wild-caught fish as materials; and yet the local fishing faced difficulties and market demand declined.
Nguyễn Văn Cảnh, Deputy Director of SEANAMICO, shared that they companies had been exporting whole shrimp to Japan for years, but orders had sharply declined since earliers this year. Even though the offer price was 1 USD lower than last year, Japanese partners said that it was 2 USD higher than India's and Ecuador's. Thus, they refused to buy Vietnamese shrimp. As a result, the company had to buy shrimp materials at low prices, but they could not pay less because farmers wouldn't earn any profit.
Phú Yên has more than 30% of tuna exporting companies of the whole country. The total tuna export value of the province in quarter I/2023 declined by 35%. Tuna exporting companies in Phú Yên and 17 tuna exproting and processing factories in Khánh Hòa and Bình Định are facing difficulties due to a slump in orders and increasing production costs. 
The biggest challenge that Cà Mau has to face is accessing captital sources. Some credit organizations are cutting down their credit due to the lack of collateral; while some offer an interest rate of over 9%, which is unaffordable to businesses. Because of the line of credit, businesses find it hard to borrow enough money to buy materials.
Hoa Sen 68 Company Ltd., in Thanh Hóa used to buy tuna at the fishing port to make frozen tuna products for export purposes. As the material price has risen sharply since earlier this year, the company didn't have a good business performance due to lack of capital. They had to process and export dried cod instead of exporting frozen fish. However, they need tens of billion dong to invest into facilities and new machines. Nguyễn Văn Thành, Deputy Director of the company, said: "We hope that the interest rate will drop by 4-5% instead of 9-10% at the moment".
EXPT Seafood Exporting Company Ltd., which started to work a year ago, shared that they just had enough money for the production cycle of months. With fresh squid  as key export product, the company is planning to export 300 tons of processed products to Japanese market. Thus, they are looking forward to a preferential loan so that they can buy materials to keep producing.
Join hands to tackle difficulties 
Dương Nghĩa Quốc, Chairman of Vietnam Pangasius Association submitted to the Government for their consideration of reducing taxes imposed on imported materials used for feed production, for example reducing the 2% tax on imported soybean to 0%. This will help fish farmers lower production costs.
Cà Mau has deployed the interest rate support program up to 2% from the state budget of 40,000 billion dong upon the Government's Resolution no.31/3033/ND-CP. At the Conference of solving difficulties for seafood exporting businesses in Cà Mau in late April 2023, Cà Mau provincial People's Committee Huỳnh Quốc Việt said that the province had been working out solutions to increase productivity, reduce risks of every farming model, and promote advantages of shrimp farming models which are friendly to the environment. 
Expect ton unveil credit package of 10,000 billion dong
The Prime Minister Phạm Minh Chính requests the State Bank of Vietnam to manage the credit effectively and properly, and continue to offer interest rate lowering programs to support businesses. The State Bank of Vietnam is also requested to study for a credit package of 10,000 billion dong to support businesses related to production and processing of aquatic and forestry products in May 2023.
PV